A Musical Arts grad student from the University of Texas – Austin has 3D printed his own six string violin. With the instrument, he can now play the difficult piece "The Dharma at Big Sur", which was written by composer John Adams.
Sean Riley is one talented violinist who began performing at the age of seven and even played for Prince Charles at his 65th birthday. He also holds a bachelor's and master's degrees in violin performance from the prestigious Juilliard School.
However, he's always on the lookout for a challenging new piece. Now as a Doctor of Musical Arts candidate at The University of Texas at Austin's Butler School of Music, it's not hard to come across something interesting to play.
In fact, Riley recently fell in love with a difficult piece of music, one that is a bit divergent from what he's used to playing.
The piece, called "The Dharma at Big Sur", was written by composer John Adams. The legendary American composer is known for interjecting minimalism into classical music and opera. What makes this particular composition unique is that it requires six strings to properly play. However, Riley's 240-year-old violin only has four.
Print Your Own Instrument: 15 Groovy Ideas for Homemade Musical Instruments to DIY
Riley came across the musical arrangement and instantly thought it was "amazing". It has extra swells of low notes and high notes, inspired by the majestic coast of Big Sur, California. But since these sumptuous notes demand the extra two strings, Riley came up with a creative solution to his problem.
Normally, a six string electric violin can cost up to thousands of dollars. And so, the musician decided to save himself a hefty amount of money by 3D printing the instrument instead.
The idea to 3D print the instrument came when Riley walked past the Foundry makerspace in the Fine Arts Library. This facility is open to all UT Austin students, faculty members, and staffers."The idea clicked right there. I could make it," he explains.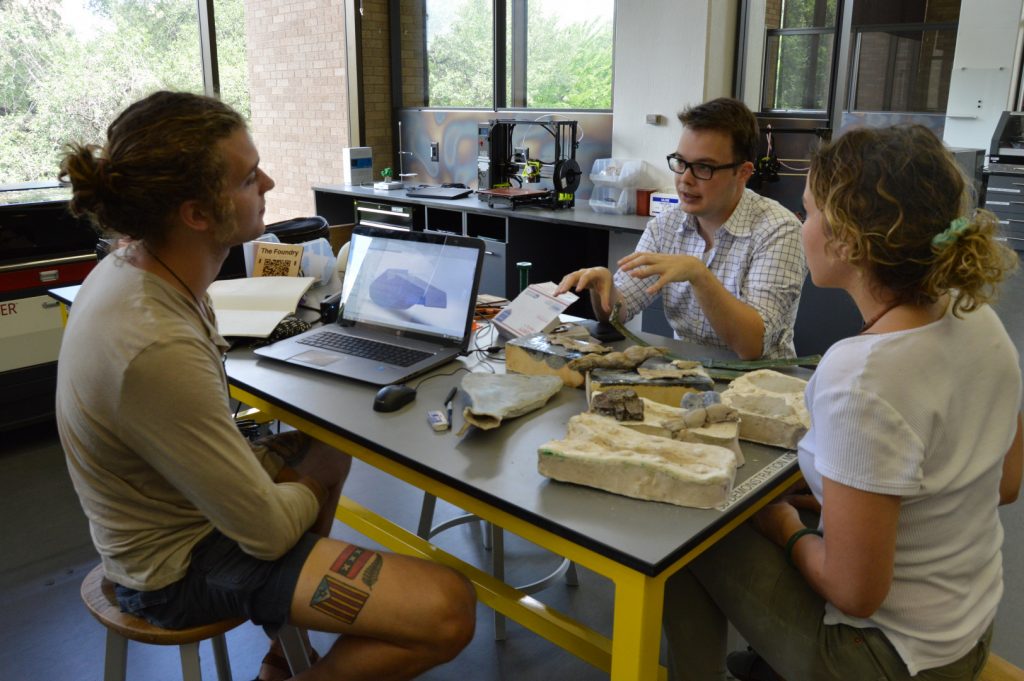 UT Austin Student Creates a Unique Six String Violin with 3D Printing
At the Foundry, Riley had access to computers with design software, 3D printers, and laser cutters. Within this creative space, he also met people who were willing to help him bring this project to life.
One was Daniel Goodwin, a mechanical engineering senior who graduated from the Cockrell School of Engineering last year. He began helping Riley on the project almost immediately, lending a helping hand until the violin was finished one year later.
The duo also brought Rebecca Milton onboard, a sculptor and studio art major in the College of Fine Arts. She worked on the look of the violin and was also inspired by Big Sur, using driftwood, shells, and bones for the instrument's design.
Once the project was complete, Riley could finally begin learning and playing "The Dharma at Big Sur". He notes that he still has a lot of practicing to do, adding that he's logged over 30,000 hours on regular violins but just a few dozen on the 3D printed six string.
"I'm most proud of my team. They have been amazing and brilliantly patient with all the shenanigans that a project into such uncharted territory entails," Riley adds.
Riley's first recital will be on February 22nd in Jessen Auditorium, UT Austin, at 4pm. On top of that, his final Doctor of Musical Arts recital will also involve the 3D printed violin. Both of these performances are open to the public, so feel free to see the Big Sur inspired 3D printed violin in action if you happen to be in the Lone Star State.
Source: UT News
License: The text of "UT Grad Student Creates 3D Printed Six String Violin to Play Rare Composition" by All3DP is licensed under a Creative Commons Attribution 4.0 International License.
Subscribe to updates from All3DP
You are subscribed to updates from All3DP
Subscribe
You can't subscribe to updates from All3DP. Learn more…