In September 2014, delivery titan UPS started bringing 3D printing to their stores in the USA. Now they are taking the next steps.
United Parcel Service plans to expand its 3D printing services to Asia and Europe. The main reason for this move is to get ahead of a trend that threatens to eat away a small but lucrative part of its business. Besides delivering packages, UPS makes money from storing and shipping parts for manufacturers. If those customers were to 3D print their own parts, that business would face a drastic reduction.
"3D printing is a great opportunity for us, but it's also a threat," Alan Amling, UPS vice president for corporate strategy, told Reuters.
Amling also said UPS is looking at either Singapore or Japan for an Asian 3D printing factory. He did not say where the company might open a European facility, though UPS's operational hub in Europe is in Cologne, Germany.
UPS already offers professional 3D printing services in the US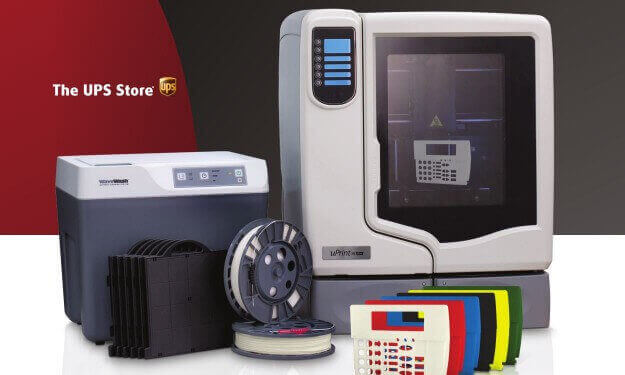 Starting in September 2014, UPS got into 3D printing business in the US (All3DP reported). Since then, they have added also services for professional users.
In May 2016, it launched a U.S.-based 3D printing service with Fast Radius (formerCloudDDM), an Atlanta-based 3D printing company. The facilities are located near the UPS headquarters. They offer additive manufacturing services alongside CNC milling, cast urethane and injection molding. UPS bought an unspecified stake in Fast Radius. They also teamed up with German software giant SAP on this initiative.
In the consumer side, there are 3D printers available at 60 UPS stores throughout the United States. The machines provided print parts by using industrial grade thermoplastics. Customers can upload images for printing at the Fast Radius factory or at one of those UPS stores and have the printed products shipped to any location.
(Source: Reuters)
License: The text of "UPS Expands 3D Printing Operations To Europe and Asia" by All3DP is licensed under a Creative Commons Attribution 4.0 International License.
Subscribe to updates from All3DP
You are subscribed to updates from All3DP
Subscribe
You can't subscribe to updates from All3DP. Learn more…