With rapid prototyping, aftermarket parts for performance cars are booming. Rachel Park on Eventuri and the Audi RS5 3D printed intake system.
Last week I was fortunate enough to talk with Ultimaker CEO Jos Burger at the AM Show Europe in Amsterdam. Top of his agenda was how Ultimaker is transitioning to industrial 3D printing applications. According to Jos this makes up about 70% of the company's 3D printer sales now.
The highlight of the Ultimaker stand at the show was an Audi RS5, which was there to showcase a new automotive application of Ultimaker's desktop 3D printing. Jos told me that the application by Eventuri — an engine intake system – is just one of many in this sector.
Aftermarket air intake systems are a large part of Eventuri's busines, based in the UK. The company was founded by a team of engineers and enthusiasts that share a passion for high performance cars. After owning various intakes over many years for their own cars, they were consistently disappointed with the results and the failure of the systems to live up to the claims made by manufacturers.
So they decided to do something about it — and Eventuri was born. With a shared background in engineering they set about developing a new benchmark in intake design and technology — to provide real performance gains and to publish the genuine data from the parts.
Eventuri's new intake design, which has a patent pending, has been developed for a range of different performance marques to date — among them Jaguar, BMW and Honda. The latest intake system, on show for the first time at the AM Show Europe last week, was for the Audi RS5/RS4. And the reason it was there that it benefited greatly from the use of desktop 3D printers in the early development stages.
According to the company, initial designs of the intake systems for the car in question are 3D printed on an Ultimaker and subsequently placed in situ within the engine for early one-off testing for subsequent iterations. If any part of the design could be better or if it does not fit precisely, then the model is redesigned and reprinted until it is perfect.

Eventuri: "Ultimaker 3D Printers are Invaluable Tools"
Bilal Mahmood, part of the Engineering & Development team at Eventuri told me: "Ultimaker's 3D printers are invaluable tools in our design and development process as their speed and reliability allow us to iterate our designs with confidence and reduce our time to market significantly."
Following the iteration process to achieve the best possible design, an exact copy of the model is produced in the right material to withstand the stresses and heat of the motor, such as Carbon Fiber or high temperature resistant plastics. Eventuri believes its approach to intake design sets it apart within its market — with both a novel approach to the design and striving for a complete intake solution.
For the Audi RS5/RS4 Eventuri intake, this meant specific consultation and support from RS5 enthusiasts to enable them to completely re-engineer the inlet track from the ducts to the filters and the inlet tubes. While the restrictive stock airboxes and duct feeds have been replaced with a highly efficient, fully sealed system with smooth transitions to allow the airflow to remain full and laminar.
Thus the company claims that the resulting performance gains (15-20hp, 12-18ft- lb at the wheels) as well as the improved sound and aesthetics are industry leading for this marque.
To achieve this level of flexibility and efficiency within the design process, Bilal says that they have three Ultimaker 3D printers in-house, "mainly running PLA for reliability but sometimes ABS for high temperature applications." The company first experimented with an Ultimaker about four and a half years ago — it was Bilal that initiated this.
He told me: "I chose Ultimaker because at the time it had one of the biggest build volumes and had very good reviews. Also the fact that we were not tied down to using a specific brand of filament was a big plus. We continued to use Ultimaker and buy more of them as they had proved their reliability and accuracy over the 3-4 years of use in printing our prototypes."
Essentially, this level of 3D printing and fast iteration is what allows Eventuri to exist and be competitive, because without it, it would be cost prohibitive, and, according to the company, they are able to tune cars within days instead of weeks.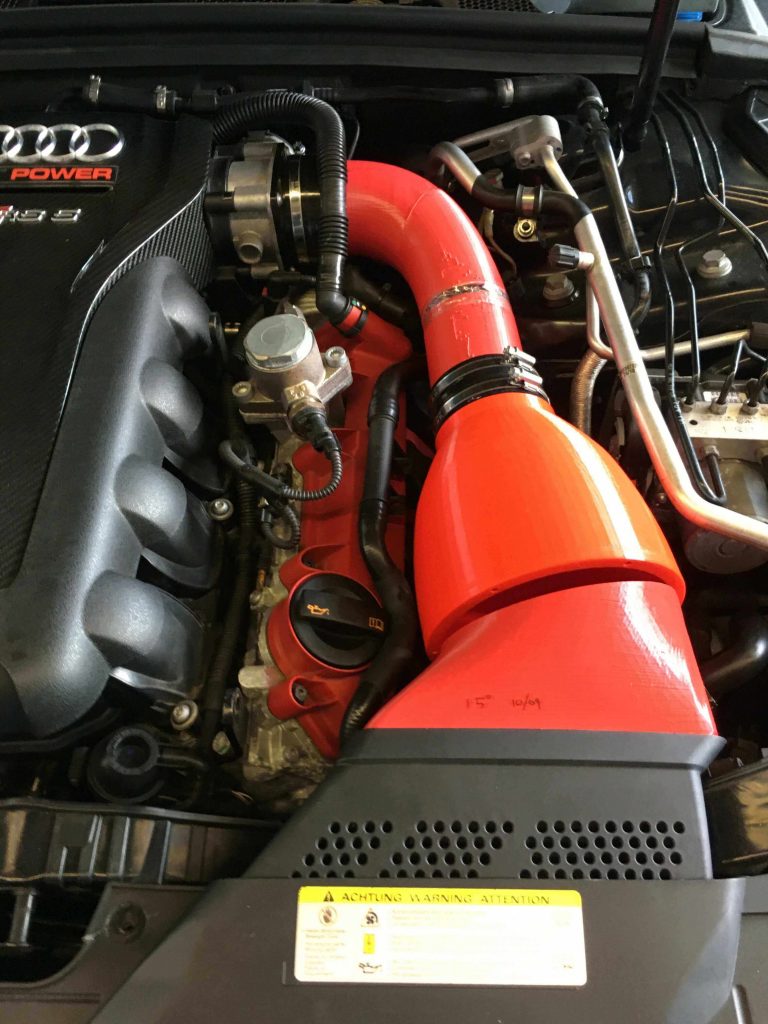 License: The text of "Eventuri: 3D Printing Intake Systems for Performance Cars" by All3DP is licensed under a Creative Commons Attribution 4.0 International License.
Subscribe to updates from All3DP
You are subscribed to updates from All3DP
Subscribe
You can't subscribe to updates from All3DP. Learn more…