Ubisoft creates 3D printed lifesize replica of Tutankhamun's sarcophagus that you can use to play "Assassin's Creed: Origins".
As 3D printing extrudes its way into the mainstream spotlight, the technology has become increasingly intertwined with the world of gaming. From 3D printable props to accessories for your console of choice, the maker community is constantly conjuring up 3D printable gaming mods and cosplay props.
The renowned video game publisher Ubisoft is taking this to the next level by 3D printing a lifesize replica of Tutankhamun's famous sarcophagus, gilded and all. The ambitious project was started to ring in the release of Assassin's Creed: Origins, the latest installment of the popular gaming franchise.
This time around, the main character will be prowling around ancient Egypt, making this 6-foot 3D printed sarcophagus the perfect prop for the upcoming title. Working with 3D printing consultants at Hobs Studio in London, the team used data-mapping imagery from the game to create an image of the sarcophagus.
After that, they produced the main body out of wood using CNC milling, and later added the finer details with SLA 3D printing technology.
"As a publisher at the heart of the latest technological advancements in the videogames industry, we really wanted to showcase another innovative technology, alongside one of the most powerful images associated with Ancient Egypt – our new in-game setting in Assassin's Creed Origins.
The final result is a stunning replica of a Sarcophagus, while adding a fun, gaming twist to the famous design," says Tom Goldberger, Senior PR Manager at Ubisoft.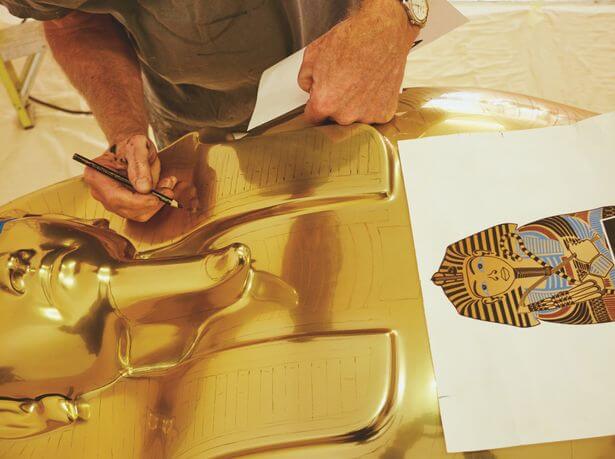 Ubisoft Turns 3D Printed Replica of Tutankhamun's Sarcophagus Into State-of-the-Art Gaming Cabinet
With the high-powered SLA printer, the design team created resin-based parts that were bounded to the wooden body of the Sarcophagus. The final touches were applied by an artist who studied the design from Tutankhamun's golden coffin, making a nearly perfect replica.
The artist was sure to inset modern hieroglyphics alongside the ancient symbols, including Egyptian-style logos for Ubisoft, Xbox One, and Assassin's Creed: Origins.
They then mounted the iconic 3D printed artifact with a TV screen and an Xbox One X console, turning this Sarcophagus into a one-of-a-kind gaming cabinet.
"The process of bringing together a multitude of different technologies is no mean feat, but we worked closely with Ubisoft to ensure that every part of the process told a story and merged the old with the new to create something magnificent," said Bryan Mulholland, Technical Consultant at Hobs Studio.
Assassin's Creed: Origins will be released on Xbox, PS4, and PC on Friday, October 27.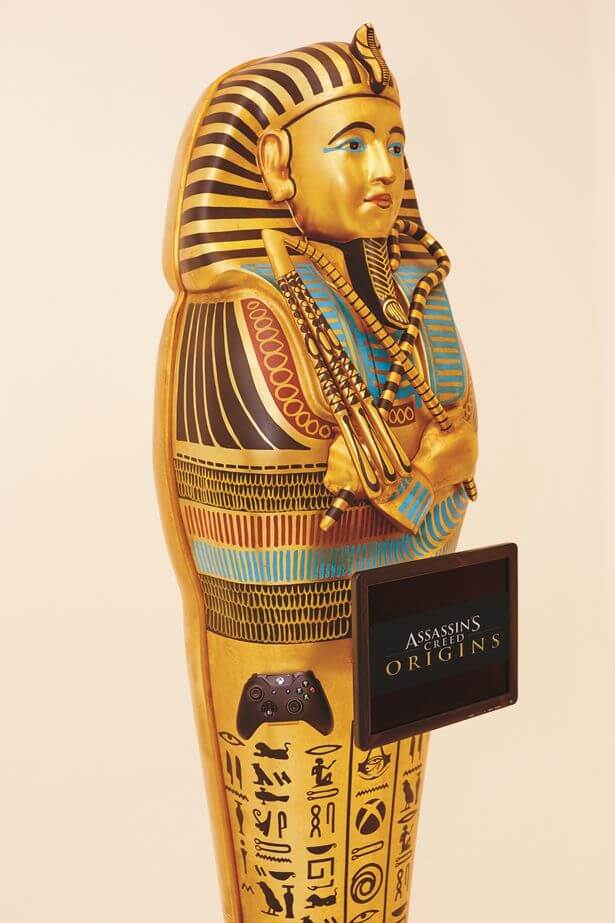 Source: Gamasutra
License: The text of "Ubisoft Creates 3D Printed Replica of Tutankhamun's Sarcophagus for "Assassin's Creed: Origins"" by All3DP is licensed under a Creative Commons Attribution 4.0 International License.
Subscribe to updates from All3DP
You are subscribed to updates from All3DP
Subscribe
You can't subscribe to updates from All3DP. Learn more…