Vice President and Prime Minister of the United Arab Emirates (UAE) and Ruler of Dubai has said that by 2030, around 25% of Dubai's buildings will be 3D printed.
Laying out Dubai's 3D Printing strategy, Sheikh Mohammed bin Rashid Al Maktoum has launched the world's first integrated and comprehensive strategy to use technology to develop infrastructure.
The Dubai 3D Printing Strategy is a new unique global initiative which aims to exploit technology for the service of humanity. It also hopes to promote the status of the UAE and Dubai as a leading hub of 3D printing technology by 2025 and will focus on three major sectors: construction, medical products, consumer products.
Sheikh Mohammed said: "The future will depend on 3D printing technologies in all aspects of our life, starting from houses we live in, the streets we use, the cars we drive, the clothes we wear and the food we eat."
These huge plans were outlined as Sheik Mohammed was joined by the Crown Prince of Dubai and Chairman of Dubai Executive Council, Sheikh Hamdan Bin Mohammed Bin Rashid Al Maktoum, and Sheikh Maktoum Bin Mohammed Bin Rashid Al Maktoum, Deputy Ruler of Dubai.
Along with the three major sectors, the Dubai 3D Printing Strategy now has five pillars for the strategy as well as many partners to help make sure the plan is executed properly.
Three Key Sectors for 3D Printing in the United Arab Emirates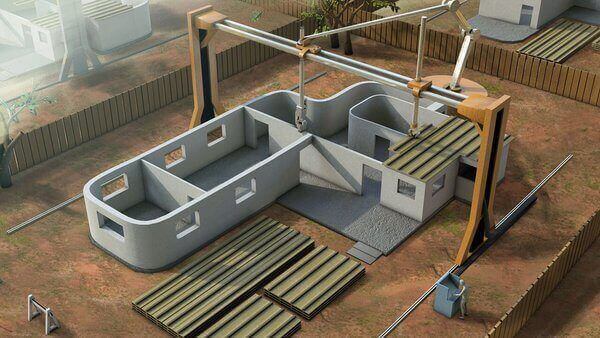 The three sectors which are included in the proposal are; construction, medical products, consumer products.
To implement this plan, the construction and building sector will focus on; manufacturing of lighting, bases and foundations, joints, areas like parks, mobile homes and buildings 'for humanitarian causes.' As well as this, other constructions such as art galleries, retail venues, and home villas will be created too.
Sheikh Mohammed said: "We believe that this technology is capable of transforming the construction sector by lowering costs and reducing the time it takes to implement projects. It will also help reduce manpower requirements as well as waste generated from construction which can be harmful to the environment."
Within the medical sector, the focus will be on developing 3D printed teeth, bones, artificial organs and medical and surgical devices and hearing aids.
The consumer products sector also has some interesting focuses, which even include fast food. They will also be working on household items, optics, fashion jewelry and children's games.
Impressively, the value of 3D printed medical products in Dubai is expected to reach a whopping Dhs1.7 billion by 2025 but this is topped by the consumer products which are expected to be about Dhs2.8 billion.
Sheikh Mohammed said:
"Through the 3D Printing Strategy, we aim to make Dubai a global hub for the development of this technology and a base for research and development in this area. We aim to provide the best opportunities for innovation and optimal application of this technology worldwide. Our goal is to raise the level of services provided to the people and harness 3D printing for the benefit of the entire community."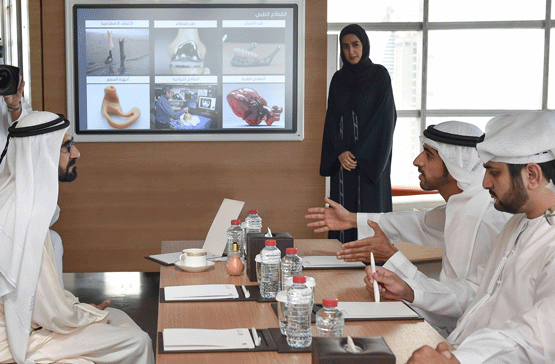 Five Pillars of the Strategy
To pull off such an impressive aim, there is a plan in place including a strategy with five main pillars; infrastructure, legislative structure, funding, talent and market demand.
For example, building local talent capabilities of researchers, designers and innovators will be focused on through the talent pillar. Dubai aims to bring in some of the best minds from around the world in the 3D printing field.
When it comes to funding, Sheikh Mohammed is expecting government agencies, private sector companies, universities and research centers to work together to create this universal model.
Dubai Municipality is an important government agency involved in the implementation of the strategy, along with others including Dubai Future Foundation, The Dubai Health Authority and also international partners.
Sheikh Mohammed said:
"This technology will create added economic value and benefits worth billions of dollars during the coming period. We should have a share in this growing global market. This technology will restructure economies and labour markets as the use of unskilled labour will come down compared to the current situation, especially in the construction sector."
A special center for 3D printing is also in the pipeline and Dubai Holding will also be creating a lab which will invite designers as well as help to encourage innovation.
Four Main Stages
In order to help achieve this huge goal, four main stages will begin, starting with the Establishment Phase which will prepare an overall study of the 3D printing sector.
Next will come the Qualification Phase to help compile ideas and organizing the project, this phase will also help train engineers and other companies.
Of course, the Implementation Phase may be the most exciting phase and both consultants and those in the private sector will be expected to get on board with 3D printing, especially in construction.
The final stage is the Development Phase which will evaluate and measure the progress. As well as these stages, a fund will also be set up for a variety of interesting projects to include 3D printing.
This comprehensive strategy is certainly very impressive and will have many eyes watching over the next few years. Let us know what you think of the strategy in the comments.
License: The text of "25% of Dubai's Buildings Will Be 3D Printed by 2030" by All3DP is licensed under a Creative Commons Attribution 4.0 International License.
Subscribe to updates from All3DP
You are subscribed to updates from All3DP
Subscribe
You can't subscribe to updates from All3DP. Learn more…