Alright, I admit it. I carry a man purse. I've actually carried a man purse since before it was given that moniker. During school – and even quite a number of years after – I carried a backpack in order to keep all my stuff corralled. At first (i.e., after graduation), it was just a notebook, pens, a Walkman (yeah, I'm that old), and whatever book I was reading. Soon I added a cell phone, my glasses, a Leatherman (a Swiss Army Knife-like tool), a small tape measure, fingernail clippers, and Chapstick. The Walkman eventually became an mp3 player and the cell phone changed shape several times but the rest has remained pretty much constant for the past 18 years.
Over those 18 years, the bag I employ has gone through numerous iterations as well. At one point, I carried an old doctor's bag (that really looked like a man purse!) but soon realized that it wasn't as useful as I had initially thought. In my defense, the doctor's bag did have sentimental value – it was my deceased father's first bag when he started medical school almost 50 years ago. But enough about bags and the stuff they hold. This article is really about something else entirely: the travel hook.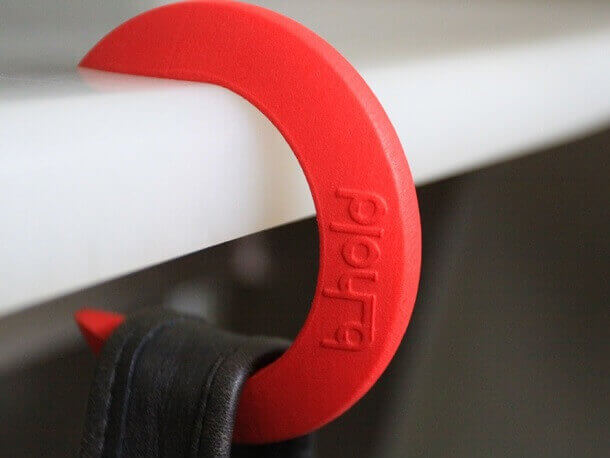 I've encountered these products before but the design created by Bhold and featured on i.materialise.com was just elegant enough to catch my eye. I like the idea that it comes in many different colors (black for me so I can maintain my manliness while carrying a "purse") and that it's strong enough to hold up to 25 lbs. (11.3 kg). On top of that, it's light enough (under 9g) and small enough (2.9 x 2.7 x 0.7 in. or 75.9 x 69.3 x 17.7 mm) to fit in my bag without taking up a lot of space.
The Bstrong travel hook fits tables or shelves that are 2 in. (5 cm) or less in thickness and can be used to suspend everything from bags, umbrellas, scarves, jackets, and sports gear while on the go. We've all been in a place where we just don't feel comfortable putting our bag on the floor or are without a hook or hanger on which to hang our coat. This is the perfect solution to that dilemma.
The Bstrong Travel Hook is available on i.materialise.com and can be produced in your choice of finishes (materials) and colors.
Buy the Travel Hook at i.materialise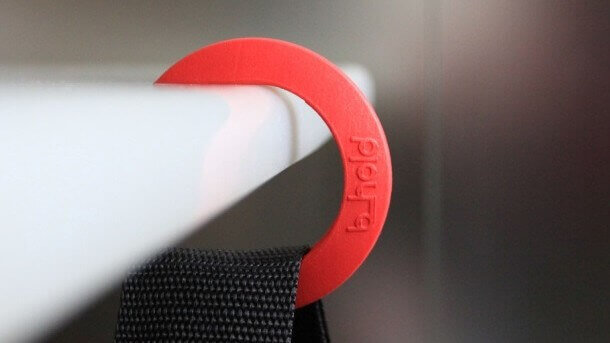 License: The text of "3D Printed Travel Hook" by All3DP is licensed under a Creative Commons Attribution 4.0 International License.
Subscribe to updates from All3DP
You are subscribed to updates from All3DP
Subscribe
You can't subscribe to updates from All3DP. Learn more…