Designer Tom Fereday and artist Susan Chen have developed the stylish Pelo light. An expression of the medium, the 3D print comprises just one coil of extruded ceramic.
If you're looking for some stylish ceramics to liven up your new place, look no further. Australian designer, Tom Fereday, and artist, Susan Chen, have brought 3D printing tools to bear in the creation of the nifty looking Pelo.
Their design, a pendant light, takes two and a half hours to 3D print. And judging by eagle-eyed commenters and the video below, is printed using a DeltaBots 3D Potter printer.
Fereday's Sydney-based design studio primarily focuses on furniture, lighting and other homewares. Chen's specialization — unsurprisingly — lies in intricate ceramics, utilizing an array of surface finishes for artistic effect. It's no great shock then, that such a team up would result in an elegant product like this.
The design's cone shape and single color fit right into the minimalist home style. The unique design also has clear extrusion lines which are noticeable when the light is on. Fereday explains the 3D printing process to Dezeen as such:
"I was struck by how elegant the fine detail and natural variation of the process is, and wanted to celebrate this through a design that would highlight and celebrate the process in its own right… We attempted to use our experience to create a product that was driven by the process of 3D printing, and not simply made to create a shape that might otherwise be too complex to make."
Pelo Light Brings 3D Printed Elegance to Your Home
Fereday and Chen took on different roles for the development of the lamp. Fereday took care of the design, modeling and final assembly. Meanwhile, Chen oversaw the whole process to ensure the resulting light was suitable for 3D printing.
A key concern with the process was preventing the lampshade from shrinking or slumping as the layers built up. Looking at numerous compositions of earthenware and porcelain, iterative prototyping let them find a winning material suitable for Feredey's design.
The post-processing process for the Pelo is somewhat lengthy. Indeed only after ten days of drying could they fire and assemble their 3D printed clay shades into lamps.
Describing the process, Fereday continues:
"It was incredible to see the variations and reactions of each material with the process… We were able to intimately experiment with translucency, deformation and colour… As a light, the detailed surface is highlighted and celebrated as an honest expression of the process, which would be very difficult to replicate through a traditional ceramic-making process."
If you're curious for more on 3D printing ceramics, we've compiled a neat guide to the whats and hows of the technology — check it out: Essential Guide to 3D printing ceramics.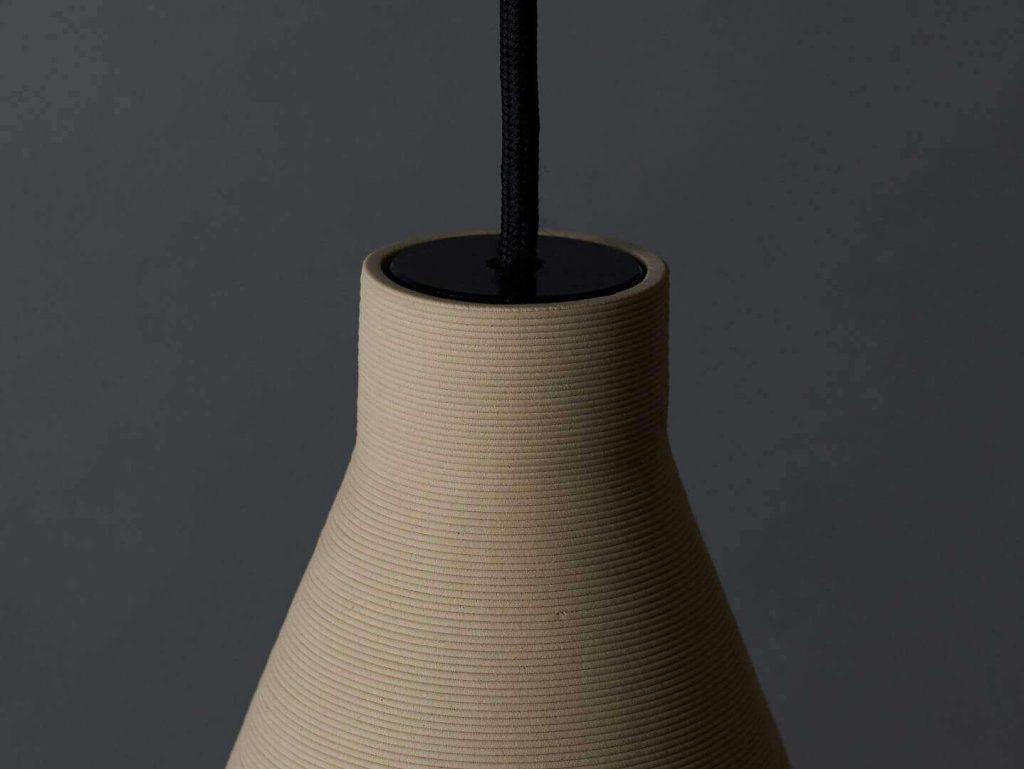 License: The text of "This Ceramic Lampshade Shows 3D Printing in its Best Light" by All3DP is licensed under a Creative Commons Attribution 4.0 International License.
Subscribe to updates from All3DP
You are subscribed to updates from All3DP
Subscribe
You can't subscribe to updates from All3DP. Learn more…