Maybe I am making wrong assumptions, but I bet everyone who owns a desktop 3D printer knows what a cluttered desk looks like. Your previously tidy desk was taken over by random stuff, it seems. Space Invaders, that 's what I call these things that took their place somewhere on my desk.
3D printers are useful, no doubt. But when you are using one, you often have tools lying around to tweak and fine-tune your personal mini­factory. We all know it takes a lot of discipline to always keep your work surface nice and tidy. And then there is all that other stuff only because of that one machine. There are bits and pieces of filament that did not come out right or just were support structures for your prints. Maybe a spare SD card for transferring your prints should be somewhere but went missing. The technology that is supposed to make your life so much better is making a mess on your desk.
But your 3D printer also is a good companion if you plan on changing a piled up desk into an organized open space. Many fellow 3D printer owners seem to have a similar problem. How else can you explain the abundance of items on Thingiverse and Shapeways designed to keep the stuff neatly organized that would otherwise be covering your desk? We picked a few items you can order online or print yourself for one purpose: Organizing your desktop.
3D printed accessories for organizing your desktop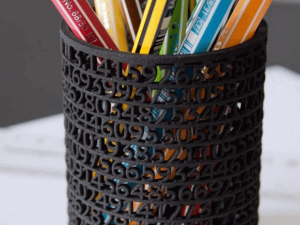 The usual suspects on just any desk are pens. So let's start with that. The Pi pen holder
But not every desk needs geekiness. Rich in detail is this modular desk organizer design that turns the edge of your table into the horizon of a beautiful city. The containers are shaped like church and steeple, a little castle or regular houses. They offer possibilities to store items of different and just look amazing.
If small objects are not that much of a problem as letters, notes and some business cards spreading on your desk, the Green Mountain Organizer might be the ideal thing to get all these slips of paper into order. Its simplistic design is an understatement if you consider how many things it can hold for you.
Untangling cables
In printer caves, or less stereotypical, technologically advanced homes, most of the things are plugged in somewhere and connected with each other. Data needs to be transferred, and power must be supplied. As long as we are not able to transfer power over the air, there will be cables. And cables mean cable tangle.