In 2018, the Great Pagoda in London's Kew Gardens will reopen to the public after extensive restoration work – this time with 3D printed (not wooden) Chinoiserie dragons.
Next year, the Chinoiserie dragons will return to London's Kew Gardens after several centuries of hiatus. Originally, 80 wood-carved dragons were created for London's 'Great Pagoda' over 200 years ago.
3D printed dragons breathe new life into historic pagoda at Kew Gardens in London.
However, 20 years after opening in 1762, the pagoda required so many repairs that the dragons were removed.
No one knows what happened to the dragons. Many believed that they simply rotted due to their wooden material and Britain's rainy weather.
Unfortunately, the pagoda has also been closed to the public for almost 50 years now due to its state of disrepair.
Now, thanks to 3D printing, the Great Pagoda will have Chinoiserie dragons again once it's finally restored. Although the pagoda isn't ready yet, the 3D printed dragons have been revealed.
Craig Hatto, project lead at Historic Royal Palaces, told the Global Times that the original dragons weighed around 2.5 tons. This would have placed a huge strain on the pagoda itself.
"We have to find a different form of engineering. From the conservation point of view, something that won't damage the building. That's our primary goal… We opted for 3D printed dragons, which are incredibly light. Each dragon went from 45-50 kilograms down to 4.5 kilograms," Hatto said.
Recreating 80 Chinoiserie Dragons from Scratch
At the end of last year, the restorers began to repair the pagoda. They began by attempting to replace the missing dragons.
However, since historians are unsure what happened to the original dragons in 1784, recreating exact replicas proved to be more difficult than they realized.
"Chinoiserie at that point then fell out of fashion and so the dragons were not replaced," Hatto explains.
Still, the restorers were intent on creating an authentic experience for their visitors. In order to create 80 new dragons, they had to research the Chinoiserie style extensively using archival resources for the renovation project.
"We have to find a different form of engineering. From the conservation point of view, something that won't damage the building."
This included learning about the exact carvings and colors of the time. In the end, this work certainly paid off. The final dragons are admittedly impressive designs.
"They are possibly the largest 3D printing project in the world," Hatto exaggerates.
So, fingers crossed that everything goes to plan. And hopefully, 2018 will see the reopening of the pagoda, complete with green and white roofs adorned with these 80 impressive dragons.
Either way, these 3D printed, beautiful dragons will certainly add a splash of color to London's famous UNESCO site.
Source: Global Times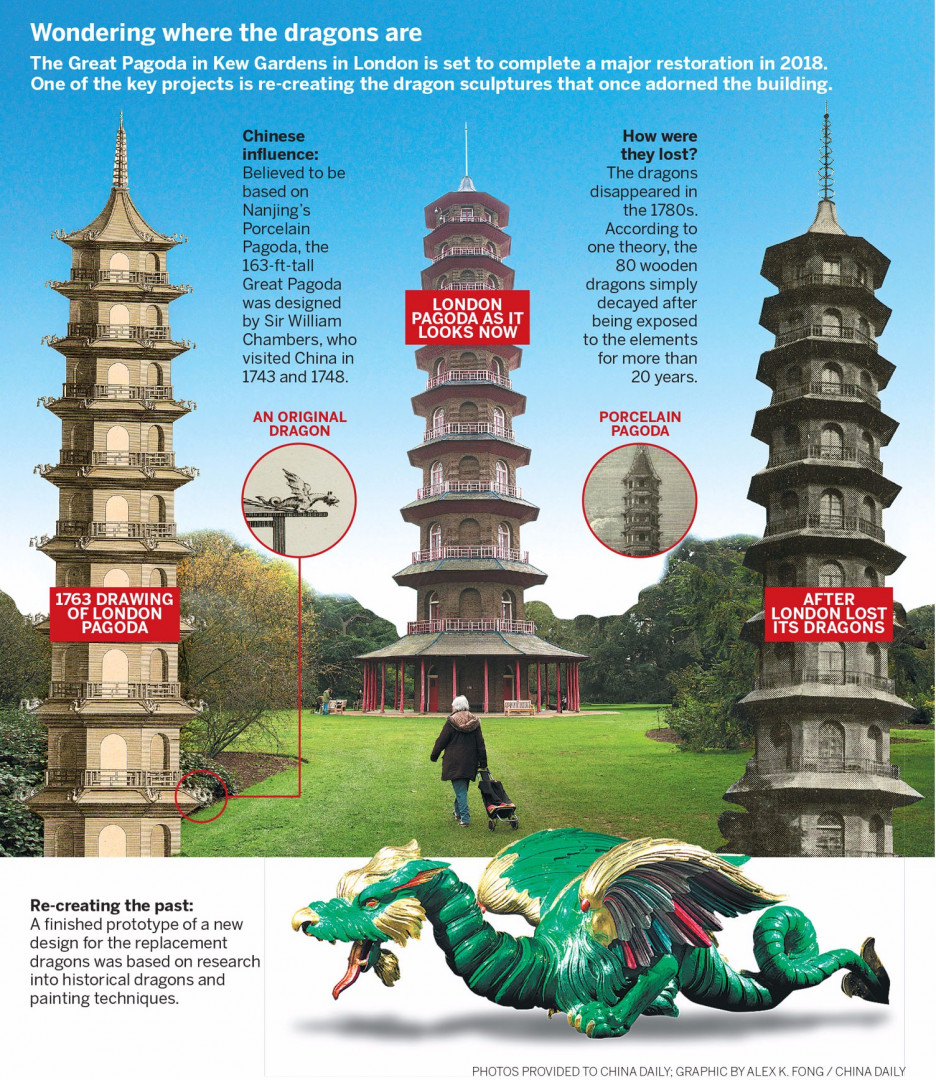 License: The text of "Thanks to 3D Printing, Chinoiserie Dragons are Returning to London's Great Pagoda in Kew Gardens" by All3DP is licensed under a Creative Commons Attribution 4.0 International License.
Subscribe to updates from All3DP
You are subscribed to updates from All3DP
Subscribe
You can't subscribe to updates from All3DP. Learn more…