Tethon 3D is launching a new photo-curing ceramic polymer resin called Castalite. It is suitable for 3D printing ceramic shell molds ready to accept liquid metals.
Tethon 3D, founded in Omaha, Nebraska, produce photocurable ceramic polymers and ceramic powders for 3D printing. The latest offering from the company is no different and is called Castalite.
This product is a new UV curable ceramic resin. It's curable with UV wavelengths between 350 – 405 nM. Its uses are 3D printing ceramic molds for metal investment casting. This material is for use in SLA and DLP printers.
The company believes that Castalite will offer higher quality prints for customers. Molds can be 3D printed directly in the material which then undergoes furnace firing. Finally, the resulting ceramic shell can accept liquid metals.
"Castalite adds another premium material to our product catalogue that compliments the growth seen in SLA and DLP hardware… Recent improvements in 3D printer technology provide higher resolution details in the casted metal part and faster print times. Most printers can print at 25-micron print layers and Castalite demonstrates excellent resolution at that level," said Karen Linder, President and CEO of Tethon 3D.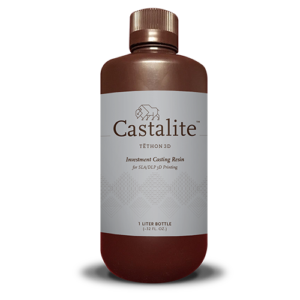 Tethon 3D's Curable Ceramic Resin
The company manufactures resins for both SLA and DLP as well as binder jetting 3D printing in the US. They also distribute their products to over 40 countries.
With Castalite, the company explain that customers can remove the need for pre-mold steps, such as wax models, thanks to being able to 3D print directly in the material.
As a result, it should be quicker to produce molds. Another benefit 3D printing provides is that it reduces the amount of material used and wasted. Therefore, also saving customers money. However, Castalite itself does cost $250 for a bottle of 3lbs.
But, the company has high hopes for the material believing that it will have the biggest impact on engineering and jewelry industries. Thanks to the material's high thermal and heat tolerance, it's possible to cast metals such as aluminum, bronze, gold, and silver.
However, before buying the material, check out the Castalite Guidelines PDF for more information. Resins aren't Tethon 3D's only offering – they also provide 3D modeling services, 3D scanning and ceramic 3D printing. Find out more over on their website.
Source: tct Magazine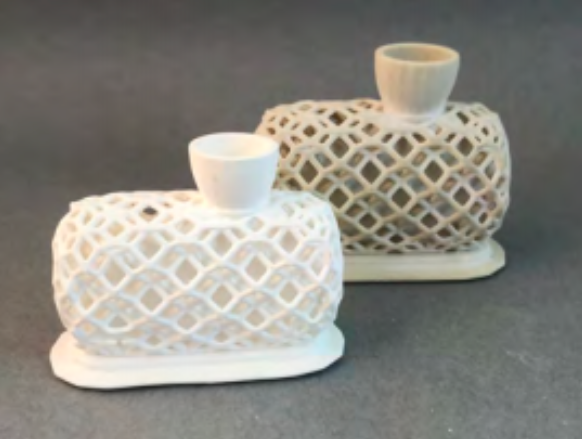 License: The text of "Tethon 3D Launches Ceramic SLA / DLP Resin "Castalite"" by All3DP is licensed under a Creative Commons Attribution 4.0 International License.
Subscribe to updates from All3DP
You are subscribed to updates from All3DP
Subscribe
You can't subscribe to updates from All3DP. Learn more…