The excitement here at the 3D Printshow in London is so real you can almost taste it. In fact, with the Focus 3D Printer you actually can.
For many people, the concept of 3D printing is not easy to grasp. Maybe because of the word "printing". It's just too difficult to imagine how an object could ever be printed – I'm sure you've all met several people who just didn't get it when you tried to explain.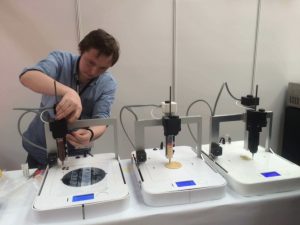 If seeing is believing, then the proof of the pudding is most definitely in the tasting. Once you've seen a 3D printer in action, it all makes sense. And in your mind you can kind of understand how you could switch the plastic material for something else; in theory.
Still, no matter how many times you've seen a 3D printer at work, it's incredible to see one printing food. Seeing it live in the 3D Print Show Kitchen is awesome. And although the process is surreal, the taste is pretty good. It's like something out of Willy Wonka's chocolate factory except with a wider range of delicacies.
Focus 3D printer on Kickstarter
The team at 3D by Flow were printing hummus, guacamole, chocolate itself, and even caviar. Their Kickstarter project is giving people the chance to pick up one of their Focus printers for an early bird price of under €2,000. And you can pick it up – the machine is portable and has a sleek, impressive design.
Using a paste extruder, which is a syringe-like arm that moves around following the digital design file you supply, you can print food in whatever patterns you like. Whether you want to make your presentation that little bit more special when you're entertaining at home, or you want to take the pressure off decorating, or naming cakes at a restaurant or bakery, you can do it with any food or flavour that will form a paste.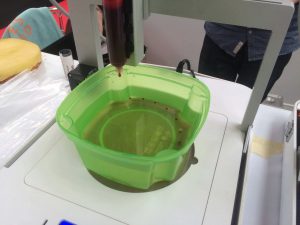 Even the "caviar" can be whatever type you choose. It appears that you make a mixture of the "coulis" with water and gelatine, and then print small droplets into a bowl of cold olive oil. Once they have set you can drain them, maybe rinse gently with some gelatine-free coulis, and you have perfectly formed caviar in any colour or taste you want.
The Focus 3D Printer has been carefully produced to make it as simple to use as possible and has a range of applications that extends the value somewhat. One of the key aspects of this useful little innovation is that you can easily remove and exchange the extruder to print in a large range of materials.
That's quite an exciting feature, as it means you can not only print your food, but also your bowls, plates, and even cutlery (if you want to). It's possible to use with wood, ceramics, and different kinds of plastics as well.
This gives the Focus 3D Printer a considerably longer shelf life than the food it prints. It genuinely makes this an appliance that could get a lot of good use in any kitchen; as long as you have the technical know-how, that is. It's a significant departure from other printers, which though exciting and impressive in their own right are either bigger and bulkier or more limited in what you can do with them.
With the right customer support – and inspiring content – this could be a break-through for the consumer 3D printing market.
https://www.youtube.com/watch?v=RKj_uYt3VnE
License: The text of "Focus 3D Printer Makes Food, Bowl, Plates & Cutlery" by All3DP is licensed under a Creative Commons Attribution 4.0 International License.
Subscribe to updates from All3DP
You are subscribed to updates from All3DP
Subscribe
You can't subscribe to updates from All3DP. Learn more…