For their granddaughter Josslyn's third birthday, maker grandparents use incredible skills to build an extra special 3D printed tree house.
Don't Miss: Grandpa Builds Retro Rocket Ship for Young Astronaut
Chris and Janet Knowlton wanted to create something special for their granddaughter Josslyn's third birthday. Previously, they'd 3D printed a retro moon rocket for their grandson Benjamin. The challenge was to create something equally unique.
Janet had the idea of creating a multi-level dollhouse, so Chris designed and 3D printed a three-foot tree house. The design features slides, swings, bridges and elevators — the perfect home for Josslyn's Calico Critters (aka a toy family of beavers)
To print the design, Chris used Simplify3D to handle the complex slicing of each model. He says:
"Simplify3D makes all the difference in the world in getting professional looking parts. When I design a part, I know that Simplify3D will handle it. I can go from concept, to design, to printed part fast and without issues. I would not have attempted this project without this amazing software."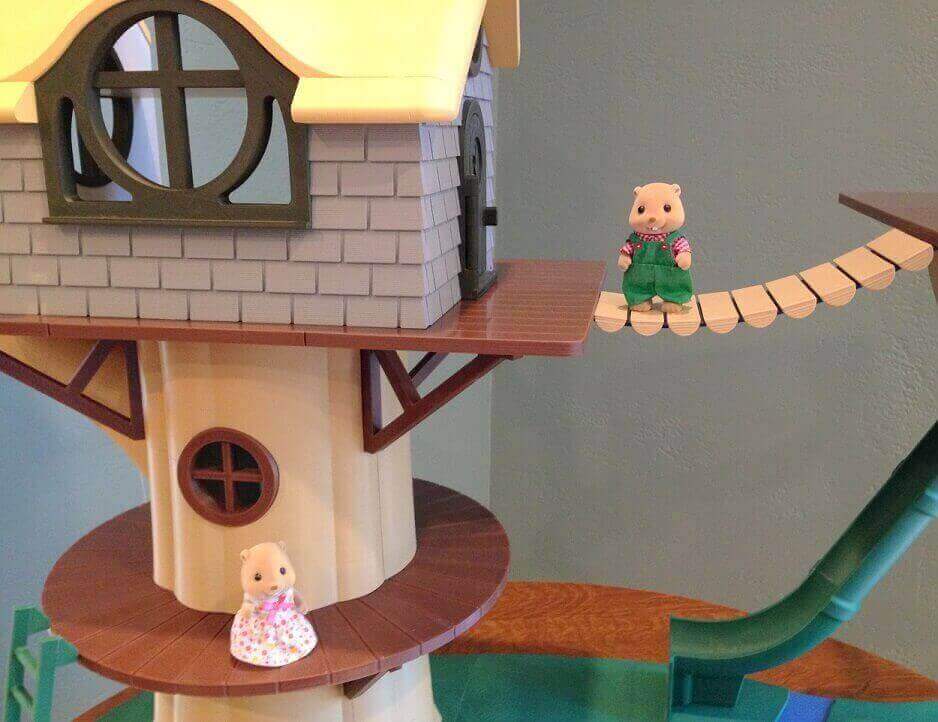 Designing and Building a 3D Printed Tree House
The 3D printed tree house has arched bridges, ladders and working doors too. Chris designed seams for the walls of the house which are hidden from view. As well as this, he added a plague with "Jossie's Forest" embedded on it. The house is certainly very unique.
But to achieve this uniqueness — and create the many intricate parts — took countless hours of design. And over 600 hours to print.
Of course, Chris needed a way to spot potential failures to reduce any wasted time. For this, he relied on Simplify3D's Preview Mode. He explains:
"The detailed Preview Mode is a print saver. It provides detailed scrutiny of the sliced model to ensure that it will be printed correctly. This was especially important because many of the parts were 8+ hour prints."
However, adding more complications to the print, Chris wanted to differentiate textures between aspects of the build. This was perhaps the biggest challenge of the design. It was also important for Chris that parts would assemble seamlessly while also being sturdy enough for a three-year-old to play with.
"Many of the parts that required a rough texture like the shingles and the 'thatched' roofs were printed with a layer height of 0.2mm," he explains. "Others like the bird, acorn birdhouse, and the 'clay' chimney pots were printed at a layer height of 0.1mm, then smoothed using a cold acetone mist."
The final print is certainly very impressive; we're sure Josslyn is having fun playing with her birthday present.
Source: Simplify3D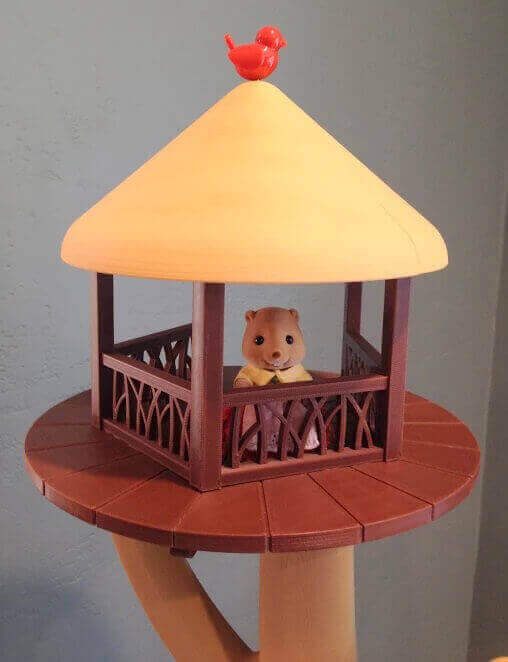 License: The text of "Grandparents Make 3D Printed Tree House for Birthday Present" by All3DP is licensed under a Creative Commons Attribution 4.0 International License.
Subscribe to updates from All3DP
You are subscribed to updates from All3DP
Subscribe
You can't subscribe to updates from All3DP. Learn more…