Polish students developed eco-friendly shoes for their graduation project using a 3D printer and now hope to start a dedicated business.
Did you know that the shoes on your feet could be made up of over 30 different materials? Many of these have a high carbon footprint and cannot be recycled.
As well as this, up to 25,000 liters of water are used to make one pair of shoes. On hearing this, Polish design students Zuzanna Gronowicz and Barbara Motylinska decided to try find a better way.
With the aim of developing eco-friendly shoes, they earmarked 3D printing as a viable means of production. By using a 3D printer, they can quickly develop customized shoes using biodegradable filaments.
The concept is the pair's graduation project at the Academy of Fine Arts in Warsaw. However, the execution could be something much bigger as they plan to turn these custom 3D printed kicks into a business.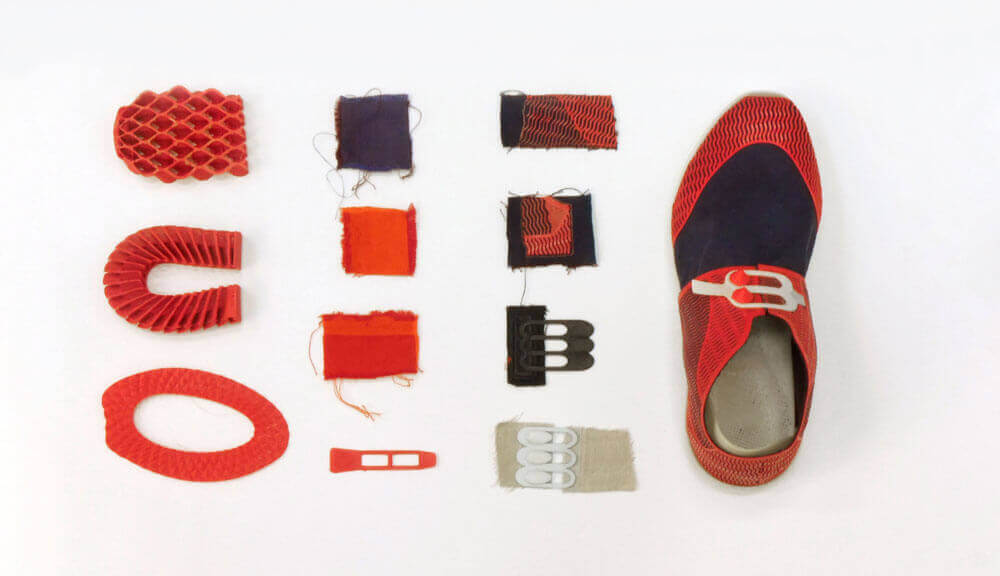 Design Your Own 3D Printed Shoes
In order to create a biodegradable shoe without glue or sewing, the students developed a method of 3D printing directly onto natural textiles like cotton and wool.
The students use a ZMorph multitool 3D printer to develop their prototypes and plan production. To achieve designs akin to modern sneakers, they use both the standard single extrusion toolhead and the Dual Pro. The former for flexible parts, and the latter for color grading and prints that require soluble supports.
For a flexible sole, they use a "parametric openwork" design. This allows for a durable sole structure which can fit any foot and requires less material when printing.
In parallel they also created a created a dedicated app, which allows people to design customize their own shoes. Although it still needs some work, the idea is to give users a chance to customize their shoes.
In addition, the app allows users to download and save their custom kicks for free. These can be taken to a 3D printer close to the end user – further reducing the shoe's carbon footprint.
A path to a brighter, sustainable future it seems – one step at a time.
Source: ZMorph
License: The text of "Students Develop 3D Printed Eco-Sneakers You Can Customize" by All3DP is licensed under a Creative Commons Attribution 4.0 International License.
Subscribe to updates from All3DP
You are subscribed to updates from All3DP
Subscribe
You can't subscribe to updates from All3DP. Learn more…