Educational startup I Can Make have launched Strawblox — simple 3D printable construction blocks for creative play in the classroom.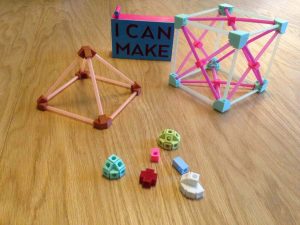 Suitable for use by children aged 4 years and up, Strawblox is an open construction kit for building structures, exploring geometry, and to test out principles of maths and engineering.
The design of Strawbox is simplicity itself. Users only need access to a 3D printer, to print off a set of blocks, and drinking straws to connect them.
Once you have printed your blocks, you are able to create a range of different structures ranging from prisms and arches to pyramids and stick men.
And since the Strawblox pieces are re-usable, they can be used from one construction experiment to the next.
The design files for Strawblox are covered by a Creative Commons license, meaning that users can modify and remix the CAD files to create completely new geometrics and sizes for their own use.
In terms of cost, each block should cost less than £0.30 to print. The drinking straws, meanwhile, cost as little as £0.55 for a pack of 200!
I Can Make Strawblox…?
Strawblox is the first in a series of educational kits from I Can Make, a UK startup aiming to promote making and learning with 3D printing.
The company sells printable 3D models and lesson plans to schools, so that children can start learning about 3D printing in a fun way.
Students are required to 3D print each component of the snap-together kits, and can even upgrade them with motors, micro-computers, and LEDs.
I Can Make also wants to encourage teachers to gain confidence with the new technology. To this end, they have special courses and workshops to teach the teachers about 3D printing — from basic knowledge to simulating physical systems in a hands-on session.
The overall aim, and it's a pretty good one, is to bootstrap a modern school curriculum to inspire the engineers of tomorrow.
Already got to grips with Strawblox? Send your photos of your creations to [email protected], or tag photos with #strawblox on Instagram, Twitter or Facebook.
License: The text of "Strawblox: 3D Printable Construction Blocks for Education" by All3DP is licensed under a Creative Commons Attribution 4.0 International License.
Subscribe to updates from All3DP
You are subscribed to updates from All3DP
Subscribe
You can't subscribe to updates from All3DP. Learn more…