Stephania Stefanakou is a business minded fashion graduate who is turning heads with her unique 3D printed clothing designs.
Stephania Stefanakou is a fashion communication graduate from Ryerson University in Toronto. For her thesis project, she designed and 3D printed a crop top and matching skirt, drawing attention from the school's Faculty of Communication and Design.
They awarded the forward-thinking fashion designer with $500 for her project. What's special about her work is that she incorporates 3D printing technology to give a unique finish to her garments.
Stefanakou explains that she likes to experiment with 3D printing as much as possible. You can see this throughout her designs. Her 3D printed crop top is black and lacy in appearance, while the complementary skirt can change in shape and form.
To do this, Stefanakou uses material that curls up when heated. It also lengthens when cooled, offering a personalized look regardless of the weather.
Although we're certainly impressed by these looks, Stefanakou explains that during the research stage, she found some resistance to her idea. She claims that "people weren't too open to the idea of wearing plastic because that's what they think 3D printing is."
However, she believes that the technology can be used to create clothes in a multitude of materials. Because of this, she was able to create an outfit that is both fashionable and technologically advanced.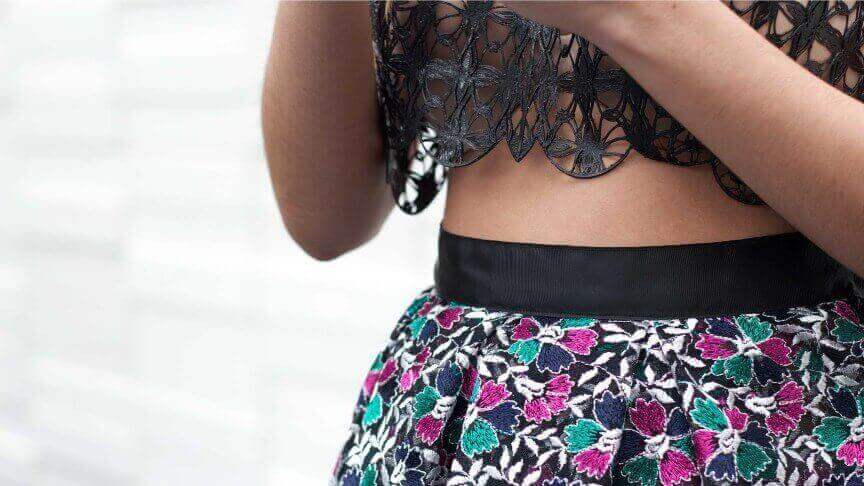 Stephania Stefanakou: A Bright Future in 3D Printed Fashion
Stefanakou's designs are produced using thermoplastic elastomers (TPE). This material is already widely used in the fashion industry, from active wear and rain-proof clothing. She adds: "When I 3D print TPE, it doesn't feel like actual hard plastic. It feels and it looks like fabric. It sits really nicely on your body."
Her ultimate goal is to make sure people don't notice that her clothing is 3D printed at first glance. Although she does want people to know eventually, she feels that it shouldn't be obvious.
This isn't Stefanakou's only use of 3D printing. During her third year at Ryerson, she participated in the Re-Engineering Fashion competition. She participated alongside fellow fashion, engineering, and business students. Shortly after Stefanakou and her team won the contest, they launched the business House of Anesi.
House of Anesi produces 3D printed bras that account for hormonal fluctuations and weight gain. This eliminates the need for women to constantly invest in new undergarments. The company, now two years old, is an integral part of Ryerson's Fashion Zone.
Impressively, Stefanakou is extremely business minded. She works at the Design Fabrication Zone (DFZ) and the Digital Media Experience Lab (DME) at Ryerson. Here, she has easy access to 3D printing equipment, as well as resources and mentors who have helped her with her ideas. She is currently building her own company called STEFANAKOU.
Her work has certainly drawn a lot of attention. As you can see below, she even showed off her 3D printed dress to the Prince and Princess of Norway. All in all, it looks like Stefanakou is finding her place as a 3D printed fashion pioneer.
Source: The Eyeopener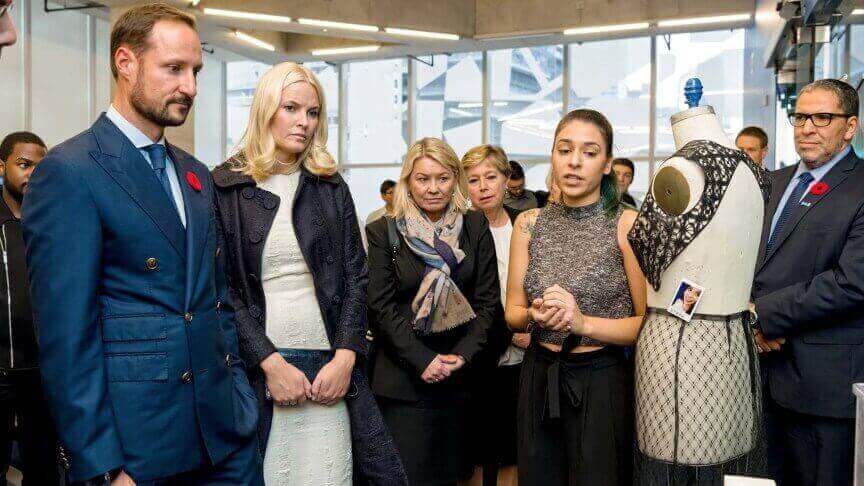 License: The text of "Stephania Stefanakou Uses 3D Printing to Make Unique Clothing" by All3DP is licensed under a Creative Commons Attribution 4.0 International License.
Subscribe to updates from All3DP
You are subscribed to updates from All3DP
Subscribe
You can't subscribe to updates from All3DP. Learn more…