'Blizzident' wants to improve our oral hygiene using 3D scanning to create medieval-looking flossing contraptions that quickly clean in between your teeth.
Let's be honest: how often have you skipped your daily flossing routine thinking, 'I'll just do it tomorrow?'
Seriously though, who likes flossing? Most of us know how boring and time-consuming it is. That's why not enough of us actually do it. Still, not flossing can lead to problems such as the gum disease gingivitis and of course, tooth decay.
But what if you could floss your teeth all at once to save time? Blizzident has created a funky new invention to try to spice up your flossing routine. Their customized 3D-Flosser might look a little weird, but it greatly speeds up the process.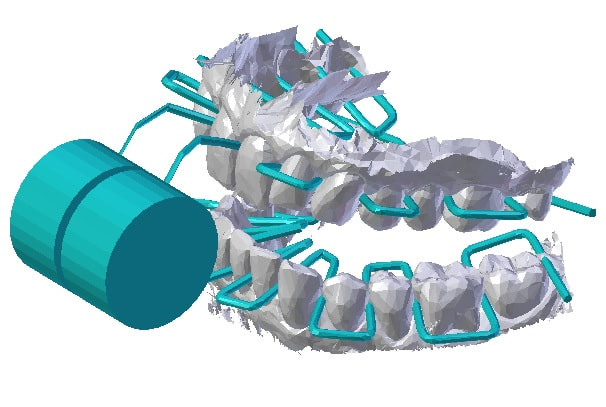 How Does the 3D-Flosser Work?
With this cool new flosser, you just need to position it correctly in your mouth and bite down until the floss is properly between your teeth. Then, just gently bite and grind it. The floss reaches about 2 mm below the gumline, which is exactly what dentists recommend. Plus, this whole flossing process takes all of 6 seconds.
Blizzident claims that this new way to floss is not only quicker than regular flossing, but it also cleans your teeth perfectly every time.
Better yet, it doesn't hurt. No more painful cuts on your gums because the 3D design stops you from biting too far.
"Flossing is so extremely important… But only between five percent of people in Europe, and 20 percent of people in the U.S. do it because it is difficult and time-consuming. You should also do it before sleeping, when people are usually too tired. Instead, people can now simply grip their tailored 3D-Flosser, bite into it, chew a little, and they are done with perfect flossing of their teeth within five seconds,"  Chris Martin, a spokesperson for Blizzident, told Digital Trends.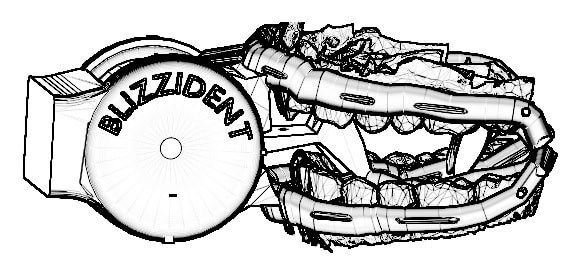 3D Scanning Makes the Dentist's Job a Little Easier
The 3D-Flosser works because it starts with a personalized 3D scan of your teeth. Blizzident then creates a customized wireframe from this scan that fits perfectly in your mouth.
The final result is a flossing device that takes very little effort, making you more likely to reach for it just before bed. Plus, this device holds four rolls of dental floss so you don't have to constantly restock it.
Blizzident feels pretty confident with their latest design and believes it could greatly improve your oral hygiene. Admittedly, it does look a little weird, like some medieval mouth guard. But hey, who cares what we look like while brushing or flossing anyway?
At the moment, you need to visit a dentist first to get a professional 3D scan, or dental impression, taken of your teeth. After that, you'll need to send your dental scan to Blizzident, which is located in Europe.
Next, they will manufacture and mail your personalized custom flossing device for €199 (around $230) plus shipping and handling.
Sure, the price is a little steep, so you might be wondering – is it really worth it? In the end, it comes down to whether you can afford to spend your money on a Blizzident device. And whether or not you would use it.
For some of us who get a little lazy when it comes to flossing, it could be an excellent way to improve our oral hygiene. Indeed, six seconds does sound better than several minutes.
Of course, we still have the cheaper option of taking a few minutes to floss on our own with some 2.50$ regular dental floss.
"The 3D-Flosser lasts many years. The only thing that ever has to be replaced are the floss rolls, which cost €4 ($4.50), after 500 usages," continues Martin. Instead of throwing the floss away every time you use it, simply run it under the tap and go again.
If you're a speedy flosser, but still feel that brushing your teeth for the required two minutes, two times a day is too much – check out Blizzident's 3D printed toothbrush too. What's more, their toothbrush takes only six seconds to use.
So, a twelve-second flossing and brushing routine? Where do we sign up?
Source: Digital Trends
License: The text of "Speed up Flossing with Blizzident Customized 3D-Flosser" by All3DP is licensed under a Creative Commons Attribution 4.0 International License.
Subscribe to updates from All3DP
You are subscribed to updates from All3DP
Subscribe
You can't subscribe to updates from All3DP. Learn more…