Transform your smartphone into a 3D printer? This amazed participants at the recent Inside 3D Printing show in Shanghai. The smartphone 3D printer is fairly accessible. It could even pave the way to a future where we can just 3D print anything anywhere.
The idea of a 3D printing smartphone is already driving makers and researchers enthusiastic. It comes from Professor Jeng Ywam-Jeng from (hold yer breath) the Optical-Electrical Processing Laboratory at the Department of Mechanical Engineering of the National Taiwan University of Science and Technology. The smartphone 3D printer uses a stereolithographic process, where a liquid resin is cured and thus solidified by a light source. Instead of using laser or digital projector, it uses the visible light emanated by the smartphone screen.
Smartphone 3D Printer For Just 100 Bucks? Great, But Don't Complain About Speed
The process is slower than traditional stereolithography (which is already fairly slow). It can achieve a maximum resolution of about 100 micron, which is comparable to filament based technologies. However, rapid advancements in smartphone screen manufacturing will help to make it faster, for example through brighter screens. The best part is that Professor
The best part is that Professor Ywam-Jeng intends to bring their product to market priced at just around $100.
Smartphone 3D Printer Alternatives Come From Italy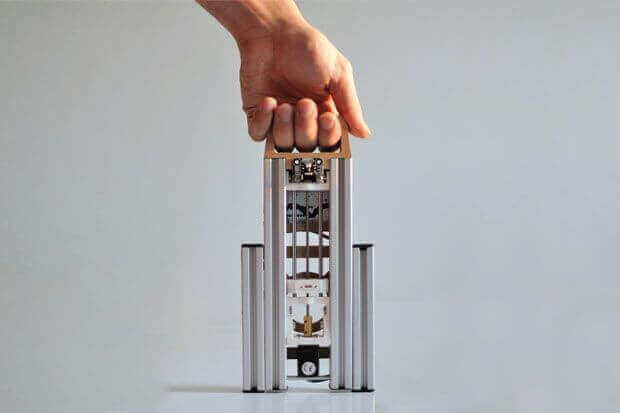 What about competition? Two other recently announced projects out of Italy, OLO and Lumifold (see above) intend to do something very similar.
OLO is a start up at its first ever project so it is not yet clear how far ahead they are (they do present an awesome concept design).
Lumifold, on the other hand, is the newest project by Lumi Industries, is established company that has been pushing the boundaries of low-cost stereolithography for a couple of years already. They want to build a low-cost 3D printer that is as thin as a tablet.
It remains to be seen if people will find actual uses for these mobile 3D printers but never say never when 3D printing is involved.
License: The text of "Smartphone 3D Printer For Just $100" by All3DP is licensed under a Creative Commons Attribution 4.0 International License.
Subscribe to updates from All3DP
You are subscribed to updates from All3DP
Subscribe
You can't subscribe to updates from All3DP. Learn more…