Culture Japan blog, is one of the early inspirers of 3D printed self-portrait figurines. Also, he's one of the most creative and talented men in Japan. Choo is a member of the Creative Industries Internationalization Committee and the Cool Japan Strategy Committee (apparently this is a thing).
Dani is also an active blogger, photographer, TV show director and presenter and also the creator of popular mascot characters. After leaving Amazon to work for Microsoft, Danny Choo decided to start his own company in Japan. He named it "Mirai", which translates to "Future". Now he is creating the world's first 3D printed smart-doll.
The way to 3D printed self-copies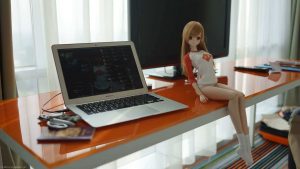 The "smart" part in the smart doll concept, though, didn't stand for technologically-advanced or anything like that. It simply suggests that the doll's design is heavily focused on social media and Art. The project was meant to bring a fully articulated 60cm-tall doll that could take all natural poses and postures. While it still doesn't walk, talk or connect to your wifi, it is fully articulated and looks more awesome than any other "traditional" doll available in the market.
The doll parts are 3D printed and assembled by hand while extra accessories are added as required while the apparel collection for these dolls is very fashionable. With orders coming in from all corners of the world, Danny decided he was ready for the next step: a truly "smart" doll, which he named smart-doll plus.
Larger is smarter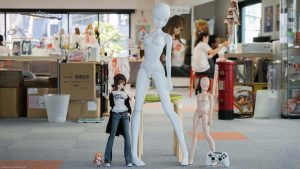 Doubling in size to 120cm, this new model is a robotic android made out of PLA plastic that is (as you've probably guessed) 3D printed. The "plus" doll project's goal is to become a helpful home appliance that connects to all home devices, such as your fridge or TV, interacting with them and you in various ways. Danny even went a step further by programming the doll to defend a house against a burglar (using pepper spray and a stun gun) but always in the context of respecting Asimov's three laws of robotics.
The 3D printer used to build the doll frame is a large size ATOM 2.0 printer, which uses a delta movement head printing at a resolution of 50 microns. The team tried the Form1 stereolithography system initially, but it failed to deliver on the larger size requirements, especially because the resin materials cost was 500% higher than PLA filaments. The electronics are based on programmable Arduino boards while the inner parts, like the gears, beams and connectors, are also 3D printed with the Atom 2.0.
Glimpses of Future Friends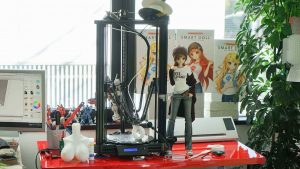 So, when are we going to see the first models walking in the streets and doing the groceries shopping for their owners? We are currently in version 2 and the development is still at an early stage with little hope for acceleration. It is financially based on the first startup, which still requires a lot of time and devotion to be kept running and profitable. I can only hope that Danny's connections with the Japanese government will benefit this project and move it forward with the help of more passionate experts. In the meantime, even if the age of "companion robots" is still far away, that of fully articulated 3D printed toys is upon us.
License: The text of "Meet the fully articulated 3D printed "Mini humans"" by All3DP is licensed under a Creative Commons Attribution 4.0 International License.
Subscribe to updates from All3DP
You are subscribed to updates from All3DP
Subscribe
You can't subscribe to updates from All3DP. Learn more…