New company Skelmet uses 3D scanning and printing to make custom sunglasses that fit perfectly and don't weigh heavily on your face.
A startup named Skelmet has an important question for you; why are all of our glasses, goggles and helmets shaped in the same way? Trying on a pair of sunglasses which suit you, only to have them dig into the back of your head is an irritating yet all too familiar feeling.
Skelmet wants to change all that. The company hopes to make finding the perfect pair of sunglasses or headwear easy for everyone. As COO Rain Wang explained to All3DP:
"Our company's name is Skelmet = Skeleton + Helmet. We started exploring ideas around motorcycle helmets, bike helmets, football helmets, but soon realized that it's really difficult as a start-up to mass customize helmets."
Instead, they're beginning with sports sunglasses and have found a way to completely customize them. To make this possible they're using 3D scanning and 3D printing technologies. In order to achieve the perfect fit, Skelmet uses a process called 3D fit technology.
"The fit of your head-worn product can be the difference between life or death when you are involved in an accident," says Wang. "So it's crucial to our opinion to mass customize head-worn products."
Customers will be able to scan their own face with a dedicated app. The app helps you to design your perfect pair of sunglasse, but to ensure the process doesn't result in unreliable data, Skelmet will also be partnering with a range of biking and outdoor shops.
Once you've been fitted and chosen your preferred style, the final step is to 3D print. Skelmet uses industrial-grade printers to build the custom sunglasses.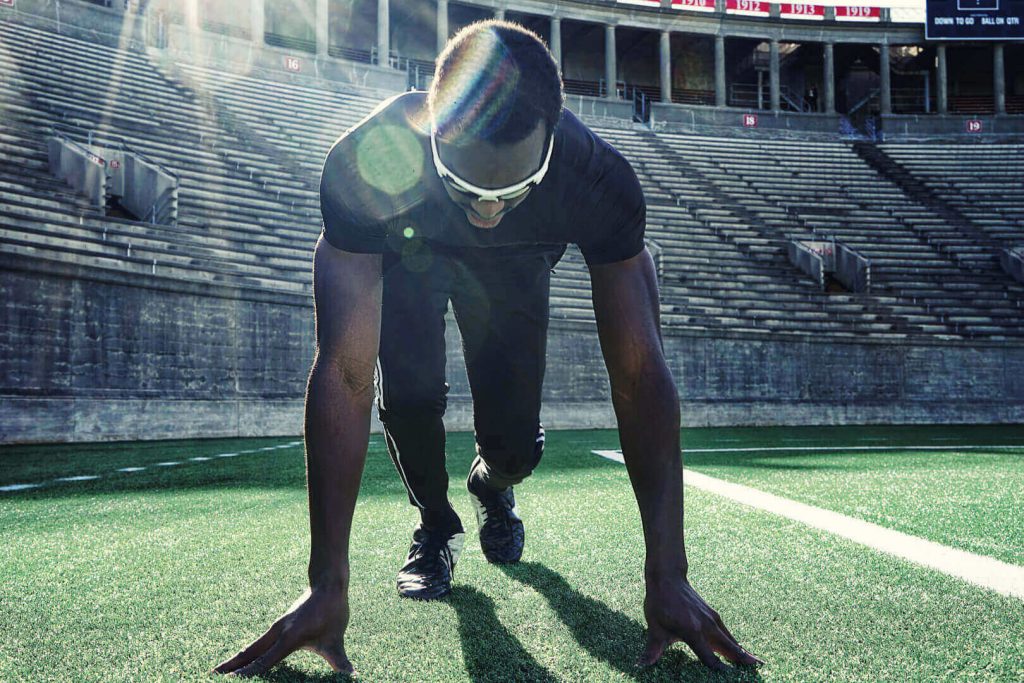 Making Skelmet Sunglasses Available for Everyone
An EOS P110 3D printer uses nylon plastic powder to fabricate the sunglasses. Amazingly, the resulting sunglasses weigh just 17 grams. Wang explains the benefits of 3D printing the design, saying:
"With eyewear, we can keep the costs somewhat similar to traditional manufacturing methods because the amount of material used is small compared with helmets, also because we don't need a full factory of production line to support manufacturing, meaning that wherever we are selling the products, we can place a 3D printer in the area, which would keep the logistical costs much lower."
However, Skelmet is only producing the frames. They are partnering with Essilor, the world's largest lens supplier, to create quality lenses. Skelmet allows for the lenses to be interchangeable and will recommend some useful suggestions.
In their initial offering, just one base design — the Falcon 1 — will be available. However, Skelmet have big plans for the future. "Our goal for creating the company is to completely eliminate the notion of 'sizes'," says Wang. "7.4 billion unique people, there should be 7.4 unique sizes. We cannot achieve this alone, sports eyewear is just the beginning."
Interested in owning your own Skelmet Falcon 1 sports sunglasses? Pre-order yours from Indeigogo. Early birds can expect to pay $230. However, once the glasses are available on the market, the price is likely to be around $350. Currently, Skelmet are just $4,000 away from their Indiegogo funding goal.
Looking ahead, Skelmet already has big plans for the future. "Long term wise," says Wang, "we are building the world's largest customization platform with the largest 3D head scan database."
License: The text of "Skelmet Scans your Face to 3D Print Sunglasses for Perfect Fit" by All3DP is licensed under a Creative Commons Attribution 4.0 International License.
Subscribe to updates from All3DP
You are subscribed to updates from All3DP
Subscribe
You can't subscribe to updates from All3DP. Learn more…