The first MyMiniFactory Design Challenge is over! Four winners took the stage, with first place going home with a Sinterit Lisa 3D printer!
Relatively new to the arena, desktop SLS printers are slowly gaining popularity. Need proof? How about the 415 submissions to MyMiniFactory's recent SLS Design Challenge!
The competition, co-hosted by Sinterit, was for the best project designed for execution by a desktop SLS 3D printer, namely the Sinterit Lisa. Participants were to incorporate features not normally possible with FDM or SLA, including freedom of form and multiple connected parts.
Designs had to fit within a space of 90 x 100 x 120 mm, the Lisa's maximum build volume.
First place went to bartus for the Barrel padlock. Apart from its beautiful design, it does an exceptional job of demonstrating the strengths of SLS printing. That's because the entire device, including all of its inner components, can be printed together, and it works immediately after completion! No assembly required.
For their incredible work, bartus received a free Lisa, a machine which sells for just under $5,000.
Next to the padlock, three other submissions were recognized. They include the Functional Windup Clock by Jeremy Webb, the Black Widow Gauntlet by Printed Obsession, and the Printable Flexible Wallet by Bertan Atamer.
"I wholeheartedly congratulate bartus for winning the Lisa and wish him a lot of fun designing and printing breathtaking models," said Paweł Szczurek, Sinterit's co-founder and CEO. "With the record number of participants, watching all of the great designs being printed using the Sinterit Lisa 3D printer was a great pleasure."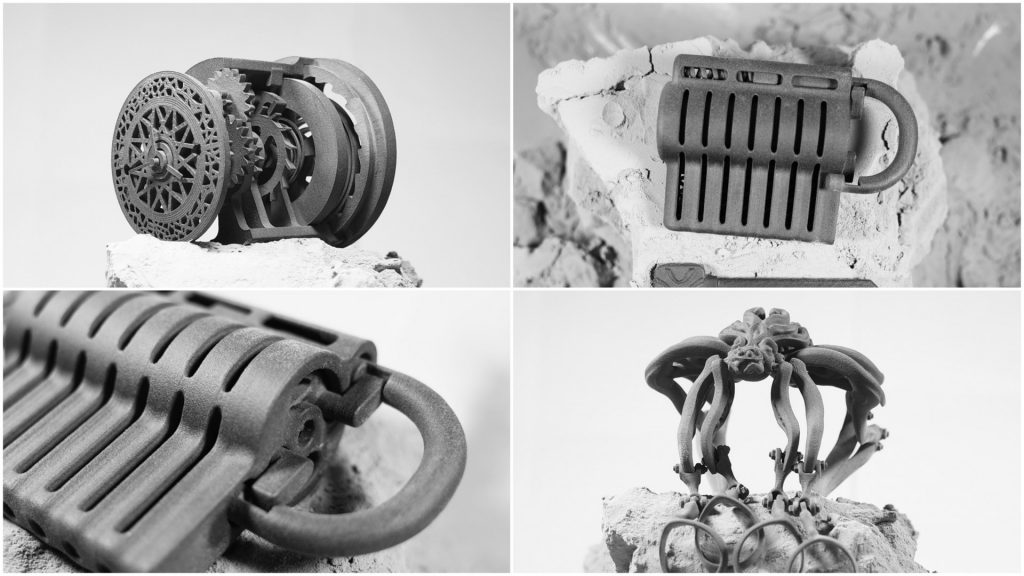 What's Possible with a Sinterit Lisa?
In creating their designs, participants could focus on one of three themes: mechanical, math art, or jewelry.
Mechanical prints incorporate multiple parts that work together to perform some function. Due to the nature of SLS, multiple parts can be printed at the same time, and work immediately after completion.
Math art looks at complex and beautiful shapes generated with algorithms. Unlike with FDM and SLA, such shapes are possible with SLS technology because no supports are needed.
Jewelry requires precise, intricate designs. SLS 3D printing tends to produce very strong results, allowing for these kinds of detailed and delicate structures.
Szczurek comments on the capabilities of SLS printing:
"We know that with SLS technology, designers can really empower their creation, not possible with other technologies. Despite the complexity, the models printed are durable and precise."
You can learn more about SLS 3D printing and the currently available desktop machines with our article 6 Benchtop SLS Printers for Small Businesses.
Source: MyMiniFactory
License: The text of "Sinterit Lisa Goes to MyMiniFactory Design Challenge Winner" by All3DP is licensed under a Creative Commons Attribution 4.0 International License.
Subscribe to updates from All3DP
You are subscribed to updates from All3DP
Subscribe
You can't subscribe to updates from All3DP. Learn more…