tec88 (a.k.a. Alexander Heigl) stripped off the bells and whistles, went back to basics, and built an Apple Watch 42 charging station that's little more than a block of plastic. Honestly, it's not even that attractive. No sweeping curves. No artistic interpretation. No symbolic representation of man's struggle against the dystopian ideal of technology as master. Just a place to put your watch while you're showering.
Appearance aside, this little thingamajig does what it's supposed to do without complicated assembly, tedious setup, or even instructions. How often does that happen? Um, never.
The simplicity of tec88's design, when compared to other watch stands, reminds me of the eternal battle between the pencil and the pen. How many times since its invention has the pencil been upgraded? Once? Maybe twice? And yet many still use these things every day. Compare that to the pen which is constantly being upgraded and improved. New design. New ink. Better grip. Smoother flow. We now have space pens that will write upside down, underwater, and even at the core of a black hole (this claim unsubstantiated). Pencils did that all along…except for the black hole part.
Sure those fancy watch stands are pretty and do lots of things like the space pen. But tec88's simple stand is more akin to the pencil – 500 years from now we'll still be using it relatively unchanged. There's something comforting about that.
Download plans from Thingiverse or let us print it for you!
Inexpensive $27.00: White Plastic printed by Sculpteo
Stylish $84.76: Transparent Frosted Ultra Detail printed by Shapeways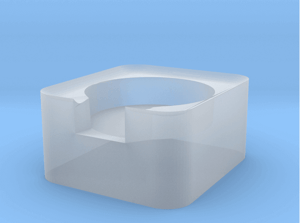 License: The text of "3D Printed Apple Watch 42 Charging Stand" by All3DP is licensed under a Creative Commons Attribution 4.0 International License.
Stay informed with notifications from All3DP.
You get a notification when a new article is published.