Microsoft unveils project allowing HoloLens users to share 3D creations in third-person with a DSLR camera and 3D printed brackets.
Much like 3D printing, the rise of virtual reality technology will let us see our physical world in a mixed reality style. The global tech giant Microsoft has committed itself to this emerging market with their HoloLens augmented reality (AR) headgear.
On Monday, Microsoft shared the Spectator View project with their eager customer base. HoloLens users will be able to show others third-person images of digital objects being rendered in their headset. When Microsoft first unveiled their augmented reality headset, they used this special rig to show off their technology to potential customers.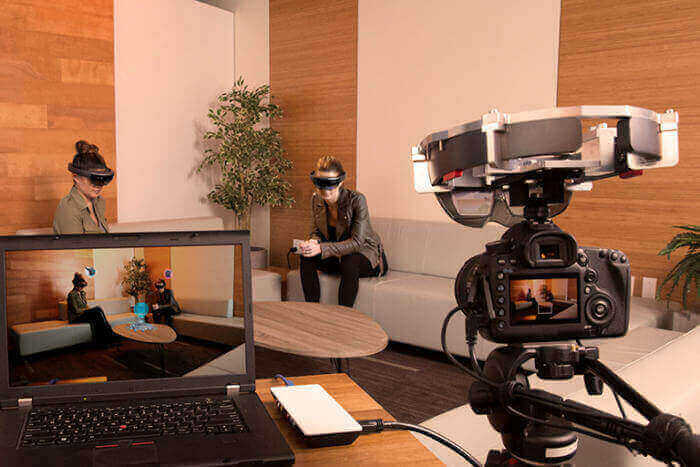 Building the Spectator View Rig
Anyone with two HoloLens devices can utilize the Spectator View rig. This setup allows users to share information about where AR objects are and how they appear in the digital environment.
To create the Spectator View rig, users need a HoloLens, DSLR camera with HDMI output, 3D printed mounting brackets and a capture card. Instead of wearing the device, users can mount it and sync information from the visual output from the camera.
Since the camera is not attached to a moving human head, the rig provides a more stable experience for the audience. The Spectator View allows users to capture photos of a mixed reality scene, take video of a holographic environment, or stream your AR experience to third-person parties.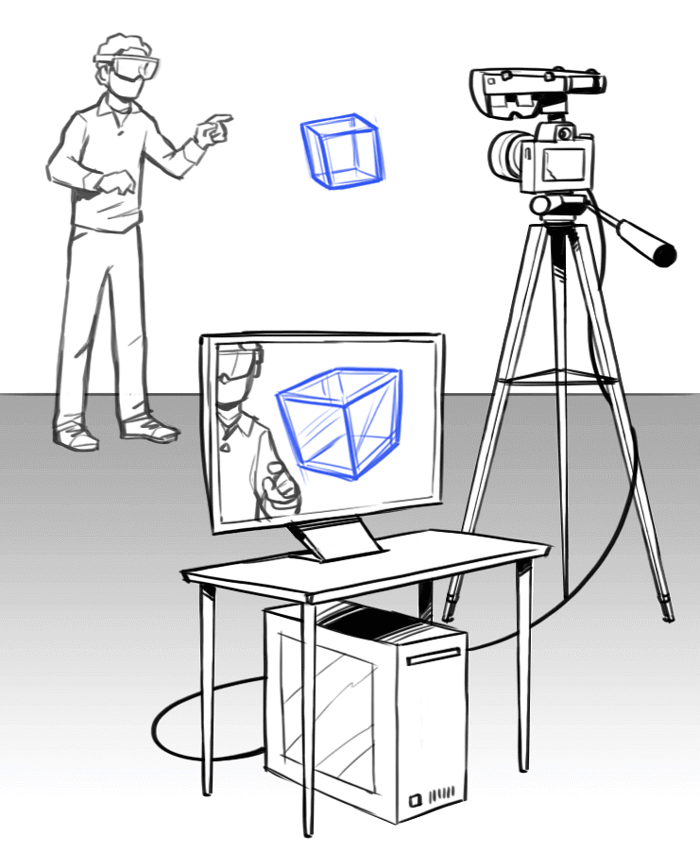 Because Microsoft will not be selling the custom-designed mounting brackets, access to a 3D printer is critical for the project. To evaluate the position and field of view between the HoloLens and camera, the Spectator View rig must also be properly calibrated.
Microsoft has shared full documentation and also comprehensive guidance (and STL files) for the project on GitHub.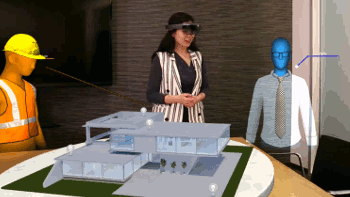 Share Your AR Creations With the World
By providing their customers with the Spectator View, Microsoft is ushering in a new age where the AR experience can be observed from a third-person perspective.
Windows SDK app creator enables the sharing of AR experiences with multiple people on a network. HoloLens users will now be able to share their virtual creations with businesses or potential clients. According to PC World, Capital One is experimenting with how they can use HoloLens at their brick-and-mortar bank branches.
Furthermore, the Spectator View project will allow you to do more than just show others the digital environment you've designed. You can also see how other HoloLens users are interacting with their virtual creations.
3D printing technology is also being integrated with other augmented reality devices like the HTC Vine or Google Cardboard. Check out the Microsoft HoloLens Spectator View demonstration below and prepare to enter the vast world of AR!
https://www.youtube.com/watch?v=DgIHjxoPy_c
License: The text of "Show Your Augmented Reality Creations With HoloLens Spectator View" by All3DP is licensed under a Creative Commons Attribution 4.0 International License.
Subscribe to updates from All3DP
You are subscribed to updates from All3DP
Subscribe
You can't subscribe to updates from All3DP. Learn more…