ShoesbyBryan became one of the very first companies to offer customizable fashion shoes for women.
A New Show Market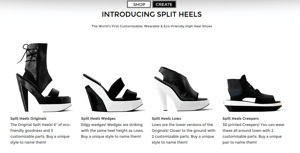 "3D printing presented the only way I could possibly make shoes since I was never formally trained in the craft of shoe making", Bryan explained during our quick interview. The main purpose of creating these shoes for the pioneering architect and designer is to explore new possibilities in the emerging market of 3D printed wearables. Bryan believes that his new manufacturing trend will not necessarily replace traditional shoe production methods but it will fill a void in the customization options. These are currently very limited, or not offered at all in most cases. Moreover, people will hopefully be able to create their own footwear using their own 3D printer from home in the near future.
"Just like with many other things in life, there is rarely ever a case of one thing being made in just one way," Bryan continued. "I do believe, though, that footwear will evolve so that it will benefit greatly from 3D printing. I believe that shoes will become downloadable and 3D printable. That will be one type of shoe, but there's no reason to stop making hand-made shoes as well."
The Price of Innovation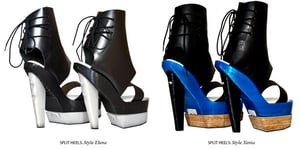 As this is just the beginning, there are many issues that Bryan has to deal with before he enjoys mainstream success. The difference in the materials and production processes for these high-tech solutions are reflected in the price of the shoes, which can reach £400 for a pair of Bryan's High Heels. People may have difficulties understanding why these shoes are so pricey, but if they actually perceive them as pieces of art and as a technological achievement, they will value them using different criteria.
"In order for a 3D printed shoe market to become viable, consumers have to be re-taught where the value in a pair of shoes is," Bryan explains. "3D printable materials are different than traditional materials and that canopies a problem from a shoe lover trying to understand the difference in the value of a pair of 3D printed shoes over a pair of traditionally made shoes. It would be helpful if consumers owned their own 3D printers, but the good news is, they don't have to own their own 3D printer and they don't have to know how to use one, either. There are more and more companies popping up that will happily 3D print something for you."
On-Demand Shoes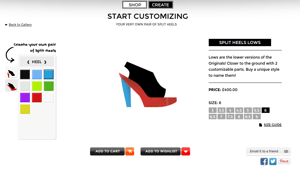 The final cost will be significantly lower when a few years from now, more people will be using their own printers to make their "on-demand shoes", but for the time being ShoesbyBryan is a great way to order a tailored pair of shoes and have them delivered at your doorstep. The website offers an intuitive customization app that helps you choose one of the four available designs and up to 10 colors for the heel, platform and sole parts.
Bryan wants to make ShoesbyBryan into a platform where people can interact with design ideas and share their creative inspiration, download printable shoes files and finally hit the mainstream market by taking his models to the shelves of physical stores. "My goal is to place 3D printed shoes firmly on the same shelves as traditional shoes and my main focus remains that of creating the world's most beautiful and technologically advanced footwear products."
[ff id="2″]
License: The text of "With ShoesbyBryan You Are the Designer of your 3D Printed Shoes" by All3DP is licensed under a Creative Commons Attribution 4.0 International License.
Subscribe to updates from All3DP
You are subscribed to updates from All3DP
Subscribe
You can't subscribe to updates from All3DP. Learn more…