A Shapeways user, Stony Smith, has sold 7,000 scale model railroad items with his online shop and turned his hobby into a success story.
Maker Stony Smith is celebrating a huge achievement. He just sold his 7,000th scale model railroad item on Shapeways proving anyone can turn a hobby into a mini business.
It was the sale of a Z Scale Bobber Caboose which helped Smith surpass the huge sale mark. He is now showing the buyer his gratitude by giving them a gift of $25, along with their model train.
Smith also chatted to Shapeways about this achievement. Although, he was always interested in model trains before, it was his community of fellow enthusiasts who truly helped him start creating and building his own models. He explains:
"Since 2008 I've participated ina forum of fellow 'Z-heads'and [I] showed the model to one of the members, Steve Van Til (RIP), who then asked me the crucial question: 'That's cool, but can you makeone of these?' That's where it all started. I could blame all of this on Steve. It's been a never-ending cycle of 'That's cool, can you make one of these?' ever since."
Check out the 7000th item sold in Stony Smith's shop in the image below: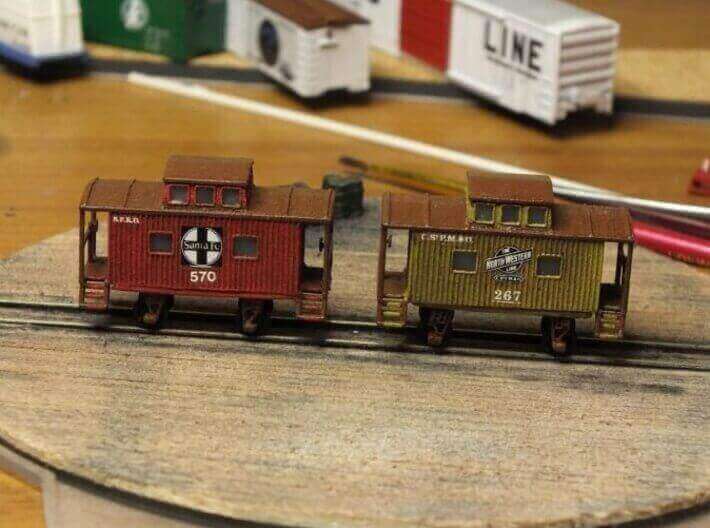 Selling 3D Prints: From Hobby to 7,000 Sales
Although he has now sold thousands of models, Smith is quick to point out that even with this success under his belt, making is purely a hobby. He says: "There's enough 'work' in my day job to keep me fully active." So far, he's selling Zscale, Nscale and HOscale models plus a lot of accessories.
His career and experience in big data analytics has certainly helped Smith manage his Shapeways shop. Being "the computer guy" has meant he can keep track of his sales. He surpassed $10,000 last year.
Smith is certainly one of Shapeways' biggest success stories. He proves that through sharing designs, it's easier to improve and develop 3D prints.
It's not about the sales or the money for Smith. He says: "When someone takes one of my items, paints it properly and places it on their layout, then if I see it in a photo or IRL, the thrill of 'I did that!' is what keeps me going."
Interested in buying a model train? Head to Stony Smith's Shapeways shop. You can learn more about Smith's processes in Shapeways' latest feature.
Source: Shapeways
License: The text of "Shapeways User Sells 7000 3D Printed Scale Model Railways" by All3DP is licensed under a Creative Commons Attribution 4.0 International License.
Subscribe to updates from All3DP
You are subscribed to updates from All3DP
Subscribe
You can't subscribe to updates from All3DP. Learn more…