What can you expect if you have a 3D model printed by services like Shapeways? 3D printing services compared for quality, price and speed.
This is a detailed test of several 3D printing services, evaluated for key criteria like print quality, cost, and efficiency of service.
How did we approach this test? As a control group study, we sent an identical STL file to the four biggest 3D printing services. The model was ordered in the same material for each, white plastic polyamide.
3DBenchy, the Jolly 3D Printing Torture Test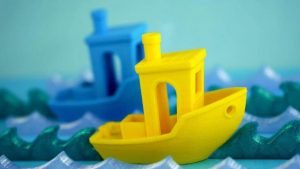 We decided that the best option to have 3D printing services compared — to really push the print quality as far as possible — was to use 3DBenchy, a 3D model specifically designed to testing and benchmark 3D printers.
3DBenchy is a small, cartoon tugboat, but looks can be deceiving. It has a number of challenging geometric features, so that running it though a 3D printer will quickly reveal typical issues such as surface finish, accuracy, and warping.
Newer iterations of the model can also test for dual extrusion and multi-part printing, but for this occasion we opted only for the base model in a single color and a single part.
Four 3D printing services compared
We ordered a print of 3DBenchy from the following print services to Munich, Germany:
| | | | |
| --- | --- | --- | --- |
| Service | Shipping (in working days) | Total Price (Euros) | Material |
| <a href="http://www.meltwerk.com" target="_blank">Meltwerk</a> | 7 | 14.65 | Polyamide White |
| <a href="http://www.shapeways.com" target="_blank">Shapeways</a> | 4 | 20.87 | Strong & Flexible White Plastic |
| <a href="http://i.materialise.com" target="_blank">i.materialise</a> | 6 | 24.22 | Natural White Polyamide |
| <a href="http://www.sculpteo.com" target="_blank">Sculpteo</a> | 5 | 33.14 | White Plastic |
In all four cases, the objects were ordered through a private account and were sent to a private address, to maintain a blind test and ensure we didn't receive any special treatment.
All prices include VAT and shipping to Munich, Germany.
It should be noted that whilst the services choose to describe polyamide differently, we can verify that the same material was delivered by each service.
The specific 3D printing technique employed by each service is laser sintering, a technology which is not commercially available (yet) for desktop printers.
Test Summary
Meltwerk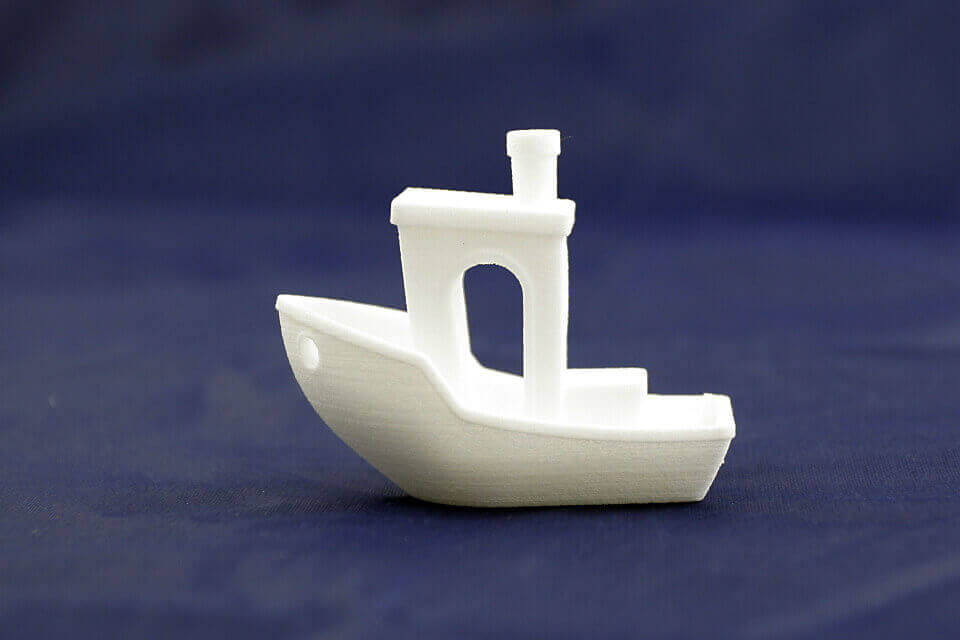 Best price, but slightly lower print quality than the other three print services. Meltwerk was also the slowest to deliver; 3DBenchy wasn't received until 8 days after the order was placed.
Shapeways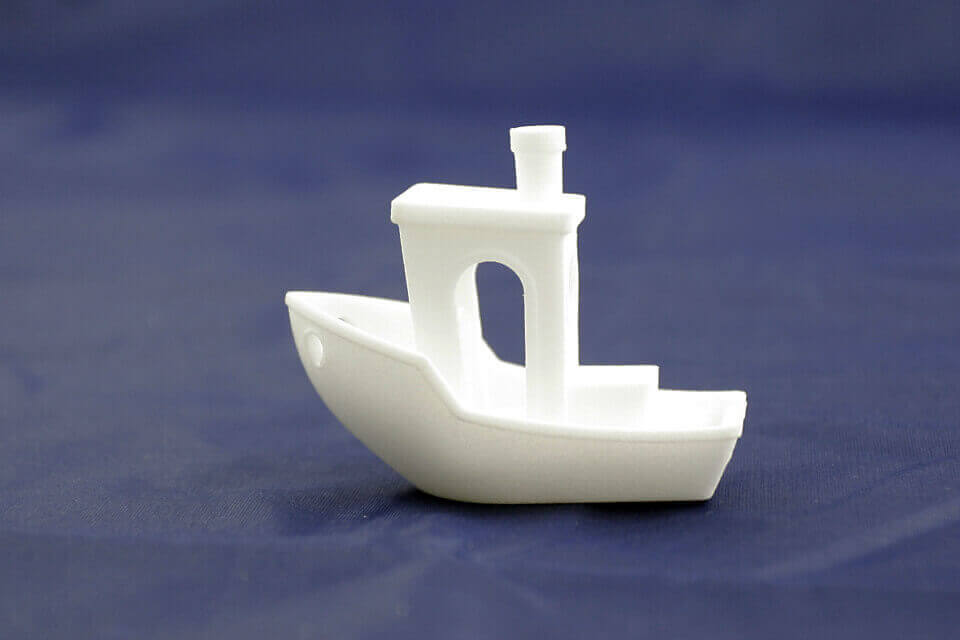 Overall the best print quality, the fastest delivery, and the second best price. The only area it falls down is the nameplate on the stern. It's not recognizable as a nameplate, and there was a blob underneath the nameplate where there shouldn't be. But then again, this could easily be removed using fine sandpaper.
i.Materialise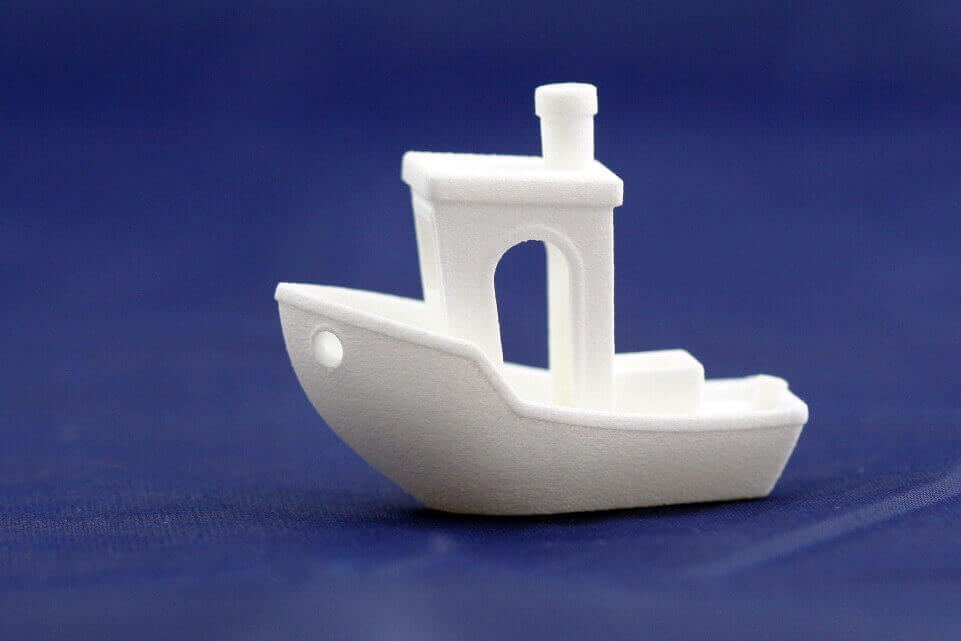 Good print quality, and a smooth surface – in many parts smoother than those of the other test candidates. The roof, however, clearly showed visible aliasing. A surprising flaw, compared to the other prints.
Sculpteo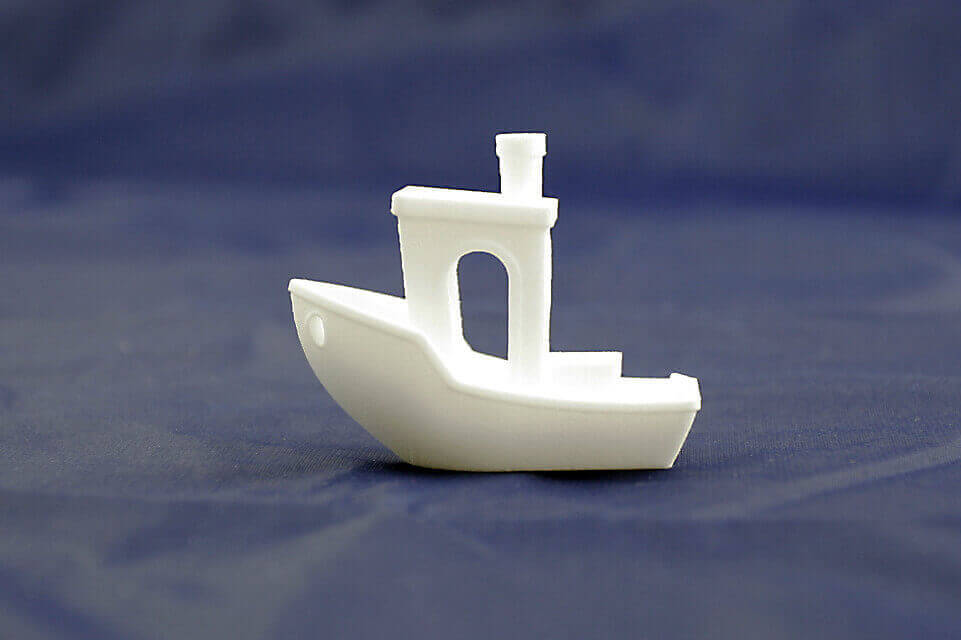 This was the most expensive service, due to high shipping costs. But — except for a visible bug on the surface of the hull — almost the best print quality of the group.
Detailed Results
Precision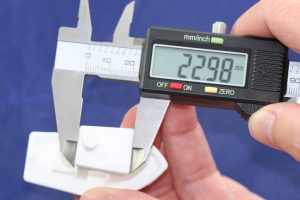 We measured the dimensions as indicated on the 3DBenchy website using a digital caliper.
Throughout, there were divergences of 0.1 and 0.2mm, and there were a few notable anomalies when values varied by 0.5mm, but nothing greater.
Overall, we reckon this is acceptable for this kind of object, but it's something to keep in mind if printing something that's designed to be fitted as a moving part.
Overhanging curved surface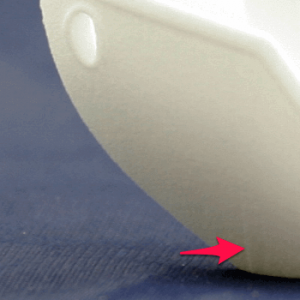 The hull is a smooth overhanging curve, which is pretty challenging to most 3D printers.
Shapeways and i.Materialise passed this test with flying colors.
Sculpteo also did well, except for a glaring flaw on the port side, which can be seen in the image to the left.
On the Meltwerk boat, some of the layers are still visible.
We believe the reason why each model performed so well is because of the laser-sintering process used by each service provider. Conventional FDM techniques would have to work harder.
Symmetry
3DBenchy is absolutely symmetrical so that warping and skewness can be easily detected.
None of our test models had problems in this area.
Planar surfaces
No problems with the planar surfaces – they were all parallel to the bottom plane. Only in the Sculpteo boat, the depth of the cargo box varied between 8.59 and 8.85mm.
Tiny surface details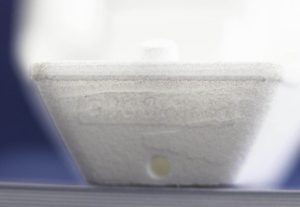 The nameplate on the stern is a real torture test regarding precision. The letters on the nameplate are less than 2mm high, and the plate itself is only 0.1mm thick.
This is where all test candidates had great difficulties. The letters are not recognizable as letters at all.
To the right, you can see the nameplate on the Shapeways test model, with an unusual bump just beneath that was not present on the original model.
Cylindrical shapes
The concentric shapes of the chimney came out fine in all boats except for the Sculpteo boat – here the inner circle was no circle.
Flat surfaces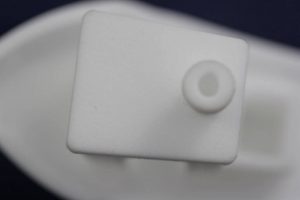 The surfaces of the gunwale and the roof are a test of how well the 3D printer handles layer steps.
The Shapeways boat showed no steps at all, with perfectly smooth surfaces in the image to the left, whereas the Sculpteo boat showed two (which one could remove by polishing the surface).
On the other two models, layer steps are clearly visible.
Overhanging surfaces
All models handled the roof of the bridge very well.
Horizontal holes and the wheel
Almost all models handled the large round window, the wheel in the bridge and the small hawse pipe for the anchor well.
Slanted small holes
The fishing-rod holder on the stern was printed well by all models.
First layer details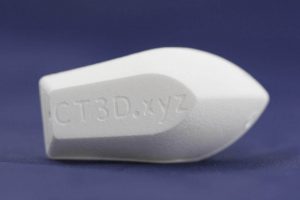 A typical problem of 3D printers is that the first layer often is squashed by the layers on top.
To test this, the 3DBenchy boat has large letters at the bottom.
In all our tests, the results are very neat. No (or almost no) squashing on any of the printouts.
The i.materialise boat had the sharpest letters at the bottom, in the picture to the right, with no first layer squashing at all.
The Verdict
Depending on your requirements when judging the 3D printed boats, you can reach two or three different conclusions.
Firstly, from the perspective of those folks demanding the highest precision, none of these test models were without fault.
Each of the boats from Shapeways, Sculpteo, Meltwerk and i.Materialise have at least one clearly visible flaw. In some cases, more than one.
If, for example, a legible nameplate is of vital importance to you, then these printing services might not be for you.
But then again, how realistic is it to get a perfect 0.1mm nameplate with sharp letters? Conventional means of manufacturing would probably struggle too.
Secondly, if you specifically require your 3D print to be laser sintered, as opposed to stereo-lithographic resin or fused deposition modelling available on consumer grade printers, then these services are your best options.
Finally, all four printing services deliver quality results if you take into account fixed parameters.
In other words, for prices ranging from €15 to €30, the overall standard is pretty good. In two cases, you'd only need to do a bit of post-processing with a piece of very fine sandpaper and you'll have perfect results.
Overall, we think these four services tick a range of boxes in terms of budget and quality. 3D printing services compared shows a diverse and healthy marketplace, and that's a big win for the typical consumer.
If you'd like to compare prices from these 3D printing services yourself, visit our new 3D Printing Price Comparison Service
License: The text of "Shapeways & Alternative 3D Printing Services Compared" by All3DP is licensed under a Creative Commons Attribution 4.0 International License.
Subscribe to updates from All3DP
You are subscribed to updates from All3DP
Subscribe
You can't subscribe to updates from All3DP. Learn more…