Research team in France collaborating with archaeologists to use a Robotic Blimp to explore a mysterious new chamber in the Giza pyramids.
Deeper exploration of hard-to-reach spaces and ancient monuments such as the newly discovered hollow inside the Khufu Pyramid in Giza may become a little easier thanks to the development of an exploration robot by a team of French researchers.
How to explore delicate sites with minimal disruption? 3D printed robotic blimps are the answer.
Institutes Inria and CNRS have collaborated with project ScanPyramids, led by the University of Cairo and the HIP Institute in France, which recently uncovered a void inside the Khufu Pyramid using muon tomography — a technique that generates three-dimensional images of volumes using cosmic ray muons.
Although researchers are keen to find out just what exactly lies hidden inside, they are unable to gain easy access. That's where the new exploration robots come in.
The devices have been built to fit through a hole as small as three centimeters. They also unfold and inflate themselves in order to explore differently sized spaces.
According to Jean-Baptiste Mouret, a member of the Larsen project team at the Inria centre, 3D printing is the solution to the challenge of fitting all of the necessary hardware into such a small diameter.
"Besides the usual technical challenges with miniaturization," he says, "we need to machine or 3D print many small parts, and there are a lot of moving parts — for instance, the current design of our tubular scout robot has more than 140 ball bearings."
The team also traveled down an evolutionary path from fused deposition modeling (FDM) to stereolithography (SLA).
"We started with our Ultimaker 2 3D printer because it was faster than machining and 3D printing allows us to make highly complex shapes," Mouret explains. "But it was very hard to the get small parts right."
"We recently bought a Form 2 3D printer, which is amazing for small and complex parts. Our prototypes are now much better and we can print new parts several times a day."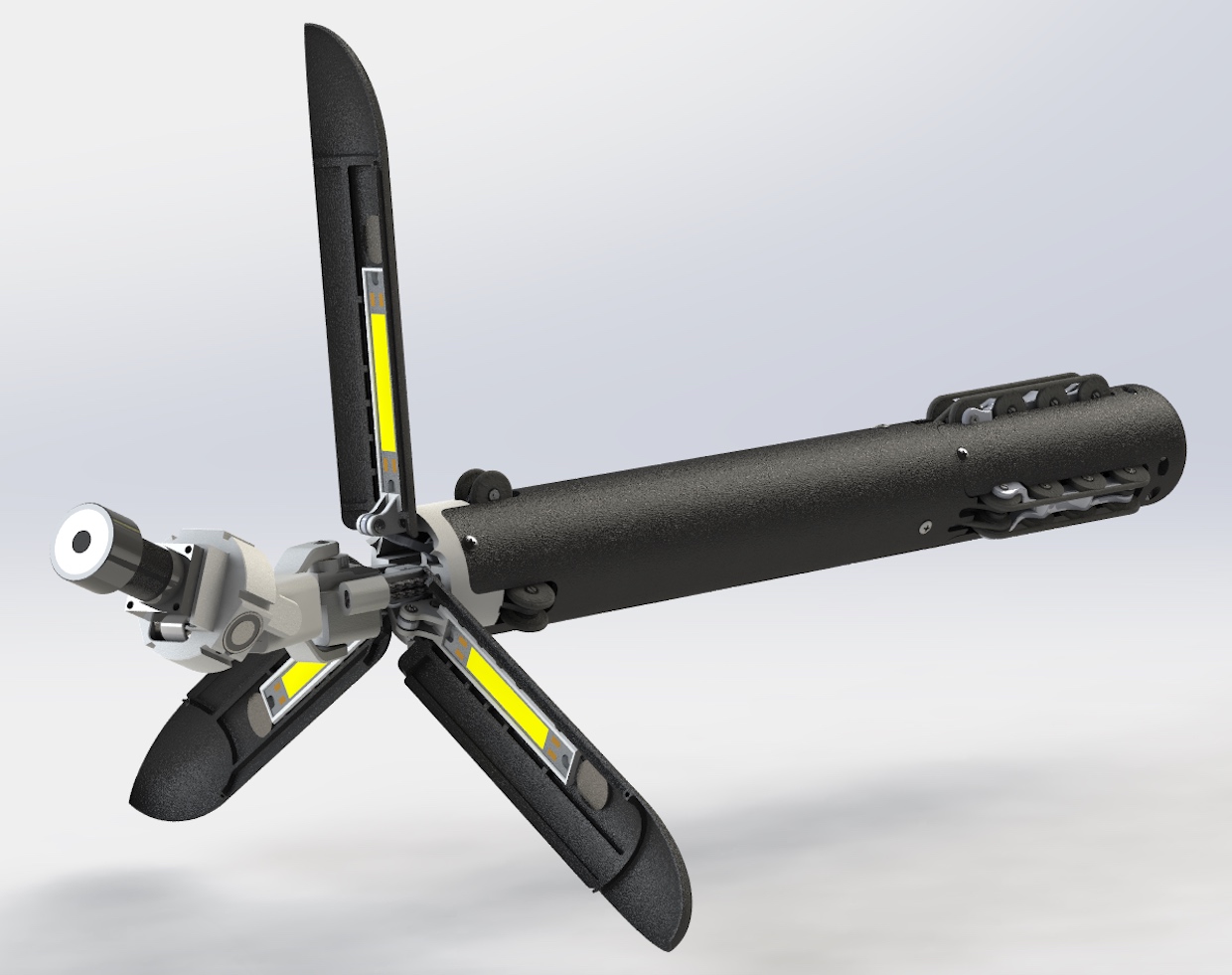 Robotic Blimp is Minimally Invasive Exploration for Heritage Buildings
The first robot features an omnidirectional camera that first explores an area and transmits high resolution images.
As soon as safety levels are determined, a second miniature robot is inserted through the same opening. The robotic blimp sits within a dock, but can be uncoupled to explore the area. It can also be inflated to 80cm using helium. The robot includes lights, cameras and a navigational system.
Once its mission has finished, the device returns to the dock, deflates and moves back out of the opening.
The invention opens up a series of opportunities for researchers to explore otherwise difficult to reach spaces. It eliminates the risk and complications which usually come with the task.
"We recently bought a Form 2 3D printer, which is amazing for small and complex parts. Our prototypes are now much better and we can print new parts several times a day."
In addition, the blimp shape enables the robots to navigate more easily; stairs or rocks, for example, can be swiftly moved around. According to the researchers, it also offers a better perspective and greater surface area coverage.
"The fact it can fly makes it possible to overcome all of the obstacles on the ground that make exploration complicated, such as stairs or debris," says Mouret.
"A mini-airship, on the other hand, does not require engines to keep it in the air, has good stability and better safety with regard to the monument as the risks linked to a collision are lower."
Source: IEEE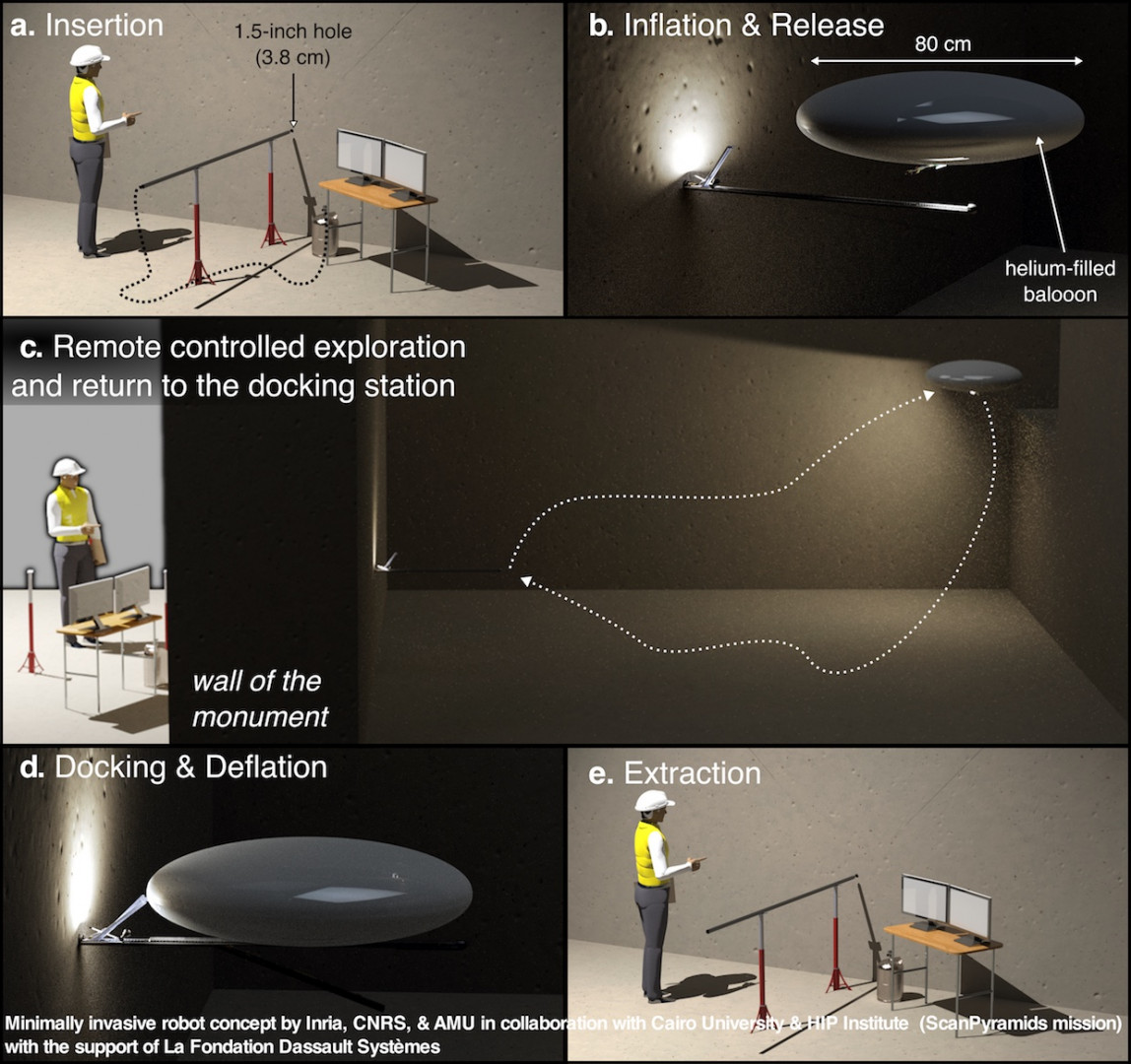 License: The text of "Robotic Blimp to Explore Hidden Chambers of Great Pyramid" by All3DP is licensed under a Creative Commons Attribution 4.0 International License.
Subscribe to updates from All3DP
You are subscribed to updates from All3DP
Subscribe
You can't subscribe to updates from All3DP. Learn more…