3D printing is mainly associated with plastics and other "exotic" materials. But a growing number of possible applications call for the use of more "traditional" materials, thus opening a path to new ways of manufacturing more common things. For example, there are individuals and small companies that are currently trying to figure out how to 3D print "personal" concrete houses and other original buildings. In some cases, they are already succeeding.
Build Me a Home of My Own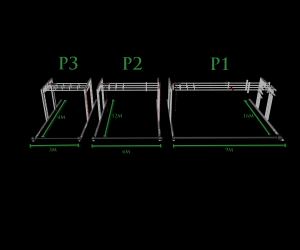 The first example comes from a Slovenian company named BetAbram who constructs large 3D printers that are suitable for the printing whole houses. The three printers used by BetAbram can produce objects of the following sizes: 3 x 4, 6 x 12 and – hold your breath – 9 x 16 meters! The company aims to sell those printers rather than using them to 3D print houses on demand. Their concept is that it's easier and more convenient to 3D print a concrete house in the place it is meant be used, instead of transporting it to a location.
The price for the smallest model of BetAbram's 3D printers is €12.000 while the largest one costs €32.000, but no additional information such as printing speed and mixture details are currently available through their official website. It is interesting to note that a plastic mesh is manually placed between the printed layers for increased solidity, as pure concrete is not enough by itself sufficiently strong and thus safe in case of earthquakes.
My Home is My 3D Printed Castle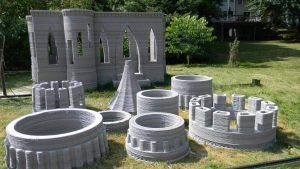 The second case of "personal 3D printed housing" that has raised more than a few eyebrows it that of a passionate engineer called Andrey Rudenko who built a whole miniature castle in his backyard, just to check if the technology we have in our hands nowadays can produce such a thing. The result is truly remarkable and feels way ahead of its time, like a jet-fighter in a world were the Wright Flyer isn't even ready yet!
Rudenko was trying various configurations and parts, testing his concept concrete printers for two years before building a standing castle out of nothing more than pure concrete. Based on the RepRap project, and with the help of the RepRap community, Rudenko built an enlarged version of the printer using his own stepper electric motors and a custom made nozzle that reduced the possibilities of getting clogged up with cement.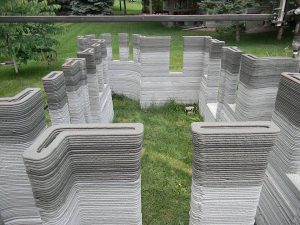 The engineer claims that the printer was made to withstand windy conditions while printing and that can print cement at temperatures as low as 0° C. The engineer faced complex issues that involved the potential clogging of the nozzle, the cement mixture precision, the size of the printer and its reliability over an extended period. Before offering something to the market, Andrey wants to develop the second version of his printer based on the lessons learned throughout the building of the castle.
The new model will be able to print the whole structure in one single piece, avoiding the use of cranes to place the different sections one on top of the other. The machine will be able to work non-stop seamlessly for at least 24 hours. This new concept structure will also feature plumbing and electrical networks, as it will be a fully livable house. While they may be still in a very early phase, there is little doubt that Rudenko's and BetAbram's exploration efforts allow us to say safely that the time when 3D printed, highly customized houses will be a reality cannot be far from now.
License: The text of "Save money by 3D printing your home" by All3DP is licensed under a Creative Commons Attribution 4.0 International License.
Subscribe to updates from All3DP
You are subscribed to updates from All3DP
Subscribe
You can't subscribe to updates from All3DP. Learn more…