Google developer Uri Shaked created a real-life version of the Chrome T-Rex game, first for Geekcon, then for the Chrome Developer Summit.
If you use Google Chrome, you're probably familiar with the tiny pixelated dinosaur that appears whenever "There is no Internet connection". What you might not know is that he's actually the star of a game, activated by you pressing the space bar.
Not a very effective way of keeping you happy until you're back online, right? Well, it turns out that some people, like Uri Shaked, a developer at Google, are actually quite fond of the game!
In fact, he likes it so much that he, together with his girlfriend Ariela, created a real-life version of the game at Geekcon.
Uri describes Geekcon as "a weekend-long hackathon where the purpose is to build useless but cool stuff". Indeed, the headline at Geekcon.org is, "Top talent, Endless creativity, Mostly Useless".
The most recent event took place on the 14th of September. Along with Uri's T-Rex game, other projects included a mopey robot and robotic cat that chases a laser pointer.
Following the success of his game, Uri asked the organizing team for the upcoming Chrome Developer Summit if they'd like it to appear as an exhibition. They were thrilled.
And so the version at Geekcon became a prototype…
The final product required a little more work. Many of the parts were 3D printed, including the cactus carriers and the mounts for various mechanical components.
The Chrome T-Rex Game… Without Chrome
Originally Uri wanted the cacti to ride two separate conveyor belts. One would be placed behind the game's backdrop and effectively recycle the cacti to the one in front, with two transferring mechanisms between them.
Unfortunately, the idea was too complex — skipped for the prototype and scrapped in the final version.
Instead of the mechanisms, Uri used two circular tracks, in effect creating a large loop. As a result, the cacti run circles around the backdrop.
To detect the cacti and award points, Uri attached magnets to their carriers, and a magnetic sensor to the track.
Making the T-Rex jump was relatively easy. Indeed, Uri and his girlfriend had the dinosaur leaping through the desert within the first few hours of Geekcon. This was achieved with a motor, attached to a big fat button, and a pulley, attached to the tiny carnivore.
Because the game would be presented at the Chrome Developer Summit, Uri felt it was fitting that it should make use of Google Web Technologies. As such, the entire game is programmed in JavaScript!
For more details of the game's construction, check out Uri's blog post. And if you're interested in making it yourself, he's uploaded all the 3D printable parts onto Thingiverse!
Source: Codeburst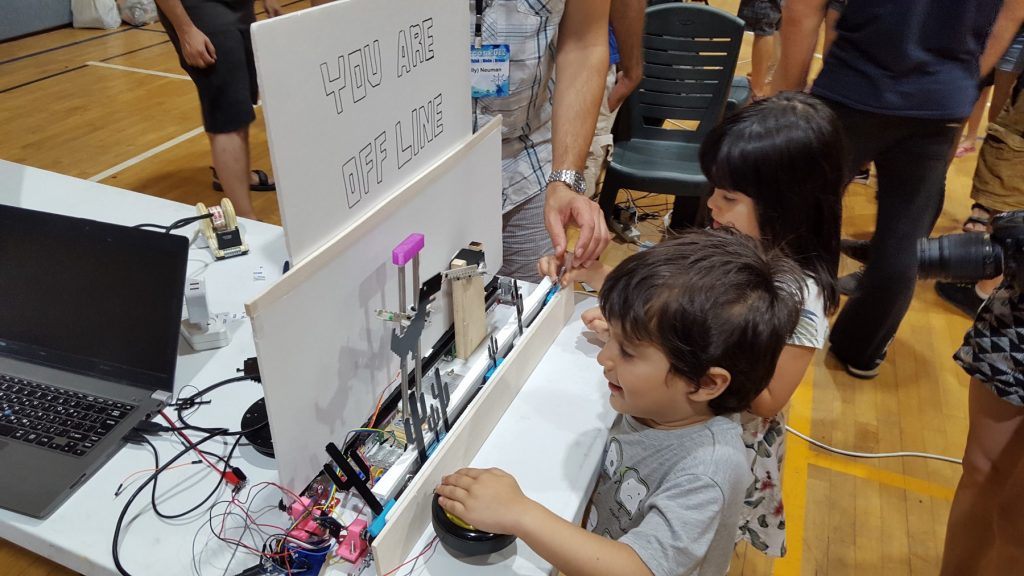 License: The text of "A Real-Life Version of the Chrome T-Rex Game" by All3DP is licensed under a Creative Commons Attribution 4.0 International License.
Subscribe to updates from All3DP
You are subscribed to updates from All3DP
Subscribe
You can't subscribe to updates from All3DP. Learn more…