Prusa Printers is about to release a multi-material 3D printer upgrade for the Prusa i3 MK2 which uses up to four colors to improve your prints.
Don't Miss: Original Prusa i3 MK2 Review: Best 3D Printer Kit of 2017
Well, well, well. Just four days ago, we summed up our review of the original Prusa i3 MK2: "It doesn't get any better." Now, Josef Prusa taught us better.
Josef Prusa, founder of Prusa Research, is one of the pioneers in the desktop 3D printer field. He transformed the RepRap 3D printer model into an affordable, upgradeable and fully open source choice. Prusa's i3 MK2 series is one of the most popular options on the market.
Now, Prusa introduced a multi-material printing upgrade for the i3 MK2 series. This means that tens of thousands of Prusa i3 users (if not more) will be able to upgrade their 3D printer and start printing with up to four colors.
Right now, the multi-material upgrade is in beta. Final release is expected by the end of November 2016. The 4 material version will cost $249, the 2 material version will be $199.
Key Features of the Prusa i3 MK2 Multi-Material Upgrade
Prusa decided not to go the multi-nozzle path for multi-material printing as that involves a number of disadvantages: the printable are would decrease, calibration would be more difficult, there might be problems with retraction and with filament oozing.
Instead, the multi-material upgrade for the Prusa i3 printers will mean:
adding a motor multiplexer board
replacing 2 parts on the extruder, i.e., moving the extruder stepper onto the frame and adding 2 or 4 steppers on the frame
adding tubes for feeding the color filaments
The advantages of this procedure, according to Josef Prusa:
perfect aligment of the colors
no additional calibration (on top of regular calibration)
no ooze shields needed
build volume is not reduced
easy upgrade for Prusa i3 models as no special motherboard/or replacement motherboard is required – the multiplexing board can easily be attached to the frame
printer owners can continue to use the regular E3D hotend
minimal additional load on the extruder carriage.
Watch Prusa's video below to see the upgrade in action:
If you want to see the upgrade in action, Prusa will be exhibiting the new component at a range of events. Check out his website for more information.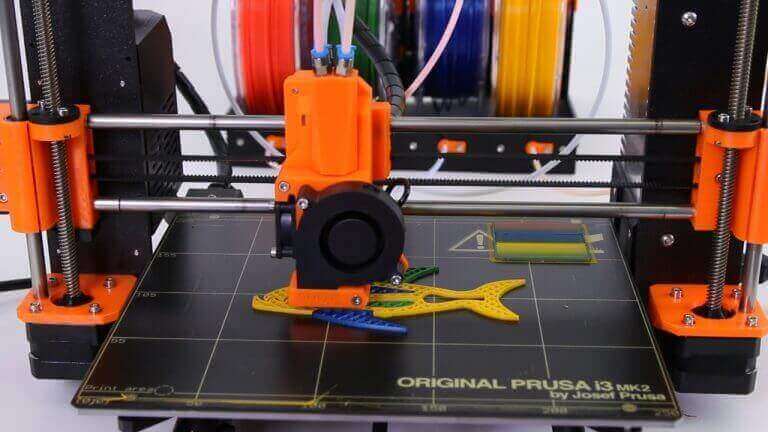 License: The text of "Original Prusa i3 MK2 Multi-Material Upgrade" by All3DP is licensed under a Creative Commons Attribution 4.0 International License.
Stay informed with notifications from All3DP.
You get a notification when a new article is published.