Researchers have developed a three-layer system to verify the security of 3D printed components, embedding tiny gold nanorods into parts.
As additive manufacturing is increasingly used for industrial applications, the need for more protective security measures also grows. With a heavy reliance on software, industrial-grade 3D printing technology is constantly at risk of malicious attacks. Hackers can infiltrate and compromise a print without a trace, creating a call for more protective solutions.
Researchers from the Georgia Institute of Technology and Rutgers University are developing a unique three-layer security system. This method will help verify that 3D printed components are not compromised by hackers.
This system utilizes acoustic and other physical inspection techniques to confirm that the printer is properly operating. There are three primary components of this inspection process.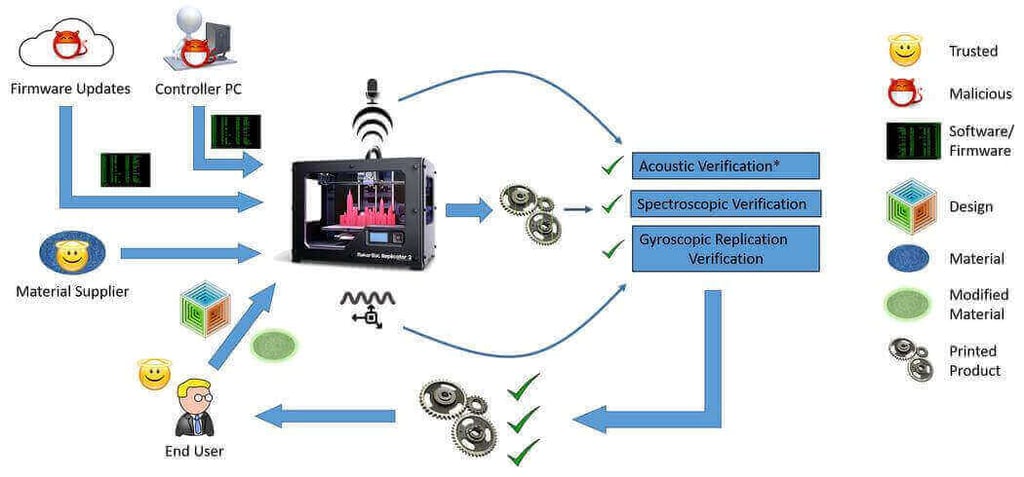 Gold Nanoparticles: Protecting Prints From Hackers
The first is an acoustic measurement of the 3D printer in operation. Using an inexpensive microphone and filtering software, operators can monitor and also detect changes in the sound of the printer. Secondly, users can also track the printer's extruder and other components to observe whether they follow a consistent mechanical path or not. This step is done with inexpensive sensors, and detected variations could indicate a potential cyberattack.
The last part of this three-step method includes the use of tiny gold nanorods mixed into filament. By verifying the location of these gold nanoparticles within a part, operators can check whether they have been accurately dispersed throughout the print. Any discrepancies that arise likely suggests tampering within a print.
According to researcher Raheem Beyah, a professor at the Motorola Foundation and also associate chair in Georgia Tech's School of Electrical and Computer Engineering, this cybersecurity issue they are trying to tackle is an extremely important one.
"The idea that additive manufacturing processes could be compromised to intentionally hurt someone hasn't really been considered with some of these applications. There is a good bit of room to improve the security of 3-D printers, and we think that will start with applications that are closest to humans, such as implants and medical devices," he says.
Researchers have already tested the gold nanoparticles to ensure that they won't interfere with the structural integrity of printed components. This security measure is already in use with various 3D printers, a CNC machine, as well as medical imaging techniques.
Now that the team has proven the feasibility of the system, they plan to use funding to further development. The researchers will share their verification and detection research at the 26th USENIX Security Symposium on August 18 in Vancouver.

License: The text of "Protecting 3D Printers From Hackers With Gold Nanoparticles" by All3DP is licensed under a Creative Commons Attribution 4.0 International License.
Stay informed with notifications from All3DP.
You get a notification when a new article is published.