Thingiverse user UniversalMaker has recently shared a vibrant and modern 3D printed DIY lamp project. Dubbed as the Voronoi Blowball Flower, this light fixture will brighten up your room and produce some stunning wall patterns while doing so.  
Looking for a DIY way to add some color to brighten up the dull house or office? We've got a new 3D printing project from Thingiverse user UniversalMaker, who we recently featured for his solar-powered OpenRC boat, that will add a flower power vibe to your abode.
The Voronoi Blowball Flower Lamp is a 3D printed light fixture that resembles a flower stem and bulb. It's equipped with LEDs, allowing you to switch colors at a whim, producing awe-inspiring patterns on your walls and ceiling. Best of all, it's pretty darn easy to make yourself, and the German maker has laid out everything you need on his Thingiverse post.
Let's take a look at what you need and how to assemble your very own 3D printed Voronoi Blowball Flower Lamp!
Voronoi Blowball Flower Lamp: What You Need
If you want to make your own blowball flower lamp, you'll need to have your 3D printer and some filament warmed up and ready to print. The STL files for this project are freely available for download via Thingiverse. You can also use the OpenSCAD customizer to modify your lamp the way you see fit. But for simplicity's sake, we'll follow along with the original build by Universal Maker.
Here's what else you'll need to brighten up your house with this far-out DIY lamp:
Once you have all your supplies ready, it's time to start putting it together!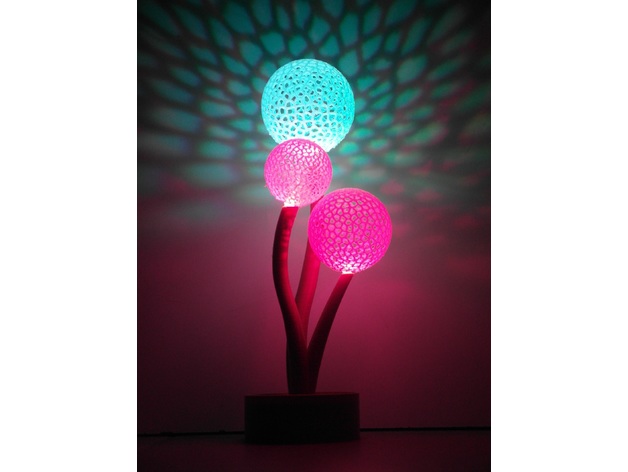 Voronoi Blowball Flower Lamp: Putting it Together
For the printing process, you'll need to use support structures for the base of the model. If you orientate the 3D design onto its flat side, you will reduce the amount of supports you'll ultimately need. The German maker uses 20 percent infill and a .2mm resolution to print the blowball parts and the lamp base.
After all of the parts are 3D printed, the next step is to assemble the LEDs. These are fitted through the holes placed at the end of the top part of the 3D print, connected via the toggle switch to the 9V battery. The Voltage converter will enable you to control the color of the LEDs. In order to fit the top lid over the 3D printed bottom, you might need to do a bit of sanding. But other than that, everything should fit snugly together.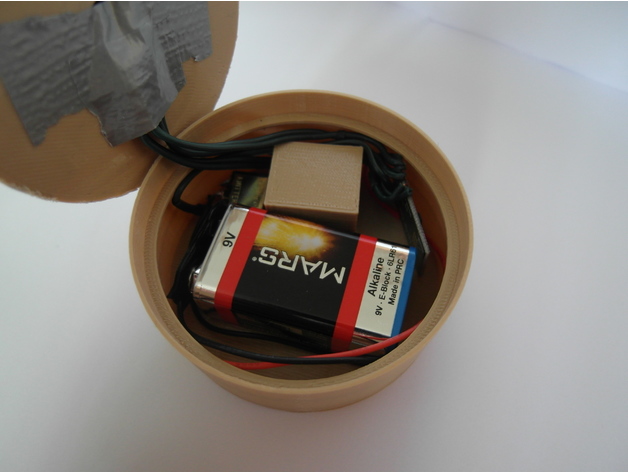 To finish things up, glue the bowls to the end of the 3D printed stems, positioning the LEDs in place while you do so. A bigger hole may need to be drilled into the flat side of the balls so that the lights will fit inside.
All in all, this is a relatively easy and quick project that will turn a boring room into a psychedelic and flowery dreamscape. There are plenty of different DIY lamps you can make with your 3D printer, but this one is definitely more unique than your usual desk lamp!
Check out the video below for further instructions and a closer look at this awesome project.
License: The text of "Project of the Week: DIY Voronoi Blowball Flower Lamp" by All3DP is licensed under a Creative Commons Attribution 4.0 International License.
Subscribe to updates from All3DP
You are subscribed to updates from All3DP
Subscribe
You can't subscribe to updates from All3DP. Learn more…