The new startup PrintMyRoute will take GPS data and 3D print the route of your favorite cycling or running journey.
Feeling particularly proud of a cycle route you just completed? Want to keep that majestic running trail with you for the rest of your life? Well, why not get your finest fitness moment 3D printed by PrintMyRoute, a startup company specializing in 3D printing activity routes for exercise enthusiasts.
Jake Morgan, the entrepreneur and cycling enthusiast behind the startup, was originally inspired to 3D print routes after he saw some of the stage visualizations from the Tour de France. "I love working with data and maps. I thought it would be a cool idea to see what a 3D printed model of my own Strava routes would look like," Morgan says.
As a 3D printing novice, Morgan purchased PrintMyRoute's first machine just three months ago. Since then, he's been printing and tweaking non-stop, producing prints which are extremely accurate and drawing in interest from fitness enthusiasts across the world.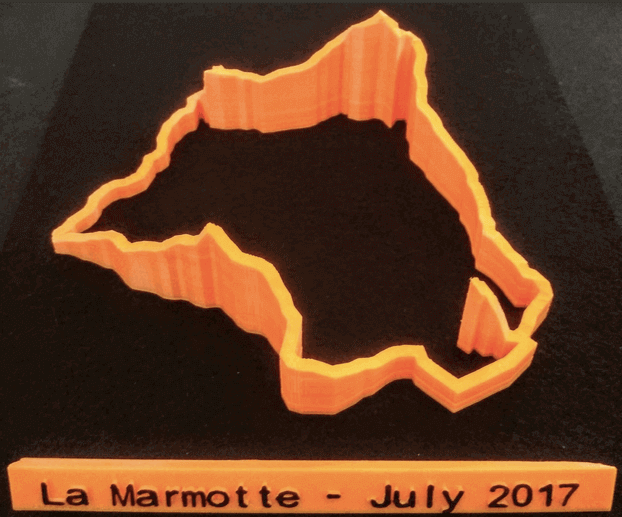 Print Your Route with PrintMyRoute
To create the prints, PrintMyRoute uses almost any type of GPS data file. Whether you're using Strava or Garmin, the startup's software can run the file and, after tweaking the design, it's ready to print.
Morgan adds that, before printing, the company reaches out to the customer to check that they're happy with the final design. Then, PrintMyRoute prints the design using PLA as it is biodegradable and made from renewable resources.
Depending on how large the route is, the printing time can take anywhere between two and six hours. However, whether the route is short or long, the final product is one that is aesthetically pleasing and symbolizes a moment that fitness gurus can all cherish. In an interview with Bike Biz, Morgan talked about which routes are the most popular thus far.
"The Alpe d'Huez seems to be very popular at the moment. It's 'only' 14km but with 21 hairpins and an average gradient which stays above eight per cent, it's a really visually appealing and interesting 3D print and a great reminder of the pain of the ascent and the exhilaration at the summit!"
You can choose from a "Linear Elevation Profile," which shows a side view of the route in 2D. You could also decide on the Map Profile which is a miniature scale map of the route. Or, finally, choose the Pre-Made routes if you have no GPS data on hand.
Morgan also plans to offer a 3D print mounted in a box frame that will include a plaque featuring the name of the route, date, and so on. And of course, we can print in different a variety of different colors!"
Thus far, the company has been growing predominantly through word of mouth. However, Morgan has recently setup a website and Twitter account the startup, and is now planning to get his business model to hit the ground running.

License: The text of "PrintMyRoute Will 3D Print Your Favorite All-Time Fitness Routes" by All3DP is licensed under a Creative Commons Attribution 4.0 International License.
Subscribe to updates from All3DP
You are subscribed to updates from All3DP
Subscribe
You can't subscribe to updates from All3DP. Learn more…