3D printing in its Disney Research Labs, decided to launch personalized action figures.
A new merchandising universe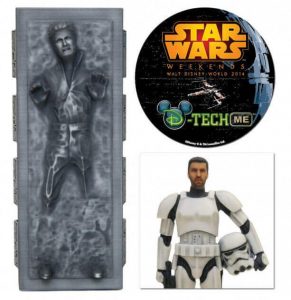 While in the 70's Star Wars was the very first franchise to make build a fortune on merchandingin, toys and licensing, it will now be among the first to introduce a new level of involvement, one that has anyone's face on it. New generation Star Wars fans can now put their face on the body of the character they choose and completely blend themselves with the movie's universe. With the D-Tech Me promotional events – that only take place inside the Disney entertainment parks and Hollywood studios for the time being – people can get scanned in just a few minutes and while, they hear atmospheric sound effects from light sabers and laser guns, they can see themselves embodied in the form of an iconic Stormtrooper, a Federation fighter pilot, the Alderaan Princess, or even get Carbon Frozen the way Han Solo was hibernated in Carbonyte in the Empire Strikes Back movie. The figurines are created and then delivered sent by mail to the receiver within seven to eight weeks. As a highly experimental project, and the price for the standard 7-inch size is 100$, while the larger one (16 inch) ran up to a hefty 1,500$.
In a hero's clothes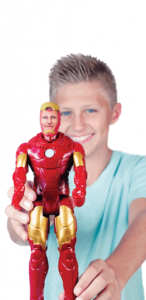 As a matter of fact, the Walt Disney Company is also the proud owner of the Marvel universe and all its characters merchandising rights. Popular Marvel superheroes could not be left out of this 3D printing, "head-shaping" craze very long. Widely popular characters like Thor, Hulk, the Fantastic Four, Captain America, IronMan, Wolverine only need to be slightly altered to look exactly like you through the 3D-MeSuperAwesomeMe project.
If you live in New York city, you can already visit two points where you can get yourself scanned and eventually "awesomified". These are the FAO Schwartz store located in the Fifth Ave (767) and the Toys R Us store in Times Square 44th street (1514 Broadway). A mobile 3D scanner by 3D-Me will also tour the world during this year at gaming conventions, trade-shows and sporting events. Information regarding upcoming events are yet to be unveiled in the official SuperAwesomeMe website, so stay tuned if you're interested in finally becoming a Super-Hero for just $100.
License: The text of "Print Yourself as Star Wars or Marvel Character" by All3DP is licensed under a Creative Commons Attribution 4.0 International License.
Subscribe to updates from All3DP
You are subscribed to updates from All3DP
Subscribe
You can't subscribe to updates from All3DP. Learn more…