The Duke Lemur Center is using 3D scanning and micro-computed tomography to preserve lemurs. And the files may soon be publicly accessible.
If you've ever seen the film Madagascar, you're likely to be familiar with the hilarious character of King Julien the Lemur. Although lemurs in the wild are slightly different to the dancing King, you may still be sad to hear that the animal is dying out.
There are around 100 species of lemurs, and they're all facing extinction. However, Duke's assistant professor of evolutionary anthropology Doug Boyer and former graduate student Gabe Yapuncich are working on a way to make sure these species aren't lost forever.
Although it's difficult to protect the animals in the wild, Yapuncich and Boyer are making 3D X-ray scans of lemurs and other endangered primates.
As soon as an animal dies at the Duke Lemur Center, a vet performs a postmortem exam. After this, the researchers collect organs and tissue samples.
The cadavers of the animals are preserved in formalin or stored in freezers. But, as well as this, the researchers are also utilising an X-ray imaging technique called micro-computed tomography (microCT).
"Even when they've passed, these animals continue to contribute valuable scientific data," said Yapuncich.
Building a Database of the Lemur with 3D Scanning
Yapuncich first came upon the idea of scanning remains while working on his doctorate in evolutionary anthropology. He began using the technology to preserve larger fossil specimens. Usually, researchers have to use smaller specimens of teeth or fragments of bones.
The Duke Lemur Center receives many requests for cadavers every year, however, they're unable to approve most. Cadavers are both rare and fragile.
However, by using 3D scanning, it's possible to perform virtual dissections hundreds of times over. Yapuncich has already scanned the remains of more than 100 animals.
Justin Gladman is the R&D engineer and microCT specialist at Duke. He explains:
"By scanning them in the microCT and creating these beautiful 3D models, we can digitize the specimens and share them online. Instead of being locked in a museum drawer, they're freely available."
Boyer has also created an online database called MorphoSource. Because the digitization is ongoing, the Lemur Center scans aren't yet publicly available.
However, very soon anyone will be able to browse the specimens, measure them and download the raw data. As well as this, you will be able to 3D print the scans meaning your very own 3D printed body or skeleton model.
Recent Duke graduate Darbi Griffith adds: "It's the largest collection of 3D lemur scans. That's pretty cool."
Source: Duke Today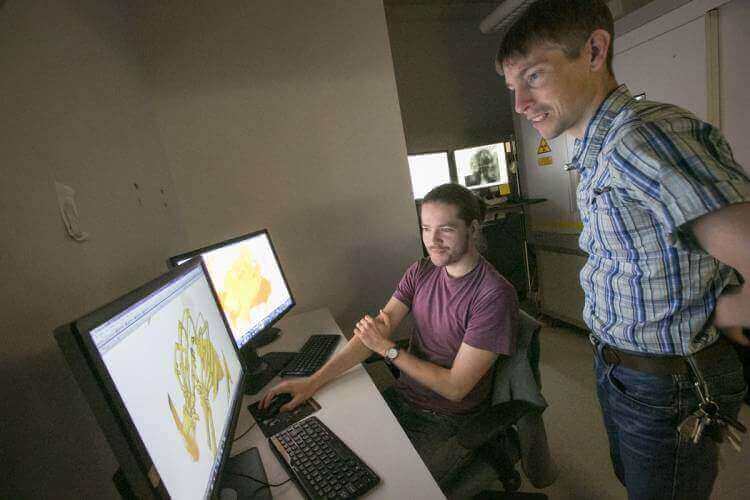 License: The text of "Preserving the Endangered Lemur with 3D Scanning and X-Rays" by All3DP is licensed under a Creative Commons Attribution 4.0 International License.
Subscribe to updates from All3DP
You are subscribed to updates from All3DP
Subscribe
You can't subscribe to updates from All3DP. Learn more…