A Prague startup has created a prototype for a 3D printed, all-electric city car which can travel as far as 124 miles on a full charge.
It's believed that going back and forth to work means most drivers only travel around 50 km (~31 miles) per day. Now one Czech entrepreneur is hoping to change the way we travel not faster, but for the better.
A startup called 4ekolka plans to make a 3D printed car which targets poor city transportation. Petr Chládek, architect and designer behind the 3D printed car, said: "For the city, we need something small, inexpensive, safe, usable year-round, for a maximum of two people, with a maximum speed of 55 km/h (~34 mph)."
4ekolka's prototype of the vehicle cost about CZK 300,000 (~$12,000) to build. Chladek is now testing it on the streets of Prague. The black and white vehicle with a glass roof has probably already attracted a lot of intrigue throughout the city.
Check out the video to see Chladek start up the little car and drive it up a hilly driveway:
Specs of the 4ekolka 3D Printed Car
Although currently not much is known about the car (the startup doesn't have a proper website yet), the concept works well with 3D printing. Additive manufacturing enables the design to be "built with maximum emphasis on weight reduction and consumption."
The car has a 9.6-kilowatt-hour battery, a top speed of about 35 miles per hour and can go as far as 124 miles on full charge. Around half of the cost for the prototype came from the batteries and battery management system.
Once the design is finalized and customer ready, which could be a while yet, we will likely see features such as LiFePO4 batteries with a capacity of 200Ah @ 48V. This should total around 9.6 kWh and ~200 km (124 miles) per charge. As well as this, the 4ekolka will use around 100 Wh compared the 200-300 Wh average for current electric vehicles.
However, how long the car takes to build and which materials will be used is still guess work. The car is also not built to be high-performance, but simply to make getting across town easier. Right now, the car is only being tested on roads in Prague. But soon, Chládek is hoping to begin working on creating a commercial version of the car in the near future.
It may be a while before we know when the car could reach the public, or how much it will cost. However, we're looking forward to a day when we can whizz around the city in a 3D printed vehicle.
We'll keep you posted on this one.
Source: Electrek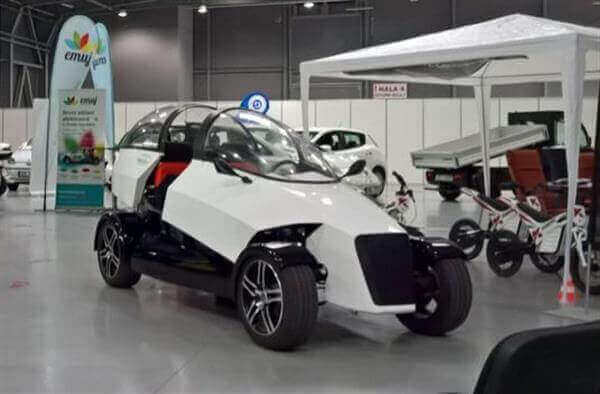 License: The text of "Prague Startup 4ekolka Creates 3D Printed Electric City Car" by All3DP is licensed under a Creative Commons Attribution 4.0 International License.
Subscribe to updates from All3DP
You are subscribed to updates from All3DP
Subscribe
You can't subscribe to updates from All3DP. Learn more…