PocketMaker, a newly launched Indiegogo campaign hopes to develop pocket-sized desktop 3D printing at an extremely affordable price.
Although a majority of us 3D printing enthusiasts have found great enjoyment and use out of our desktop 3D printers, the argument can be made that the consumer market has been a bit of a disappointment thus far. From high prices to inaccessibility, desktop 3D printing has been a tough sell to those outside of the innovative maker-sphere.
But perhaps what the consumer needs is not some powerful machine capable of creating large-scale or metal objects. Maybe they could first use an accessible and compact introduction to this marvelous technology. That's why the Beijing, China-based startup PocketMaker has created an Indiegogo for their new pocket-sized 3D printer.

Interesting Specifications, and the Price is a Steal
The cube-shaped machine is just 80 mm per side and weighs under 2 lbs. Though it has shades of the popular and similarly sized M3D Micro 3D Printer, which costs $350, PocketMaker is aiming to sell their concept for just $149 retail. The printer will come with a replaceable nozzle, making it easy to refrain from filament clogging, as well as a removable print bed. With a print accuracy of 0.2mm, wireless connection, USB compatibility, the PocketMaker looks to be priced extraordinarily low.
For backers of their campaign, the PocketMaker can be preordered at $99, and is estimated to ship in May 2017. They hope to have the printer on the retail market by that following June. Though they've already reached the halfway mark of their $70,000 crowdfunding goal for the PocketMaker, their team still has a seriously ambitious product that they're aiming to deliver.
Though PocketMaker seems to have developed their own various colored miniaturized spools of PocketPLA, they will also compatible with all other standard 1.75mm filament spools. The printer is capable of printing PLA, ABS, and other polymers, and is even compatible with open source software. Additionally, the PockerMaster will be operational via smartphone (Android/iOS) and computer (Windows/Mac).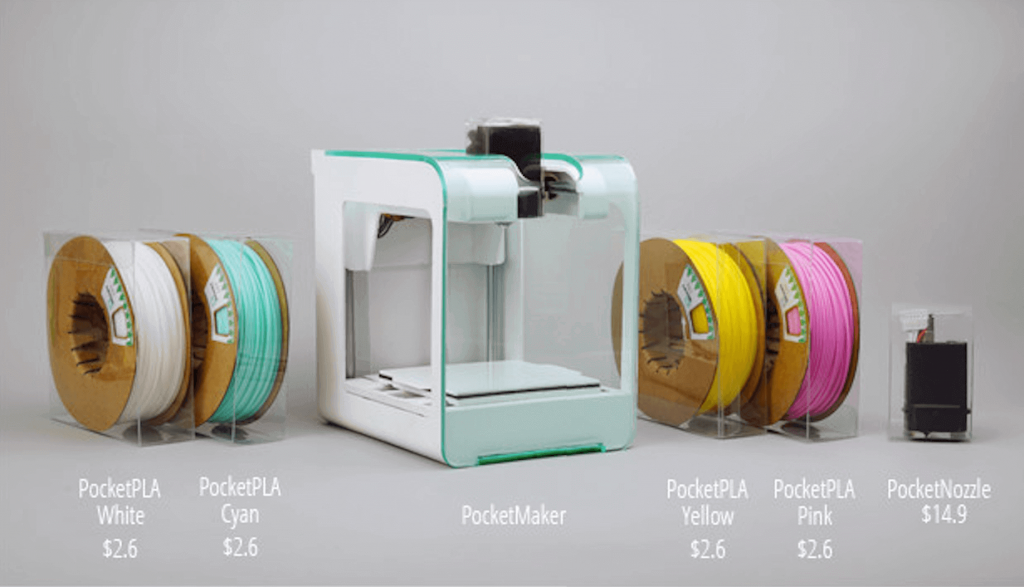 So, with as many features of PocketMaker claims to offer, how can we expect them to deliver at such a low price? Well, according to their crowdfunding campaign the team has "redesigned and customized the motor while leaving only the essential structure needed for stable, quality 3D printing to make it truly affordable and completely effortless to use."
Still, PocketMaker will have to deliver on time. This is no easy task – 16.538 Kickstarter backers waiting for their Tiko 3D for over a year now. Also, there are also great budget printers available, like the Monoprice Mini Select.
Whether PocketMaker will be able to deliver on their crowdfunding campaign goals or not remains to be seen. But if they do, the Beijing-based startup may just end up providing that spark that the consumer market has been waiting for.
License: The text of "PocketMaker 3D Printer Aims to Bring Affordable 3D Printing Into Your Home" by All3DP is licensed under a Creative Commons Attribution 4.0 International License.
Subscribe to updates from All3DP
You are subscribed to updates from All3DP
Subscribe
You can't subscribe to updates from All3DP. Learn more…