Pilot Labs has created Zeus, a pint-sized fighter robot that is capable of generating 25kg (55lbs) of force in a single punch.
For years now, tech enthusiasts entertainment lovers have been captivated by television shows like BattleBots and Robot Wars. Let's be honest, who doesn't like watching two fierce and well-equipped robots going at it in the arena, fighting until the final malfunction.
Now, there's a new robot overlord in town, and it goes by the apt name of Zeus. The robot, created by Pilot Labs, is a "battle robot" that packs a mean 25kg (55lbs) force punch.
The Chinese robotics company behind the design claims that they always built with robot enthusiasts in mind. Therefore, Zeus is both completely customizable and articulated, and even more so if you have access to a 3D printer.
Pilot Labs provides customers with the design specifications for the robot. This perk enables you to design and create your own 3D printed armor to perfectly fit your robotic fighter. Additionally, although Zeus comes with pre-built moves, you can create your own maneuvers with a graphical programming interface, giving you the edge over other automated fighters.
Zeus might be exceptionally powerful, but looks can deceive with this pint-sized robot. It stands at just 35.5cm (14 in) tall and weighs 2.2kg (4.8 lbs). It also includes 22 metal-geared servo motors. Pilot Labs also promise that in later iterations, you'll be able to shout your commands at the robot thanks to voice-control.
"The 25Kg per servo motor punch makes this the most competitive fighter robot in the world. If my hand takes Zeus' punch it really hurts. Zeus might even be too strong for most of the robot competition right now!" explains Jun Ye, CEO of Pilot Labs.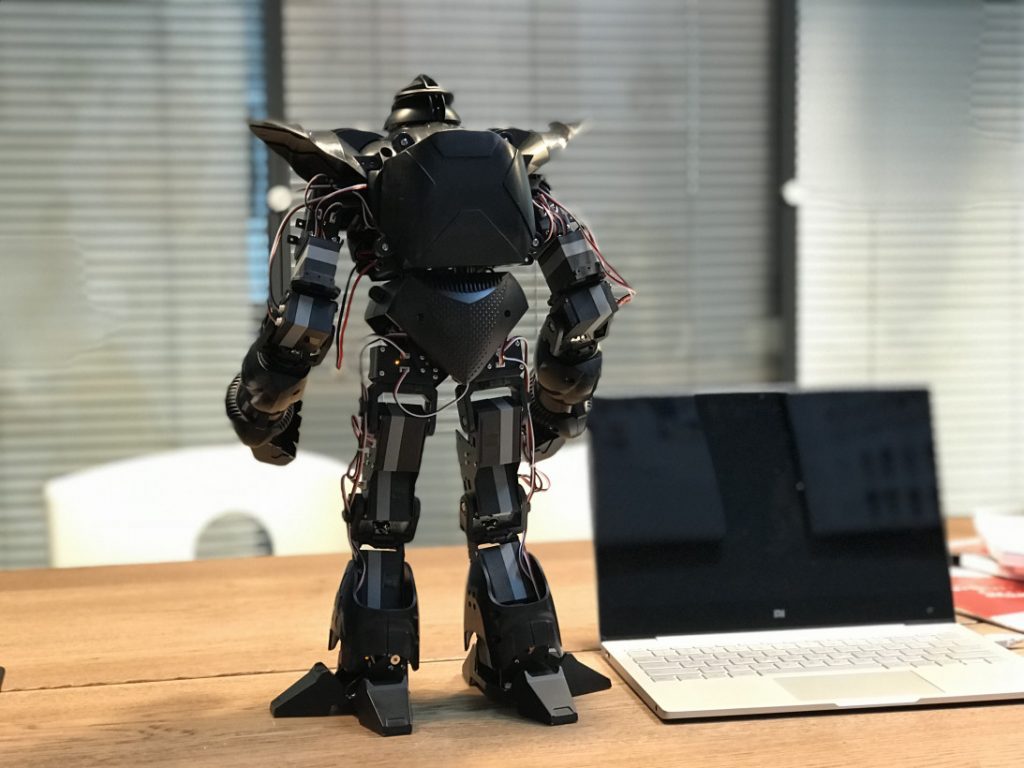 Zeus Takes on CES 2018
As of yet, Pilot Labs has not yet given a release date for Zeus. Instead, they are showing off the fighter robot at CES 2018, the consumer electronic trade show  that is currently taking place in Las Vegas. Needless to say, this powerful little fighter is already gaining a ton of interest.
It's suspected that the robot will be available as either a 14kg servo model, a 22kg servo model, or a 32kg servo model. Although Zeus isn't available on the consumer market yet, enthusiasts should prepare to pay a pretty penny to get their hands on this little guy.
The company states on its website: "Designed for serious gamers and robot fighting enthusiasts, the retail price for the 14Kg punch force version will be about $1600 USD."
Check out the video below to get a taste of just what Zeus can do:
Source: The Next Web
License: The text of "Meet Zeus: The Pint-Sized Battle Robot That Packs a Mean Punch" by All3DP is licensed under a Creative Commons Attribution 4.0 International License.
Subscribe to updates from All3DP
You are subscribed to updates from All3DP
Subscribe
You can't subscribe to updates from All3DP. Learn more…