Fashion brand COS has commissioned dutch designer Olivier van Herpt to create a series of five vases using a custom-designed 3D printer.
Olivier van Herpt is an industrial design graduate of the Design Academy Eindhoven. He has specialized on beautiful 3D printed objects made from clay. Fashion brand COS regularly works with artists and van Herpt was chosen due to his innovative twist on 3D printing.
Now van Herot has developed a series of five printed vases which are inspired by the company's Spring/Summer collection. The designs take into account the colors, textures, and shapes of the collection's pieces.
As a result, each of the vases has a different shape, from curved to angular. The final designs are now on display in COS stores around the world.
These stores include Stockholm's Biblioteksgatan, Berlin's Neue Schönhauser Strasse, London's Regent Street, in Rotterdam's Dreamhouse, Spain's Bilbao and on New York's Fifth Avenue.
If you live nearby any of these stores, check out the images of van Herpt working on the vases in the windows. You'll be able to spot the designer's custom-designed 3D printer which drips clay. By using a 3D printer, he was able to print larger designs.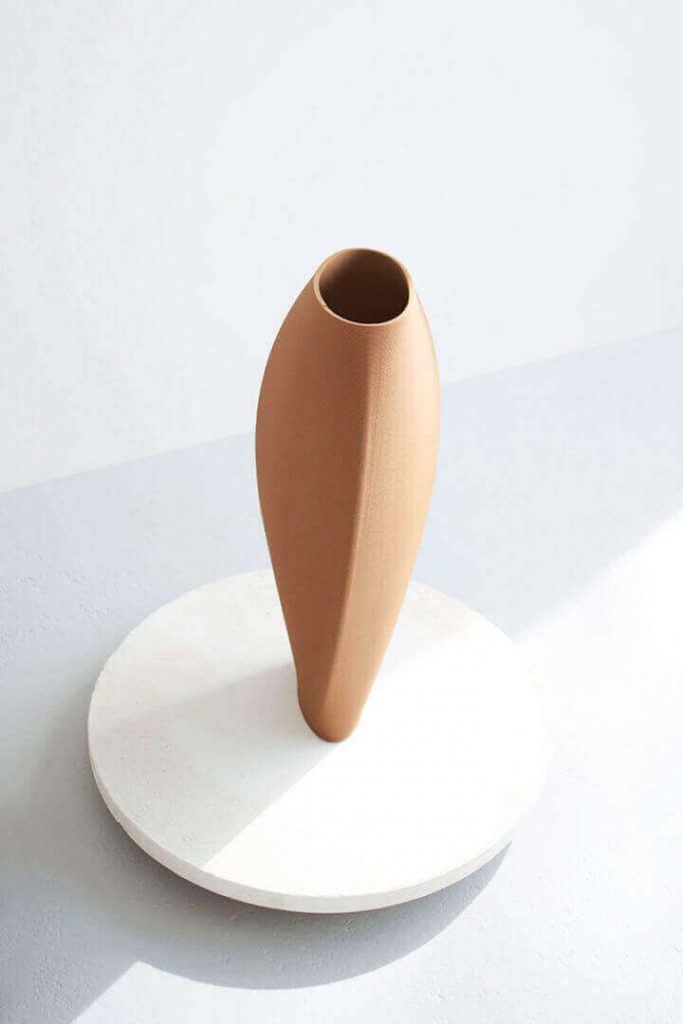 Van Herpt's Self-Made Printing Process
Olivier van Herpt is pushing the limits of 3D printing by developing a printer which drips, rather than expels, its output "just as how stalagmites naturally form in caves."
Rather than relying on plastic, he is also exploring using natural materials, including beeswax. Through his experiments, van Herpt "reinserts humanity into the man-made machine."
The printer which he uses for COS is a product of two years of hard work. The designer developed an extruder which can process hard clay after two years of experimentation. Interestingly, "in the same way that stalactites naturally form in caves, the 3D printer drips its creations."
van Herpt explains why he uses 3D printing, saying:
3D printing itself is pure experimentation. Creating the device, tweaking code, the 3D files; the mechanics of it are all experimental. The machine is designed as an open frame so it's possible to interact with the printed object and add a human touch to automated actions. I'm also trying to introduce randomness and serendipity into the automated process to develop more poetic, conceptual and non-technical methods.
The final prototype of the ceramics 3D printer is almost ready. Once finalized, production will begin. If you can't visit van Herpt's work in a local COS store, then check out their Instagram.
You also have the chance to win one of the limited-edition pieces, follow @cosstores and #COSxOliviervanHerpt.
Source: COS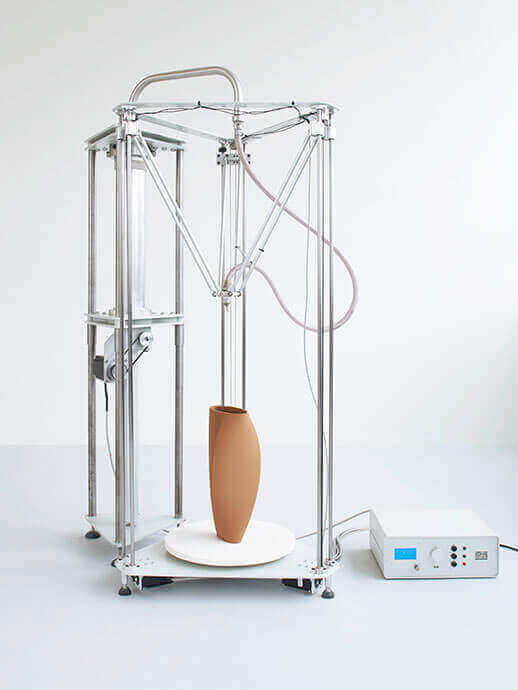 License: The text of "Olivier van Herpt Partners with Fashion brand COS to 3D Print Clay Vases" by All3DP is licensed under a Creative Commons Attribution 4.0 International License.
Subscribe to updates from All3DP
You are subscribed to updates from All3DP
Subscribe
You can't subscribe to updates from All3DP. Learn more…