The Into the Underworld exhibition examines Auckland's previously unexplored caves through 3D printed models of digital images.
Auckland-based 3D printer Jason Barnett has spent thousands of hours creating 3D prints of lava caves for the current Into the Underworld exhibition at Auckland Silo Six, Wynyard Quarter. The exhibition explores New Zealand's subterranean lava caves through prints, moving images and 3D printed models.
The models are based on digital artist Chirag Jindal's work with speleologist Peter Crossley who spent the last 18 months examining the lava caves beneath Auckland suburbs Mount Eden, Three Kings, Mount Albert and One Tree Hill. They employed a Light Detection and Ranging (LiDAR) scanner to produce the images.
The caves are mostly unexplored and many are located below private properties. They are estimated to be up to 40,000 years old.
Working for Mindkits, the 3D printing specialist, Barnett then developed the 3D printed lava cave models to exhibit. His models are based on the digital scans captured by Jindal.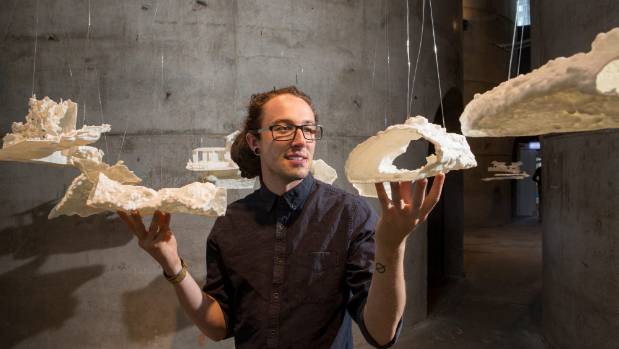 Subterranean No More: 3D Printing Caves
According to Barnett, the project is one of a kind, featuring never-before-created 3D printed cave structures.
It is one of the country's largest 3D prints ever created. The prints took around 1,600 hours to complete and another 400 hours in post-production to edit.
Given the huge size of the original models, the caves had to be deconstructed into 67 printed sections and then pieced together. Each part took around 20 to 50 hours to print. In order to meet the exhibition deadline, this meant long hours and overtime.
Barnett adds that all the hard work was worth it in the end.
"I am incredibly proud of what I produced because it was so difficult and it has a really interesting textural aesthetic to it. It gives you this really interesting visual representation where you understand the forms of how these caves are built up over time."
The exhibition is currently running at Auckland's Wynyard Quarter, and will be up until December 24.
Source: stuff.co.nz
License: The text of "Previously Unseen Cave Network Debuts as 3D Printed Exhibition" by All3DP is licensed under a Creative Commons Attribution 4.0 International License.
Subscribe to updates from All3DP
You are subscribed to updates from All3DP
Subscribe
You can't subscribe to updates from All3DP. Learn more…