Why you should read this: to find out about new ways to use 3D printing in the creative process.
After becoming the very first 3D print shop in Italy – with a physical store in Rome – and then the largest 3D print shop worldwide, with 6 franchise stores spread throughout the Italian peninsula, 3DiTALY is now working to establish itself as visionaries of a new type of furniture design, one that uses new digital manufacturing tools such as 3D scanner and 3D printers to create new shapes and allow even those who are not design professionals to create their own furniture concepts.
In-Store Designs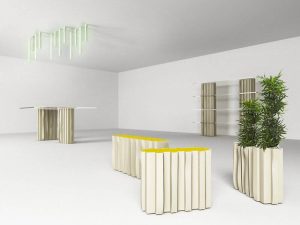 Antonio Alliva, one of the chains founders, and his team showed off this concept at Milan Design Week, one of the world's most important furniture design events. Their latest project is called "Eggform" and has three main goals: one is to make all designs possible without any kind of limitations, allowing for full customized and tailored furniture; the second is to create objects that are much larger than what current printers allow for; the third is to equip 3D printed plastic items with a warm inner core.
If that sounds confusing in any way, keep reading and you'll get the point of Eggform, along with a glimpse of the ways our human imagination and innovation can brake technological limitations.
Naturally 3D Printed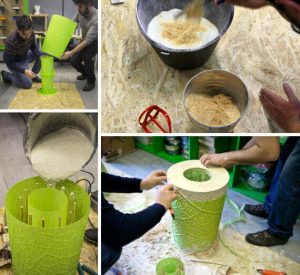 The project was undertaken by the 3DiTALY Pescara team: the design process begins with 3D scanning of textured surfaces with high resolution 3D scanners. These surfaces are generally surfaces with beautiful natural lines, such as large leafs with veins, a birds' plumage or wood cortex. Using vector mathematics and software tools, the team recreates the model in 3D. Then it exports a polygonal mesh that is suitable for 3D printing using standard PLA filament.
This 3D printed model becomes the shell of the inner core mould, that can be filled by pouring material instead of 3D printing the whole thing. This reduces the time and cost to a minimum, making the creation of large furniture items like tables, chairs and lamps possible. The materials that are poured into the printed moulds include lime, gypsum, resin, hemp, sawdust and jute. Their easy availability contributes to cost containment while still allowing for jaw-dropping features on the external surfaces.
With a Little Help from Ultimaker and Fuel3D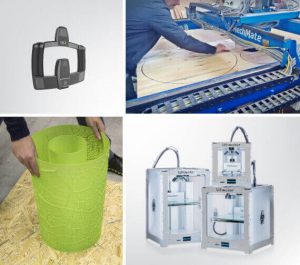 The finishing of the object usually involves some woodwork on the top or bottom, but as the whole process generally blends many techniques, one can conceive it as a methodology rather than a streamlined procedure. The team is experimenting with the possibilities and with advancements in 3D printing, some production techniques may change or be replaced, but as things stand now 3DiTALY has found a smart (and affordable) way to create something that is truly unique both in the form and manufacturing process.
Project Eggform was also the best possible way for 3DiTALY to promote their distribution deals with Ultimaker, for their entire range of 3D printers, and Fuel 3D for the Scanify 3D scanners, both of which were used to create the Eggform furniture and shown off at desgin week, where they naturally attracted the attention of many visitors to the stand.
Inspirational Furniture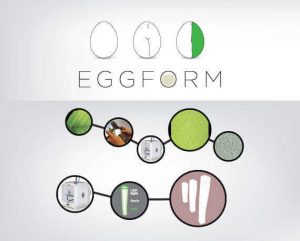 The final Eggform products are still being showcased only as concept designs, and thus we don't know yet the actual cost for any final item. Other aspects to consider, since they are intended as outside furniture, will be the actual wear and weather resistance of the Eggform products, especially against atmospheric air moisture and other agents. Sturdiness and weight resistance will also need to be tested extensively, since gypsum and compressed sawdust do not necessarily offer many guarantees in that sense. Once again, tough, 3D printing technology showed that it can open ups new and exciting possibilities for those that have enough imagination and inspiration to take advantage of it in innovative and inspiring ways.
License: The text of "Project eggform shows off naturally 3D printed furniture" by All3DP is licensed under a Creative Commons Attribution 4.0 International License.
Subscribe to updates from All3DP
You are subscribed to updates from All3DP
Subscribe
You can't subscribe to updates from All3DP. Learn more…