Looking for information on British 3D printing company MyMiniFactory? We've accumulated the most important facts in this company profile.
11 Facts on MyMiniFactory
1. Full Name
MyMiniFactory Ltd.
2. Company Information
Standing as another one of the 3D printing industry's key web-based platforms, MyMiniFactory is the world's largest curated 3D object download database. Their content is mainly focussing on popular topics like games, cosplay and other pop culture phenomena. In addition to providing a community platform, the website also gives its users free access to thousands of tested 3D printable files created by users round the world, and specifically for FDM 3D printing.
3. History
MyMiniFactory was launched in 2013 by parent company iMakr, and has been growing consistently ever since. Like its parent company, the website is targeted towards 3D printing enthusiasts at a predominantly consumer level. As an access point for these users, MyMiniFactory's simple interface, combined with a wide variety of content options, makes the platform an important database for those using home-based, desktop 3D printers.
Users are encouraged to create both original and derivative content via the ability to download, edit and re-upload all 3D files – with feedback and support playing a key role in the community engagement aspect of the website. Open source content creation via a web-based platform in this way stands as the perfect supplement to iMaker's physical stores (in London and New York) – and MyMiniFactory in itself is one of a handful of sites working hard to stimulate the proliferation of 3D design, printing and sharing.
4. Products
Rather than offering a variety of hardware options, MyMiniFactory presents users with a number of essential tools to create and share 3D printed files. In addition to a store as well as video tutorials, the company offers three key areas as a part of the website:
Contests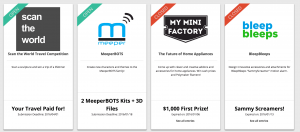 In partnership with a number of big brands from within the 3D printing industry and beyond, MyMiniFactory contests give users the opportunity to put their design and 3D printing skills to the test via rea-life briefs with cash prizes.
Ideas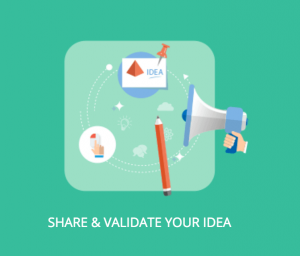 This part of MyMiniFactory stands as a soundboard for creative thinkers and designers looking for feedback or support on their 3D printed concepts and creations. It supports the open source nature and approach to 3D printing technology from the website and its community.
Explore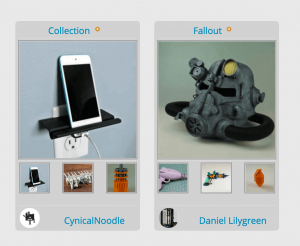 Standing as the key product offered by MyMiniFactory, the 'Explore' tab opens the door to a huge archive of 3D printable files – submitted by users – for others online to download, remix, and essentially make their own. A number of specific and well-curated categories, from Jewellery to Sports & Outdoor, facilitate the simple navigation of easy-to-print items and objects.
5. Founders
Sylvain Preumont and Romain Kidd, 2013
6. Current CEO
Romain Kidd.
7. Employees
11 – 50
8. Address & Headquarters
MyMiniFactory
32-38 Leman Street
London, E1 8EW
United Kingdom
9. Email & Telephone
Email: [email protected]
Telephone: —
10. Website
https://www.myminifactory.com/
11. on Facebook &  Social Links
License: The text of "MyMiniFactory: Company Profile in 11 Facts" by All3DP is licensed under a Creative Commons Attribution 4.0 International License.
Subscribe to updates from All3DP
You are subscribed to updates from All3DP
Subscribe
You can't subscribe to updates from All3DP. Learn more…