The new Foundry software developed by the CSAIL Lab at MIT makes it easy to manage 3D printing with multi-materials.
Mixing a variety of 3D printing materials in a single print has always been a tricky business. But software developed by the Computer Science and Artificial Intelligence Lab (CSAIL) at MIT proposes a whole new solution moving forward.
The problem is that current 3D printing workflows are predominantly based around fabricating items with single materials, colors and properties. Whilst hardware for printing with multiple materials is becoming more common, the models are complex and difficult to design.
Seamlessly managing this workflow with dedicated software has been conspicuously absent, but Foundry is a tantalizing glimpse of the future.
One of the core applications is that different parts of a model can be assigned specific physical materials and properties. Which means that a functional item like a tyre or a ping-pong paddle could be printed and ready to use straight away.
The software was developed with advanced 3D printers such as MIT's own MultiFab in mind. This prototype machine uses multiple, functional materials to print an object in high resolution and at high speeds.
See the video below for CSAIL's rundown of their new software:
Foundry Allows Anyone to Design Multi-Material Prints
Any object designed in CAD applications can be imported to Foundry, and a sequence of "operators" can be assigned to shape the model. 
These operators provide the ability to subdivide an object into different materials, remap the coordinate system to transform the space, and assign specific physical properties to different parts of the object.
While tweaking a design in the software, the user has real-time previewing. This means being able to see how the printer will produce the whole print, but also the internal sections by drilling into the cross section.
The CSAIL team has already shown off their work by building a set of skis with retro-reflective surfaces. They also fabricated an artificial bone that could be used in planning surgery. The last print was a multi-material ping pong paddle, pictured below.
The ultimate test for Foundry involved the team spending an hour teaching the system to non-designers. These non-designers were then asked to design three multi-material objects including a bone, an integrated tire, and a teddy. It took them an average of 56, 48 and 26 minutes respectively to build the objects.
There is huge potential for Foundry, especially if it's adopted as an industry standard. We're excited to see the next stage of evolution for 3D printing.
Source: CSAIL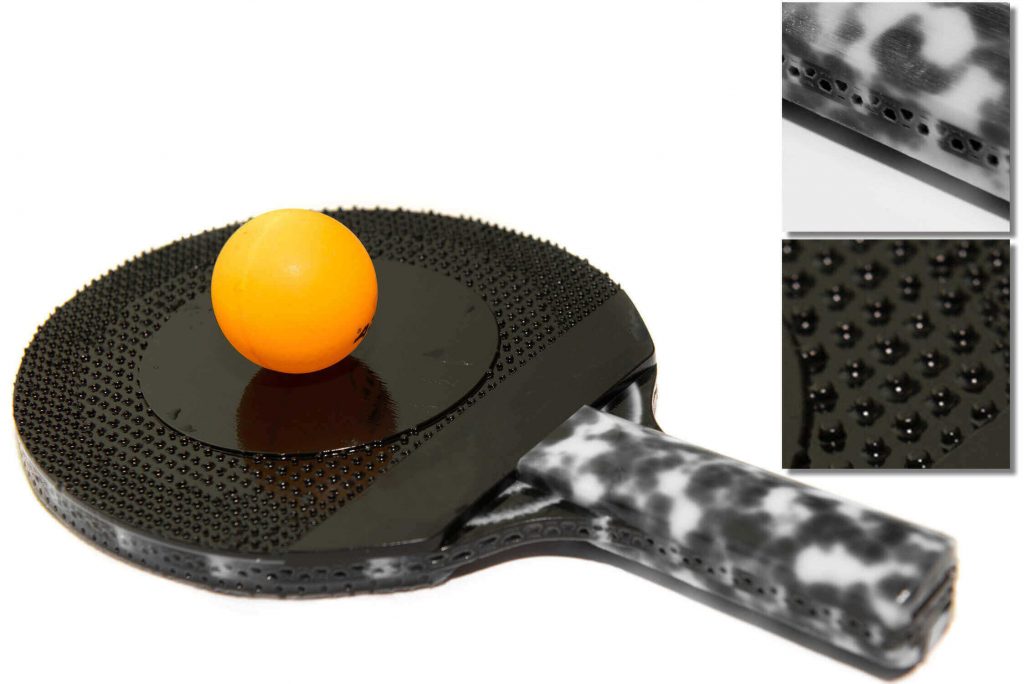 License: The text of "Foundry Software from MIT Easily Creates Multi-Material Prints" by All3DP is licensed under a Creative Commons Attribution 4.0 International License.
Subscribe to updates from All3DP
You are subscribed to updates from All3DP
Subscribe
You can't subscribe to updates from All3DP. Learn more…