MIT engineers have developed new 3D printing inks from bacteria cells in hopes of one day printing living computational wearable platforms.
When you see these bio-ink, sticker-tattoos light up with a greenish glow, you can't help but be intrigued. And unsurprisingly, this is one of the latest creations by MIT engineers.
Bacterial Ink? Living Cells? 3D printed tattoos? It could only be another invention from MIT.
They've created a 3D printing technique that uses genetically programmed living bacteria cells as ink. When exposed to different stimuli, the cells light up.
In the future, researchers hope that these 3D prints could be used to create customized sensors, manufacture surgical implants, or interactive displays.
In order to print these cells, engineers mix bacteria with hydrogel and nutrients. Then, they 3D print the resulting ink in layers to create interactive structures and devices.
To show off what these 3D prints can do, the researchers created a "living tattoo" in the shape of a tree. The tattoo itself is a transparent elastomer patch that has live bacteria cells covering it.
First, the researcher smears chemical compounds onto a test subject's hand. Then, they place the hydrogel patch. Each branch of the tree is sensitive to a different chemical or molecular compound.
As the bacteria sense their corresponding stimuli on the subject's skin, they light up in response. Live cells can be programmed to sense changes in the environment including pollutants, pH balance, and temperature.
Creating 3D Ink from Bacteria Cells, Hydrogel, and Nutrients
To print the bio-ink, the researchers built a custom 3D printer using standard elements and fixtures which they machined themselves.
It's worth noting that in the past, there were previous attempts to 3D print genetically engineered cells. Unfortunately, these failed because researchers used mammalian cells, which carried limitations.
However, the team realized that they could genetically engineer live bacteria cells to respond to stimuli instead. Plus, they also have tougher cell walls and can survive harsher conditions than mammalian cells.
Better yet, bacteria are compatible with most hydrogels – unlike mammalian cells. Still, the researchers spent a long time researching which hydrogel would work best, concluding that one with a pluronic acid was compatible and ideal for 3D printing.
"We found this new ink formula works very well and can print at a high resolution of about 30 micrometers per feature."
"We found this new ink formula works very well and can print at a high resolution of about 30 micrometers per feature… That means each line we print contains only a few cells. We can also print relatively large-scale structures, measuring several centimeters," explains lead researcher Xuanhe Zhao.
The team also developed ways in which the bacteria can communicate. This means some cells light up when they receive specific information from another cell. This could result in exciting future developments where it's possible to print living computers.
But let's not get ahead of ourselves. The researchers explain that "this is very future work." But, there is hope that this technological development could lead to 3D printed living computational platforms that could be wearable. Watch this space.
Source: MIT News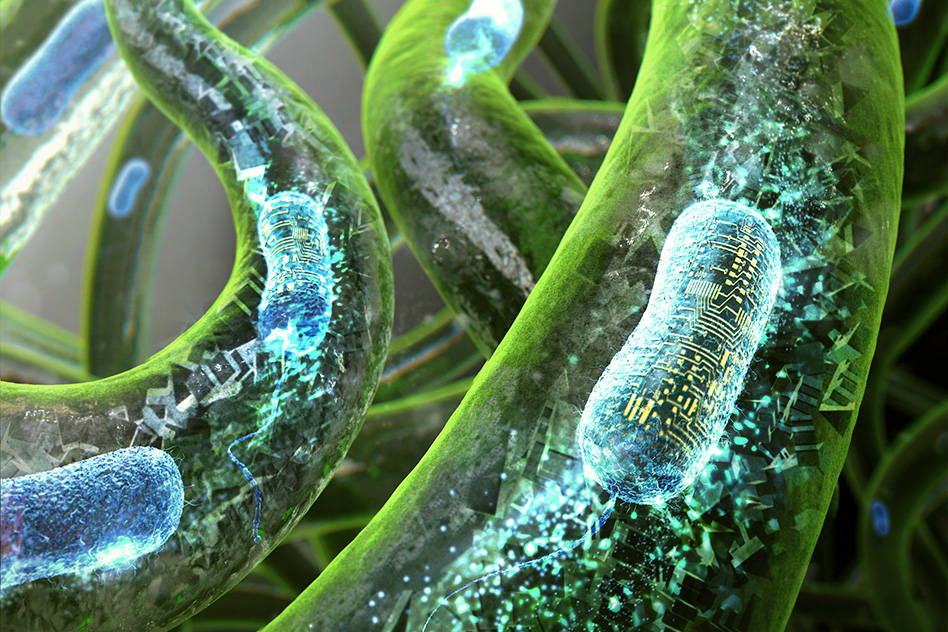 License: The text of "MIT Engineers 3D Print Genetically Programmed Living Cells from Bacterial Ink" by All3DP is licensed under a Creative Commons Attribution 4.0 International License.
Subscribe to updates from All3DP
You are subscribed to updates from All3DP
Subscribe
You can't subscribe to updates from All3DP. Learn more…