Madrid-based dental 3D printer manufacturer Microlay announced a new 3D printer called The Versus. What makes it stand out from the competition?
The Versus is the new DLP printer from Microlay, the Spanish 3D printer manufacturer specialized on 3D printing dental applications. The company announced their latest 3D printer yesterday, but there's no information on availability and the price yet. It is aimed at the dental industry and has plenty of features to attract customers at dental laboratories and clinics.
The printer is up against multiple companies which are aiming SLA / DLP printers at the dental industry. However, Microlay hopes that a number of technical attributes will differentiate them from the competition.
The company already has considerable expertise thanks to their DentalFab 3D printers. They're now touting the latest machine as "our most ambitious 3D printer". The Versus wants to offer buyers precision and the ability to continually produce consistent results for the dentists.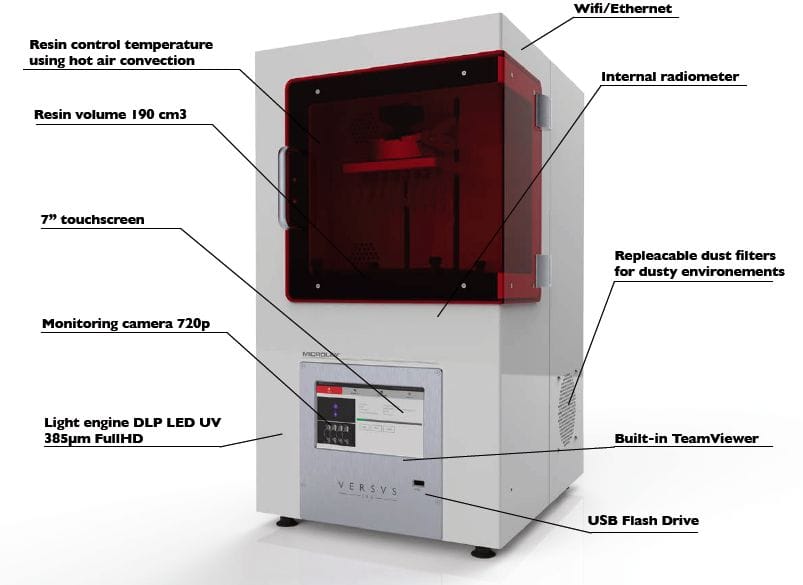 Features of the Versus
Firstly, the Microlay Versus offers impressive resolution levels. For example, the Z-axis can achieve 0.001mm per layer. Meanwhile, the X-Y can achieve 0.065mm. It can also print up to 50mm per hour vertically.
Secondly, the high-quality resin printer has features including temperature control and a microclimate for solidification of resin. Microlay is using active heating of both the air in the closed chamber and of the resin. By ensuring the temperature is right, the resin is at the optimum viscosity. Better yet, this ensures that a print is consistent every time and is of a high-quality.
Microlay is also using a 385nm light which they claim enables an incredible printing precision. This is instead of the defacto standard 405nm wavelength. The company states: "The quality of the projector components and software of the Microlay Versus ensures that all points of the printing tray receive exactly the same energy dose."
Finally, in order to reduce the cost of printing, Microlay has somehow managed to make it possible that the resin tank does not need to be replaced. However, they're not explaining how this is possible. Better yet, the machine accepts third party materials, helping buyers to reduce costs further.
As well as these more specific features, the printer also has WiFi, LAN, an onboard camera and a dust filter. Visit the Microlay website to find out more about the Versus dental 3D printer.
Source: Fabbaloo
License: The text of "The Microlay Versus is a New Resin 3D Printer Aimed at the Dental Industry" by All3DP is licensed under a Creative Commons Attribution 4.0 International License.
Subscribe to updates from All3DP
You are subscribed to updates from All3DP
Subscribe
You can't subscribe to updates from All3DP. Learn more…