It sounds too good to be true: An industrial robot that 3D prints, carves, plots, assembles, picks/places, lasers… all on your desktop!
If you ever dreamed of a complete digital fabrication system, this Kickstarter campaign will definitely catch your attention. Pitching for $349.750, the inventors of Makerarm promise a versatile tool, which 3D prints, carves, plots, assembles, picks/places, lasers on your desktop.
Starting at $1.399, around 100 people have backed the system – with 33 days to go.
Makerarm, Designed To Be a Multi-purpose Tool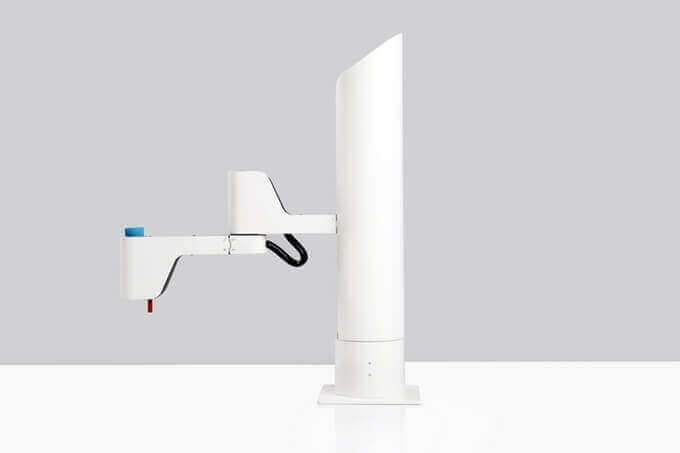 Makerarm works with interchangeable heads, making it suitable for many applications.
It 3D prints: Makerarm can 3D print with both filament and resin.
It carves and mills: Makerarm includes high-speed desktop milling (light duty) and carving. You can mill on a variety of materials including plastics, wood, and soft metals right on your desktop. You can even hook up heavy duty flex shaft tools such as the Dremel Fortiflex to Makerarm for power-carving, grinding, or shaping applications with speeds up to 23,000 RPM.
It laser engraves: Makerarm's high power 500mW laser head (405nm) engraves and etches on plastics, wood, leather, cardboard, and more.
It picks and places: Choose from vacuum pump coupled suction cups, electromagnetic heads, or grippers to carry out pick and place operations.
It assembles: With the assembly heads, you can automatically place and fasten screws, carry out gluing, and perform pick and place functions.
It's a PCB fab: PCB milling, drilling, solder-paste dispensing, pick and place assembly (PCBA), and automated soldering take the hassle out of prototyping.
Add custom tool heads: A special hardware development kit (HDK) will allow owners to create their custom tool heads for an unlimited number of projects.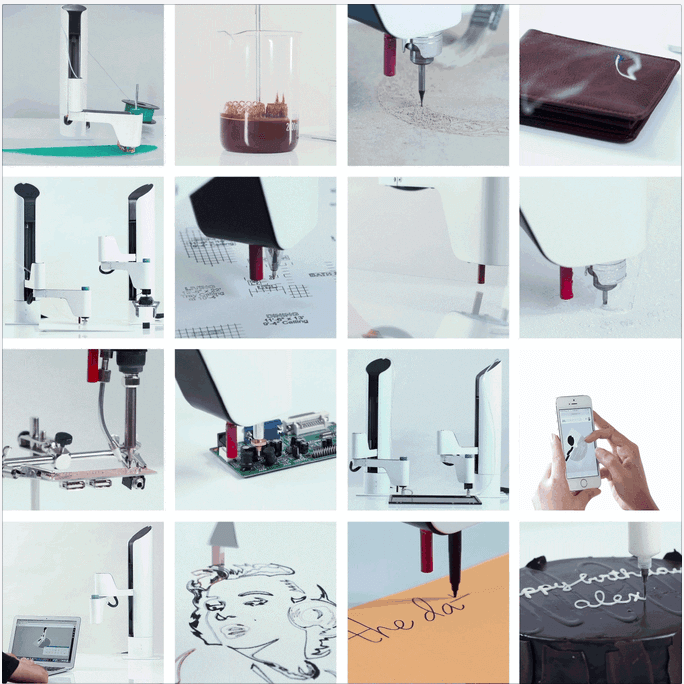 There are several other benefits, like a big work area (15.7 inches x 31.4 inches x 10 inches). Auto-leveling allows printing and building on any flat surface. Also, the Makerarm is trainable – you can teach the arm to repeat specific actions. Next, you can even hook it up to other Makerarms to accomplish specific tasks such as "pick and place".
Sounds Too Good To Be True?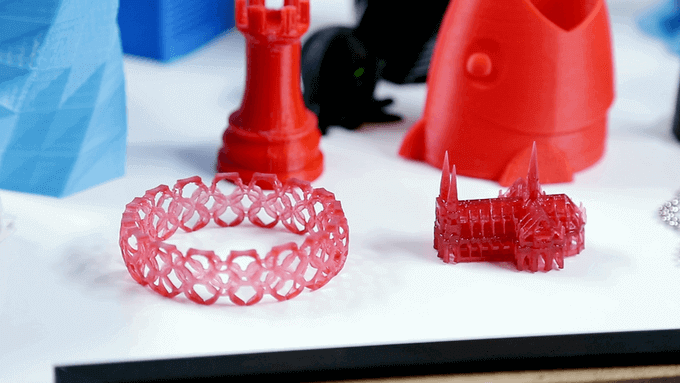 Kickstarter is a playground for great ideas – and most of them come to life. Unfortunately, we've also seen vaporware among 3D printing Kickstarter projects. And what about this dream machine? Is it too good to be true? Here's our opinion:
First of all, the credentials of the team seem to be great. Co-Founder Zaib Husain holds a Master in Finance. Her co-founder Azam Shahani is a trained and skilled engineer and avid maker, experienced in robotics and digital fabrication technologies. They built working prototypes of the Makerarm. Also, they have the support of Autodesk; and Scott Miller, the former VP of iRobot/Roomba is listed as a partner.
There's one component that has to be as great as the hardware, and that's the software. Makerarm will be controlled by the custom software makerarm.io. It is browser-based, connects remotely via Wi-Fi through any device (smartphone, tablet or laptop/PC). So far, we can't judge the quality of the software. On the plus side, each Makerarm comes with a one-year commercial subscription to Autodesk Fusion 360 – so that's covered.
One last thing to look at is the timeline: To our eyes, the schedule seems to be really tight. Makerarm plans to deliver in September – October 2016. That's quite a task for a machine capable of doing so many things, as components have to be tested, manufactured, adapted to the software etc.
All in all we think you should take a look at this kickstarter campaign.
So what's your opinion on the Makerarm?
https://d2pq0u4uni88oo.cloudfront.net/projects/1762199/video-593140-h264_high.mp4
License: The text of "Makerarm: A New Kickstarter Dream Machine?" by All3DP is licensed under a Creative Commons Attribution 4.0 International License.
Subscribe to updates from All3DP
You are subscribed to updates from All3DP
Subscribe
You can't subscribe to updates from All3DP. Learn more…