If you want reproducible results for your 3D printed metal parts, you'll need the perfect mix of gasses in the print chamber. Linde now offers a new solution for better metal prints.
Linde Gases, a division of The Linde Group, announced the launch of "ADDvance O2 precision". With this first-of-its-kind tool, you measure and analyze the level of oxygen (O2) and humidity within the printer chamber.
Why is that important? Well, think of a professional use case, where a 3D printed metal part has to be precise as possibly can be – like in the aviation industry.
Linde reacted to a specific need identified by aerospace company Airbus Group Innovations. If you 3D print a metal part, the additive manufacturing process operates within a closed chamber filled with high purity inert gas such as argon or nitrogen. However, impurities due to incomplete purging, small machine leakages and metal powder can have an influence on the oxygen level. If there's too much variation in the chamber, you'll get differences in mechanical properties or chemical composition of the end product – for example, a decrease in fatigue resistance. And if you're working aviation industry, you definitely don't want that.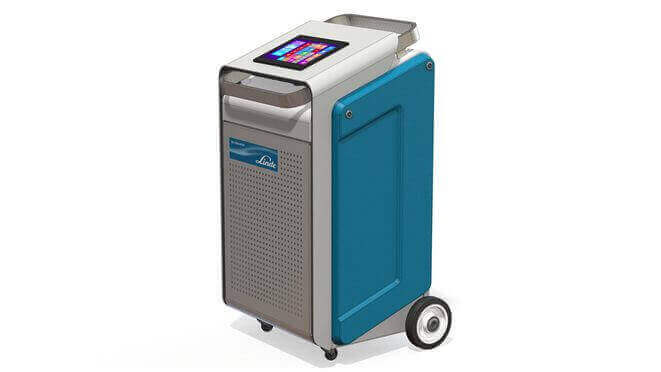 The ADDvance O2 precision can sense 10 parts per million in the print chamber
Enter the ADDvance O2 precision. This device can detect O2 levels up to 10 parts per million (ppm) within the printer chamber. If there's an imbalance, the machine automatically modifies the gas atmosphere by adjusting the level of argon or nitrogen. According to the press release, "in addition to ADDvance O2 precision allowing for more accurate levels of oxygen and humidity, it does so without cross-sensitivity effects and ensures a constant level of oxygen during the process."
The launch of ADDvance O2 precision comes on the back of Linde's recent opening of a dedicated industrial gasses laboratory for additive manufacturing in Unterschleissheim, near Munich, Germany. The lab's focus is to research the effect of different atmospheric gasses and gas mixtures on the different metal powders used in additive manufacturing in order to optimize the various layering processes.
"Linde has always played a leading role in developing new technologies for our customers in order to improve the efficiency of their production processes and quality of output," said Pierre Forêt, responsible for additive manufacturing R&D at Linde. "That Airbus Group Innovations selected Linde to work with them to overcome such a challenge in the pioneering area of additive manufacturing is testament to Linde's technical competence and innovative spirit."
If you want to take a look at the "ADDvance O2", you can do so in Linde's stand 121-123 at World PM from October 9-13 in Hamburg, Germany and then at EuroBlech on stand 142, Hall 13, from October 25-29 in Hannover, Germany.
License: The text of "Linde Just Solved One of Metal 3D Printing Problems" by All3DP is licensed under a Creative Commons Attribution 4.0 International License.
Subscribe to updates from All3DP
You are subscribed to updates from All3DP
Subscribe
You can't subscribe to updates from All3DP. Learn more…