Can 3D printing have a valid application for litigation? Lawyers Lamber and Goodnow try to modernize their paper-bound profession.
"Lawyers would be using quill pens if they could," jokes lawyer James Goodnow.
In a way, that's kind of true; it's easier to imagine a lawyer pulling a sheaf of papers out of a briefcase than tinkering with a 3D printer.
But a pair of personal injury lawyers in Arizona are strong advocates for using technology in their practice — from providing Google Glass technology to personal injury clients who have lost the use of their arms, to using 3D printing to create tactile and more easily understood evidence pre-trial. Lamber and Goodnow have been described as "the techiest lawyers in America" by the ABA Journal.
Being early adopters in the field of law means that the partners have had to discover new applications of this technology as they go — which can be certainly be risky or non-cost-effective. Still, Lamber and Goodnow see this as coming up with the best possible way to help their clients. Marc Lamber explains:
"We really believe in the possibilities of technology and the fact that it's not going anywhere. That's why we try to be innovative in the ways that we use technology. It's also important to educate other lawyers about how technology can be used and lead by example. We like to think that we're doing something good for the practice of law, for our firm, and for our clients."
Lamber and Goodnow using 3D printed pre-trial evidence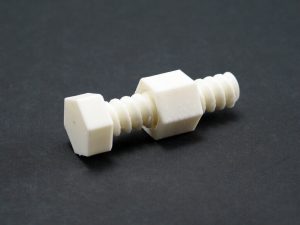 Lamber and Goodnow have big plans, but right now they are especially excited about the use of 3D printing to create models that provide pre-trial evidence in property liability cases.
Property liability law concerns responsibility when someone is injured due to dangerous or defective products. Being able to 3D print a model of a faulty part — and a model of of a correct one — makes this proof of negligence more easily visible.
For example, in a recent product liability case involving faulty bolt design, Lamber and Goodnow used a MakerBot Replicator to create rapid prototypes, comparing a model of the bolt with ones made in a better way.
These printed prototypes can encourage insurance adjusters or attorneys to settle out of court, sparing all parties from a costly and drawn-out litigation process. As James Goodnow tells it:
"It's one thing to tell a decision-maker or opposing lawyer how your product should have been designed. But it's much more convincing to show them and letting them actually see and hold a 3D-printed prototype makes it much easier to sell the idea."
Of course, it's not that easy. In the bolt case, the firm had to keep a 3D designer on retainer, who modeled the plans for the print and needed additional input from manufacturing experts to provide specifications and additional consultation.
And that's just for a pre-trial settlement. Actually bringing 3D printed models to trial as evidence means that the models must meet admissibility standards depending on the case.
And while 3D printed models might help defend cases of design or even marketing flaws, the plastic-filament models aren't useful in property liability cases that deal with defects in the manufacturing process.  It certainly seems like Lamber and Goodnow want to be the wave of the future — but the future's not quite here yet.
… or is it?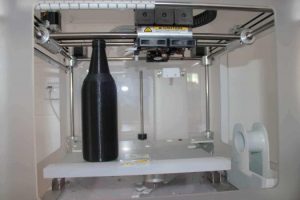 But those who work with 3D modeling might still be called in as expert witnesses or to consult with firms like Lamber and Goodnow more and more in the future… much as 2D artists and forensic sculptors have in the past.
In a recent case involving the murder of a 17 year old football player in Devon, England, senior detectives knew that the murder weapon would help them solve the case.
But that weapon, a broken beer bottle, was long gone. So the Devon and Cornwall police called on City College Plymouth's Engineering department, which usually uses their 3D printer to prototype student designs or create repair parts on demand.
The 3D printing team used their Cubex 3D printer to recreate the bottle in a painstaking 28 hour print process. Being able to turn around an accurate and safe model of the intact bottle enabled the prosecution to ask the defendant to demonstrate in court how he had struck the victim.
The verdict? Guilty as charged. This marked the first time 3D printing was used as evidence in a murder trial, according to the Devon and Cornwall police. But it probably won't be the last.
License: The text of "Lamber and Goodnow: Techiest Lawyers in America embrace 3D Printing" by All3DP is licensed under a Creative Commons Attribution 4.0 International License.
Subscribe to updates from All3DP
You are subscribed to updates from All3DP
Subscribe
You can't subscribe to updates from All3DP. Learn more…