'Kniterate' is an online platform and machine that 3D prints custom clothing – design and create your own knitted scarf easily.
Wouldn't it be cool if you could make your own knitted scarf without actually having to learn how to knit? Well, start getting ready for winter because now you can design your own knitted clothes – with Kniterate.
Gerard Rubio, the creator of Openknit open knitting venture, has come up with a new version.
Now, all you need is the design software and the knitting machine. After that, you can begin rocking your own custom sweaters, scarves, and socks in no time.
Sure, there are several open source knitting machines already on the market, but Kniterate gives you an entire platform to work with. It promises both a knitting machine and proprietary web-based design software.
The aim is for the technology to be localized, allowing everyone to print and share clothing – something which has never been done before. Currently,
In about two hours, Kniterate can you a scarf so you can brave the winter elements. Check out the printing in action in the video below:
How Do I Print My Own Clothes?
Kniterate simplifies the idea of custom clothing. Design your own clothes using the online software or choose templates for different garments.
What's more, you can also choose your own details like pattern and size. The team is still working on the mechanics behind the design process and are still speaking to different manufacturers. Hopefully, this leads to future manufacturing partnerships.
Once you've finished your design, it's sent to the Arduino Mega-drive knitting machine. It has 80 five-gauge needles, which make the garment. Gerard hopes that by adding more needles – bringing the total to 240 – the prototype will become a lot faster.
"I'm personally very interested in the democratization of manufacturing technology and I'd like to see this new tool expand across many more fields," he says.
When it comes to the future, Gerard is still keeping his plans under wraps. However, he's sure about the upcoming opportunities these new machines create for clothing manufacturing.
"Kniterate is part of this revolution and we won't stop offering better tools and adopting others," he adds.
Source: Solid Smack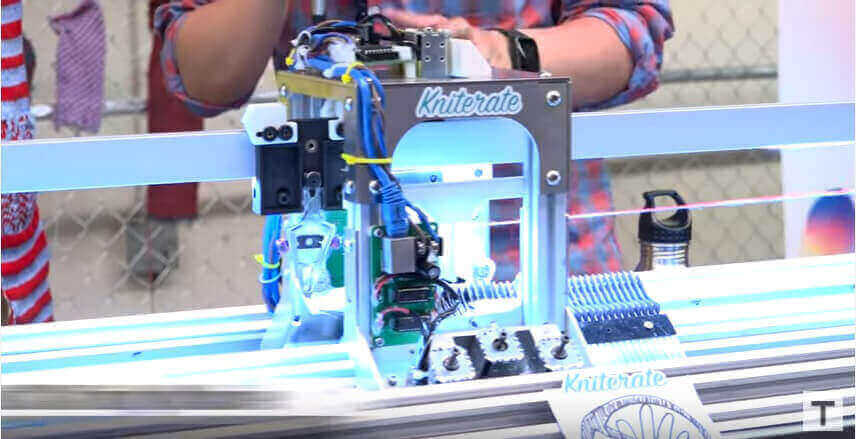 License: The text of "Would You 3D Print Your Own Clothing with Kniterate?" by All3DP is licensed under a Creative Commons Attribution 4.0 International License.
Subscribe to updates from All3DP
You are subscribed to updates from All3DP
Subscribe
You can't subscribe to updates from All3DP. Learn more…