With thousands of interlocking pieces, see how the Kinematics dress by Nervous System was 3D printed as a single piece at the Shapeways factory in NYC.
Nervous System has created their first dress with Kinematics, a unique 3D printed system that creates complex, foldable forms composed of articulated modules.
The dress is composed of an impressive 2,279 unique triangular panels, 3,316 hinges, and was 3D printed as a single folded piece at the Shapeways factory in New York City. Jessica Rosenkrantz, creative director of Nervous System, said:
"One of the biggest challenges in trying to make a garment using a 3D printer, is that 3D printers print rigid, hard plastic. That has resulted in a lot of fashion designers creating gorgeous futuristic pieces look amazing in a magazine, but if you were to wear them it would feel like you were encased in a hard plastic cage."
By comparison, Nervous System are focusing on how you can take today's technology and use it to produce a wearable garment.
Jesse Louis-Rosenberg, Chief Science Officer of Nervous System, said: "This project actually started with an idea to create a bracelet that was made out of hinged components that could print flat and then fold into a three dimensional configuration."
They then moved onto the idea of  making something larger scale — such as a dress. Jesse said: "We take something large and three dimensional and fold and flatten it using simulation to make it small enough to print in one piece."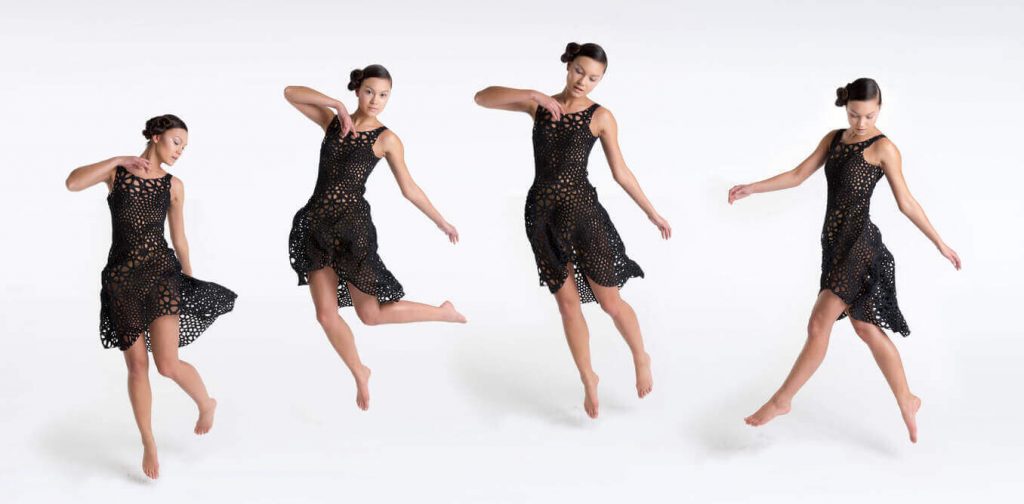 How is the Kinematics Dress Made?
First, the team create a dress from a 3D scan of a person. They then use a physics simulation to fold up the dress into a small form that can fit inside the machine for fabrication, and it was then printed using SLS technology.
The entire idea is that once the piece is taken out of the 3D printer, it can actually unfold into a dress. The team are interested in the idea of smart materials and self assembly.
Jesse said: "Part of the idea of this entire project is being able to make complex large scale things with no assembly required. The disadvantage of this is that we have one shot, it's one piece. If it works, it works, and if it doesn't – we're kind of screwed."
The hinged textiles are made of plastic, but because they're interlinked, they can move and flow. Meaning, you can easily breathe and stretch, and they move so you can run and sit down comfortably!
This dress is unlike a lot of garments which have been printed in the past. Jessica explains how previously, 3D printed dresses were giant sculptures and printed in tiny pieces to then be hand assembled.
She said: "This dress is sort of our latest project of combining engineering and science techniques with design and digital fabrication."
The dress is pretty impressive and already the Museum of Modern Art has acquired it, along with the software that created it, for their permanent collection!
Check out the Kinematics Dress here, and make sure to watch the video below!
License: The text of "The Making of the Kinematics Dress by Nervous System" by All3DP is licensed under a Creative Commons Attribution 4.0 International License.
Subscribe to updates from All3DP
You are subscribed to updates from All3DP
Subscribe
You can't subscribe to updates from All3DP. Learn more…