Antonia Cramer has interviewed All3DP CEO Mathias Plica for German Venturate Magazine. This is the English transscript of the original interview in German language.
In January, Venturate reported on the successful financing of All3DP. The 3D printing platform is now calling for a second financing round. To Venturate, this is a good reason to contact Mathias Plica (Co-Founder & CEO of All3DP) and find out how the start-up has developed since then.
Venturate: Almost a year has gone by since our first interview. Could you please tell us what has been happening at All3DP since then?
Mathias Plica: A year ago in November, we had just raised our seed financing. At that time, we had a simple blog, and our user base was slightly above zero. Everything you see now has been created over the last twelve months. We got our content portal up and running and ramped up our in-house content production so that we now reach 70,000 unique visitors per month. We were also able to launch our e-commerce component with a 3D printing price comparison service; just this alone is an independent product in itself.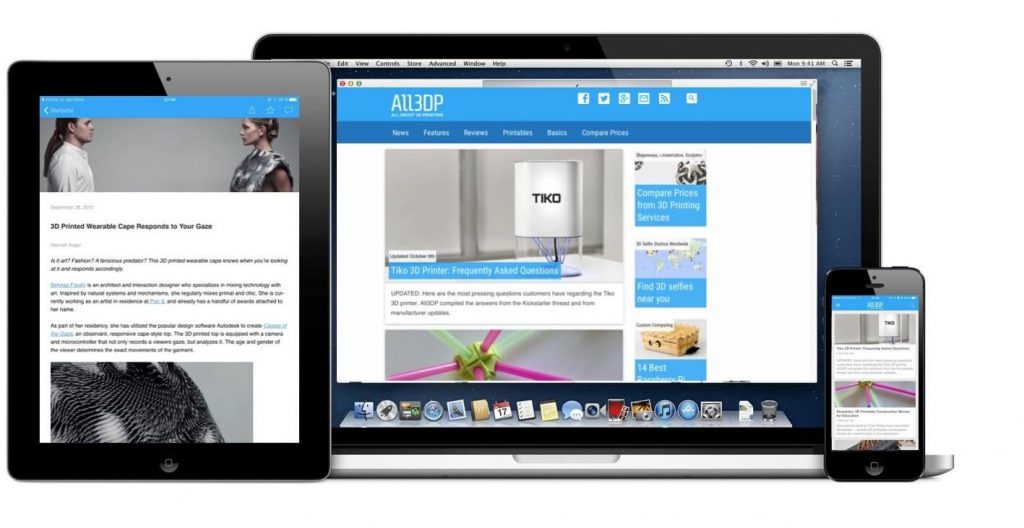 Venturate: How big is your team now, and what has changed as a result of the financing through HTGF (German venture capital investment firm)?
Mathias Plica: Today, we're a team of five full-time staff members, including the founders – there are three of us – and we also have twelve freelancers. Beyond monetary inflow, the financing through HTGF has provided us with an excellent contact network and great partners with whom to exchange ideas, opinions and information. Our expectations in an investor have actually been significantly exceeded.
Venturate: As you already briefly mentioned, in September, you were the first provider to launch a worldwide price comparison service for the 3D printing market. Why was this added to the business model?
Mathias Plica: Our 3D printing service price comparison isn't really an added component; it's the core e-commerce component of our second product. Our product vision is a triad of content, commerce and providing access to 3D printing files. In other words: We want to provide valuable information to users for a better understanding of 3D printed products, help them buy the products they want and provide them with access to 3D models. The first two elements in this triad are already up and running, and in the coming year, we're going to work on the next element, namely providing users access to 3D models.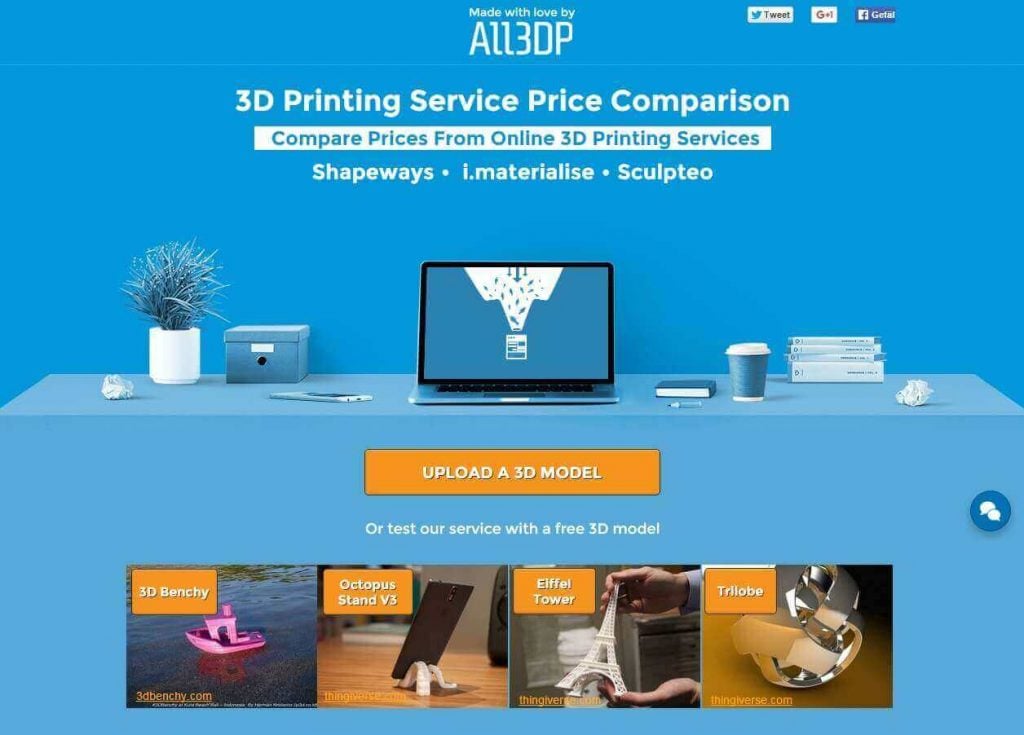 Venturate: How well received is 3D printing on the market? Who are your biggest competitors and what is different about All3DP?
Mathias Plica: When we established the company, we made a few bets: The first one was that, with the topic of 3D printing for consumers and small businesses, we would be able to reach a large number of people around the world. We already won that bet. The number of visitors to our website is growing exponentially. After only twelve months, we rank 4th of all English-language 3D content portals and are growing faster than all of our competitors. Our unique selling point is in fact that our content is consumer-oriented and visually powerful and does not require prior knowledge. We are more consistent than other providers in applying the current, data-driven rules of online journalism.
Venturate: What were the most challenging and exciting experiences you've made within the past the year?
Mathias Plica: When we started out, the search for the right topics was pretty exciting because, not having an established base of data to work with, we had to rely on hypotheses. Today, we have key figures that we can work with, but, in the very beginning, we were moving in completely new territory. On the other side, the price comparison work, involving such a complex area as 3D printing, has been challenging because many of the standard rules that pertain to markets with physical products or purely digital products no longer fit. But this also provides us with great opportunities, which we, as pioneers in field, can take advantage of.
Venturate: Among others, you called for a second financing round via the Venturate matchmaking platform. What is the amount of funding you are hoping for and for which areas will the new money be used at All3DP?
Mathias Plica: We want to invest the next two million euros in expanding All3DP.com's user coverage. More original content, more staff for social media, SEO and a number of other measures to ensure organic growth. We can grow at a much faster pace. Also, we are going to establish the third component of the triad described earlier, namely providing our users with access to 3D models. The goal of the second financing phase is to become market leader in terms of audience, i.e. monthly visitors to our platform.
Venturate: What to you would be the ideal investor in the coming financing round at All3DP?
Mathias Plica: To us, the ideal investor views 3D printing as the technology of the future and understands digital media and business models.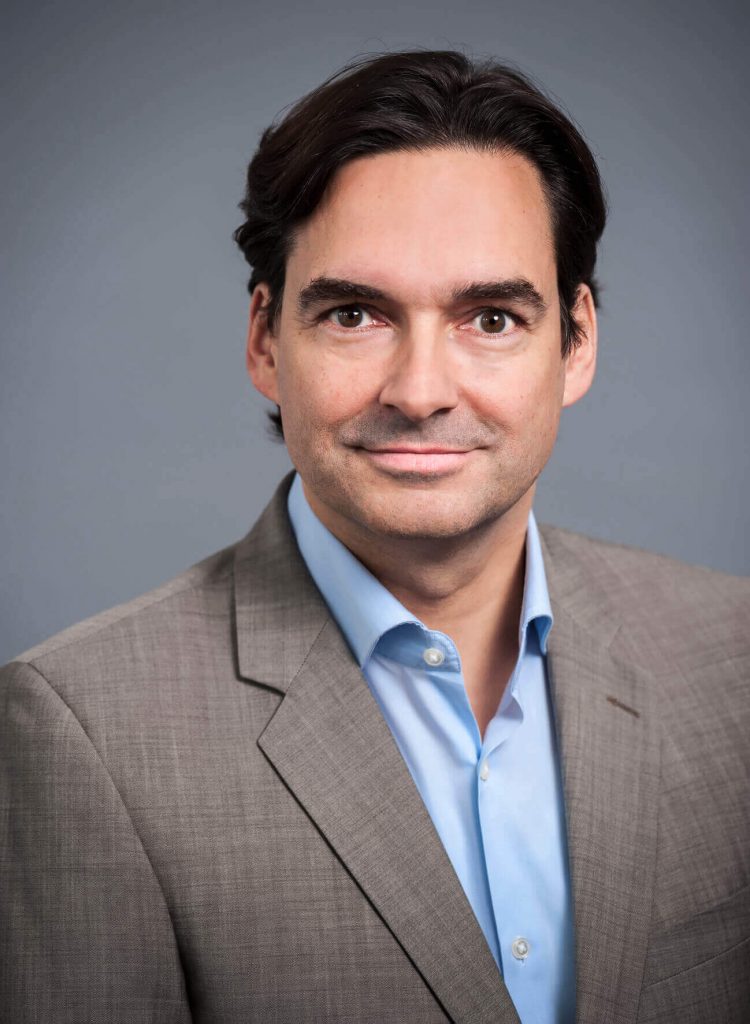 Venturate: A year ago, we asked you the same question: Where do you see the world in 5 years, in particular when it comes to 3D printing? What would your answer be today?
Mathias Plica: We recently answered this question with figures on our portal: In 2019, over 180 million people throughout the world will be involved in 3D printing, as buyers of 3D printed products or as makers who do their own printing. Today, there are four to six million. It's obvious: This is going to be a mass market.
Venturate: Is there anything else you'd like to talk about?
Mathias Plica: I mentioned the bets we made when we started the business: Another bet was that we would be able to produce English-language content, despite being located in Germany. That was another winning bet. We have not received even one negative comment about this. And technologically, thanks to "Cloud & Co.," there have been no disadvantages whatsoever due to our location, on the contrary, just massive growth, driven to 50% by North America.
Venturate: Thank you very much for this interview!
License: The text of "All3DP: "3D Printing Is Going To Be a Mass Market"" by All3DP is licensed under a Creative Commons Attribution 4.0 International License.
Subscribe to updates from All3DP
You are subscribed to updates from All3DP
Subscribe
You can't subscribe to updates from All3DP. Learn more…